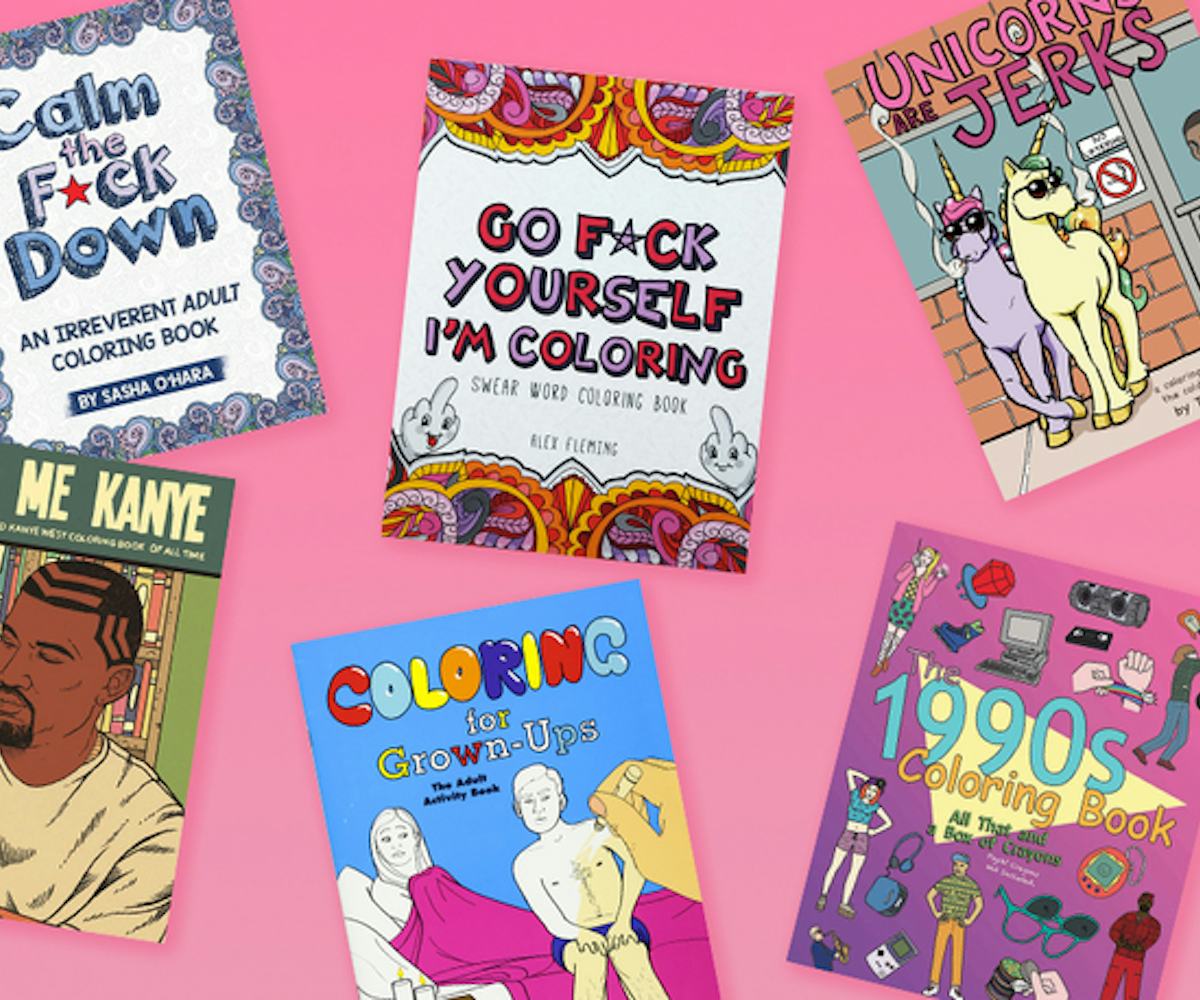 Photos courtesy of GreatBookPrices, CreateSpace Independent Publishing Platform, Penguin Publishing Group, Ulysses Press, Alex Fleming Publishing
10 Cheeky Adult Coloring Books For Your Inner Immature Child
Happy National Coloring Book day!
Life is but a series of trials and tribulations all bent on reclaiming our childhood sense of awe, wonder, and imagination. Jadedness comes with adulthood and learning how to combat it is essential. At some point in your adult life, the urge to color will come over you. It will be bizarre and have you questioning your sanity. You'll go quiet on Instagram Stories because your Sundays are no longer spent brunching, but coloring.
Do not be ashamed, dear adult friend! Coloring is therapeutic and the books out there these days are more than Hot Wheels, Barney, and Disney Princesses. Remember when your group of friends discovered how enjoyable it is to stay in on Friday night playing board games instead of waiting in line for some party? Extend that mentality to your me time. Hell, invite your friends over for a coloring book party! You're adults, after all, and can enjoy adult things while coloring adult coloring books. National Coloring Book Day, today, August 2, is not just for the kids; it's for you. Reclaim that joy with the following selection of tongue-in-cheek, sometimes NSFW selection of books to color in (or outside of). Then be a real adult, take your masterpiece out of the book, put it on a frame, and hang it. That's the grown-up version of sticking it to the fridge.
When you want to "do it for the kids, bro," try your hand at these Yeezys. And Yeezys on Yeezys. 808s and heartbreaks not included.
Color Me Kanye: The Greatest Unauthorized Kanye West Coloring Book of All Time by Noah Levenson and illustrated by Arturo Torres, $7.90 available at Barnes & Noble.
Pun de replay with this super-detailed and super-naughty coloring book.
Swear Word Coloring Book: Have Some Pun: Hilarious Sweary Coloring Book For Fun and Stress Relief by Swear Word Coloring Book, $6.79, available at Amazon.
Walk of shame, meet color of shame. Here's a book to help you cope with the crippling existential crisis looming over your head.
Coloring for Grown-Ups: The Adult Activity Book by Ryan Hunter and Taige Jensen, $8.30, available at Barnes & Noble.
You could pay a therapist money to express your stress, or you could put pencil to paper and take it all out on that.
Creative Therapy: An Anti-Stress Coloring Book by Hannah Davies, Richard Merritt, and Jo Taylor, $13.41, available at Amazon.
Or, you know, fight the inevitable gloom of adulthood with this one.
Calm the F*ck Down: An Irreverent Adult Coloring Book by Sasha O'Hara, $6.29, available at Amazon.
The '90s won't go away because adults refuse to grow up. This coloring book is all your '90s kids' doing. Blame yourself while basking in the yesteryears of youth.
The 1990s Coloring Book: All That and a Box of Crayons (Psych! Crayons Not Included.) by James Grange, $8.43, available at Amazon.
Because if your headphones aren't enough of a middle finger to people trying to disrupt your peace, this book is.
Go F*ck Yourself, I'm Coloring: Swear Word Coloring Book by Alex Fleming, $5.39, available at Amazon.
Sorry, uh, not sorry. Do not trust trends.
Unicorns Are Jerks: A Coloring Book Exposing the Cold, Hard, Sparkly Truth by Theo Nicole Lorenz, $8.25, available at Amazon.
It's like touching Christian Grey without all the insane dialogue and prose.
Colour Me Good Jamie Dornan by Mel Elliott, $12.39, available at Amazon.
Not only is this a stunning coloring book, it's packed with bits of information and anecdotes on the icon's life, so you get both the therapeutic qualities of coloring and trivia knowledge. Rebel outside the lines.
David Bowie: Starman: A Coloring Book by Laura Coulman and illustrated by Coco Balderrama, $12.58, available at Barnes & Noble.