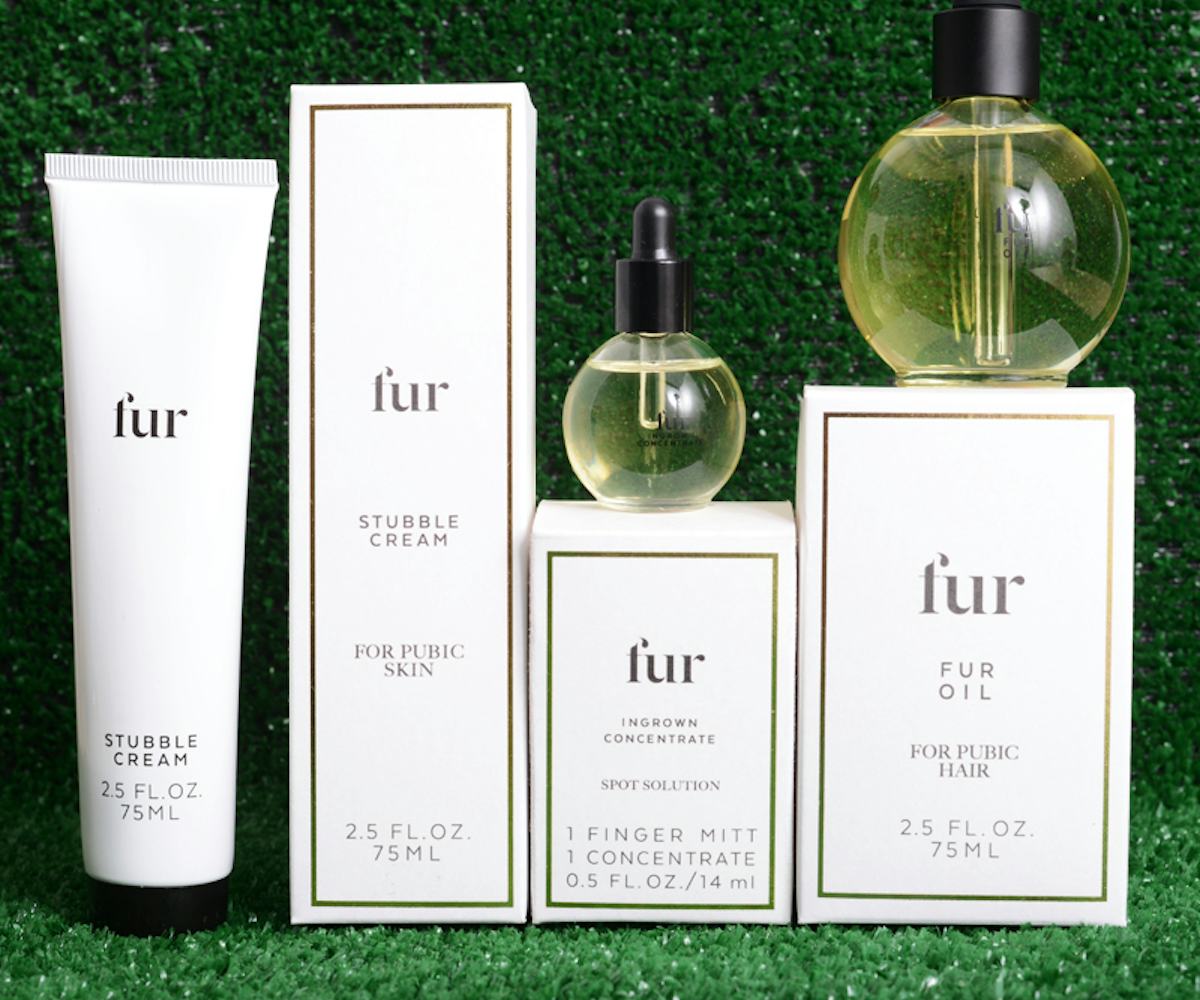 Photographed by Ricky Michiels
Fur Will Solve All Of Your Hairy Situations
More pubes, less problems
Despite living in the 21st century, there still aren't enough products for pubic-related care. When it comes to keeping up with your cooch, women are left at a crossroads: take it off or let it grow. If you're stuck somewhere in the middle, there haven't been many beauty products to turn to. Now that we have reached MMXVI (better known as 2016), this hairy situation has changed with the help of Fur. Founded by sisters Emily and Laura Schubert, and Lillian Tung, this New York-based company is a godsend with a line of products "formulated for daily use, leading to fewer ingrown hairs and healthier skin over time."
Fur is the first-ever beauty brand to offer a range of products that are specifically designed for pubic hair and skin, and they're all natural with paraben and phthalate-free ingredients. I always drop on some Fur Oil after I take a shower or bath, and it improves the texture of my hair folicles so they are softer to the touch. When I shave, I rub on the Stubble Cream as soon as I'm done drying off. 
Last week, Fur added an Ingrown Concentrate oil that provides a spot treatment for ingrown hairs. (It even comes with a miniature mitt for exfoliating.) In addition to healing ingrown hairs, the oil also reduces redness. The best part about the concentrate and cream is that they can both be applied anywhere that you shave—I also use them on my armpits.
Early into my adulthood, I've felt stuck in a bit of a rut when it comes to the maintenance of my pubic hair. In college, a good portion of my friends removed their pubes via bikini waxes. (The first time I watched Carrie Bradshaw get a Brazilian on Sex And The City, I wanted to pass out.) Despite the occasional cuts and burns from my razor, shaving has always worked best for me. 
I'll never be able to forget the memories of slathering on the stinky, pink paste of Nair around my bikini area when I was in middle school. During those unfortunate years, I was an active ballerina so it was crucial to keep that area completely spotless. Nothing felt (or smelled) worse than the painful, burning sensation of the chemicals breaking down the bonds of your hair so they can be effortlessly wiped away with a damp cloth. Eventually, I stopped with this practice because the irritation wasn't worth having a hairless nether region.
For the modern woman (or man) trying to be more comfortable in their own skin, Fur will become an essential part of your grooming routine should you choose to invest. It makes you feel less embarrassed, and even a little proud to have pubes. The design of the bottle for the oil is so luxurious that you want everyone to see it on the shelf in your bathroom. (You can't miss mine placed on top of the commode.) It's time we started talking more about how we take care of our bodies, and less about what we don't like about them. Everybody has pubes, let's deal with it together.
Can you hear the angels chanting "Hallelujah"? A few drops of this potion and your pubes will be feeling (and smelling) better than ever. I'm not saying that you should keep your hand in your pants all night, but you might feel compelled to run your fingers through your bush a little more than usual...
Fur, Fur Oil, $39, available at furyou.com.
There's nothing I enjoy more than slathering this cream on after a long overdue shave. The scent is subtle, so it won't overwhelm your nostrils like other after shave products. You'll walk out of your bathroom feeling fresh to death.
Fur, Stubble Cream, $32, available at furyou.com.
This oil is to be used sparingly like a spot treatment. The Schubert sisters recommend applying it on an as-needed basis. (You can even dab a little on your arm pits, or any other trouble areas!)
Fur, Ingrown Concentrate, $25, available at furyou.com.