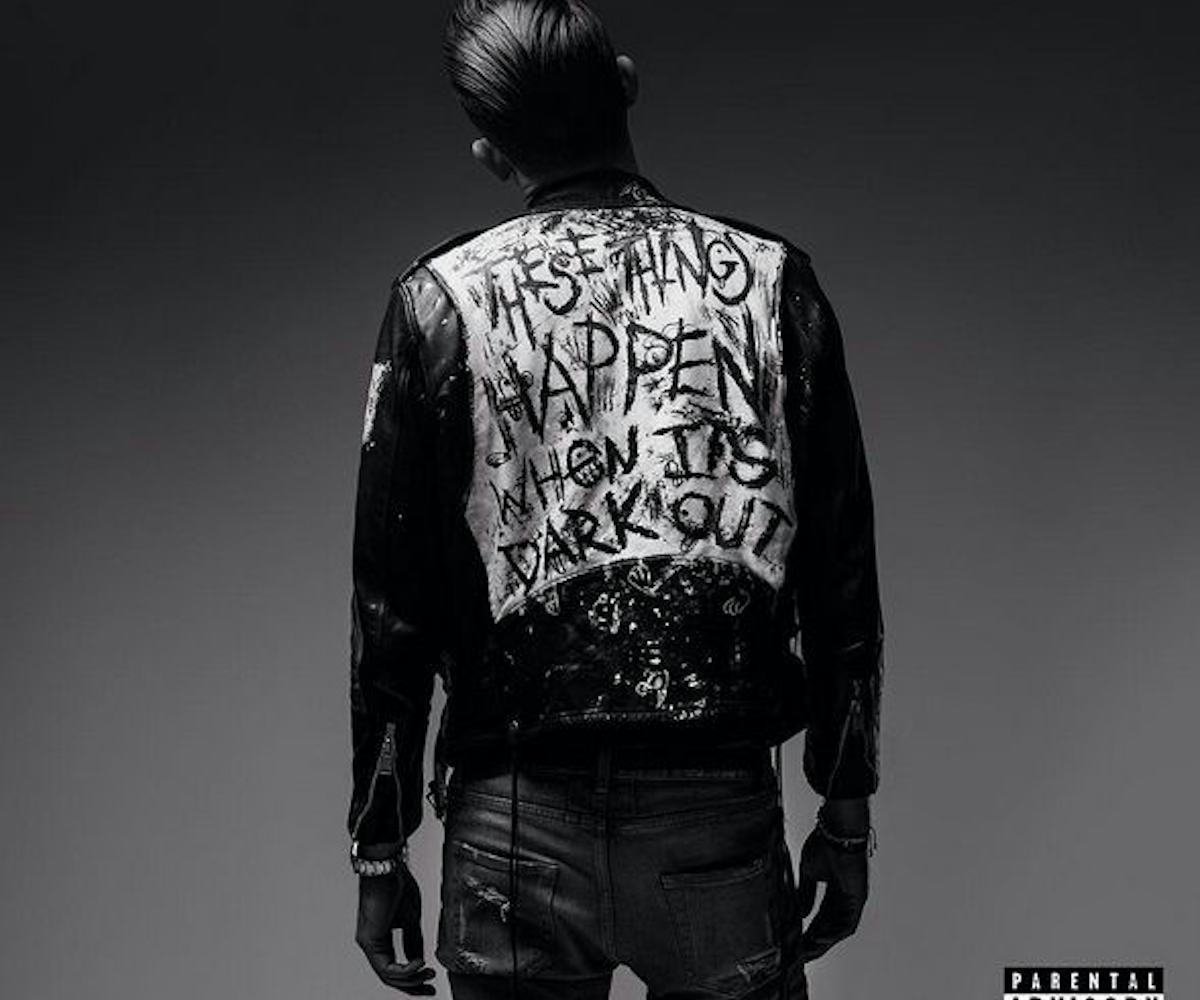 Photo courtesy of Biz 3 Publicity.
G-Eazy Breaks Down Each Song On 'When It's Dark Out'
his sophomore album drops today
If news of G-Eazy's album release feels like déjà vu, it's because it comes roughly just a year and a half after his debut, These Things Happen. Don't let the Bay Area rapper's short downtime fool you, though; When It's Dark Out, which drops today via RCA Records, already presents G's growth as an artist, from his willingness to showcase his storytelling talents with dark, personal testimonies to his ability to maintain his authenticity while working with a variety of producers and producing tracks himself. Besides, after hitting number three on the Billboard Top 200 and developing an insanely dedicated fanbase, why not ride the wave and drop a follow-up album?
Here, G explains When It's Dark Out track by track to give us an idea of what inspired each song. Stream the album below, and check out the breakdown after the jump.
"Random"
"I feel like it is really important when you're putting the order [of an album] all together, the first song has to be really hard, really aggressive. It's gotta grab your attention off the bat. It's how to make a statement…. ["Random"] is a reminder in general that this is 12 years of hard work, putting every dollar I had back into everything, working my ass off to be here. It's not like I got lucky and took a shortcut or it just fell out of the sky. It's like when the album comes out and it does really well, this is by virtue of putting my blood, sweat, and tears into something for over a decade. It's not like it was given to me or handed out."
"Me, Myself & I Feat. Bebe Rexha"
"This is a really honest, personal record. This last year and a half to two years of my life have been really crazy. It's like a roller coaster that I'm on right now and no matter what anybody tells you, there's really nothing that can prepare you for what it's like or how crazy it gets. I'm a Gemini and there really are these multiple sides of me, so part of me is enjoying the ride, the other half has a hard time adjusting to this new lifestyle sometimes. The one thing about this job is, you're never off the clock. You don't get to go home and take the uniform off—I am the uniform, and it can be kinda hard to escape sometimes. But at the end of the day, it is beautiful that I get to do this. Music, the thing that I fell in love with years and years and years ago, is what is bringing me around the world and it's the reason I'm here."
"One of Them Feat. Big Sean"
"That track is about the other side of G-Eazy; the desire to have it all, to be the biggest thing in the world…. The crazy thing about where I'm at right now in my career is that realizing that when I meet people, I can actually reach out to them [to collaborate]. Like, that's a thing. You get to this point where you become peers. You can call Big Sean up and be like, 'Yeah, I have this record I think you'd sound amazing on.' He cut the verse and sent it right back to me, so that was love."
"Drifting Feat. Chris Brown & Tory Lanez"
"I had just gotten back from Europe, and during touring and everything, it was hard to maintain personal relationships. To travel and to work every single day, it's not like you wake up in the same bed and go to the same job and come home and go to sleep in the same bed every day. You're always on the road. That's the nature of the job. So, you start to feel like you're growing apart from people back home."
Is it about anyone in particular?
"Oh, man, the album comes out December 4. I'm so excited. How 'bout them Lakers?"
"Of All Things Feat. Too $hort"
"I had literally done this whole record myself, but I always had Too $hort in mind for this one. It's that same kind of thing [with the Big Sean feature]: Too $hort was one of my heroes; I grew up listening to him and now I'm able to hit him up and say, 'I got this record I think you'd sound good on.' He came through and did it the next day. And he killed it. He gave me a classic Too $hort verse."
"Order More Feat. Starrah"
"'Order More' is my strip-club song. That was one of the last songs I made on the album, and I had just moved into a big house in the hills in L.A. and I was excited about this new house. I was having parties, naturally—that's what you do when you move into a house in the hills in L.A. and you're a rapper. And I kept getting the cops called on me because the neighbors didn't like me. I found out an actor was my next-door neighbor, and he and my other neighbors kept calling the cops, so that's why I say that line in the second verse."
"Calm Down"
"A lot of the tones on this album are really dark and moody and introspective, with a lot of minor chords. On 'Calm Down,' I just wanted to do something light, and talk shit and have fun. It reminds me of a tempo and a bounce that I grew up listening to."
"Don't Let Me Go Feat. Grace"
"This one's a little darker. It's about the allure of the night and the rush and the lifestyle and the drinking, the drugs, and the chaos and the craziness, and how it's hard to find and keep love in that kind of space, in that kind of environment, in that kind of world."
"You Got Me"
"'You Got Me' is about fully letting go. It's about giving no fucks at all. I had flown to Atlanta to start working on the album and I was working with Southside down there, and if you're gonna go work with Southside, that's the point—it's to [make a trap record]. On the last album, I did most of the record with one producer. This one, I made the rounds and worked with a lot of different people, but at the end of the day, if it didn't feel genuine to me, I didn't do it. I listen to Future as much as I listen to Tribe Called Quest, you know what I mean? There's multiple sides of my personality, it's not just all introspective and moody. That might be me on certain days, but like, I'm actually that dude throwing $5,000 in the strip club with my homies, being drunk and obliterated out of my mind and coming home at 6 a.m."
"What If Feat. Gizzle"
"This is a concept record. Southside produced that one, too. It was another one I did in Atlanta. I came up with an idea, to say some stuff that'll actually make people think, so it's a bunch of 'What if?' questions; 'What if Bill Clinton never got head? Would we pay attention to real things instead?' to 'What if Pac wasn't dead?'"
"Sad Boy"
"I had been on tour for like six months or so, and I made this record near the end of the run. I had gotten distant from family and friends and everyone I knew back home. That guilt was kind of weighing on me, but at the same time, another voice in my head was like, 'Cheer the fuck up. This is everything you've ever dreamed of. Enjoy the ride because you worked hard for this.'"
"Some Kind of Drug Feat. Marc E. Bassy"
"Marc E. Bassy is a really talented singer and writer—he's also from the Bay Area. My goal was to make a well-rounded project, so it can't all be so dark. I needed something sexy for the ladies."
"Think About You Feat. Quin"
"'Think About You' is a breakup record. My music's not always necessarily about a specific person. Sometimes, I'll imagine different experiences. So, I wasn't actually going through this at the time, but when I went into the studio, I told myself that I was. I guess it's like acting in a sense, but I just put myself in that space emotionally and convinced myself that was going on in my world to be able to write that song. It's about a lover who's slipped away and you still very much have feelings for each other, but it's obviously very complicated and there's a lot of pain there and a lot that's broken."
"Everything Will Be OK Feat. Kehlani"
"Kehlani is a special person. She's a good friend of mine, and I knew she was the only person that could really execute that song and understand the sentiment of it. There's only so many people that could be able to connect and convey that kind of emotion and pain. It's telling somebody everything is going to be okay when it's not. There's a lot of pain in that song. I'm pouring out some of my darkest feelings, like the guilt of leaving home to chase a dream and feeling like I turned my back on everyone back home. When I left the Bay for the road, shortly after, my mom got real sick and lost her job—it was only her and my brother there. He was in high school at the time and he really shouldered that weight while I was gone. The third verse is actually it's a really, really personal story that I had never even told my closest friends, so the first time they heard it was during the song. It was hard for me to put it in a song when I couldn't even tell my friends this story. But the song is just about acceptance. It's about love and it's about appreciating people while they're here."
"For This Feat. IAMNOBODI"
"'For This' gets things back up after 'Everything Will be OK.' It's just about shedding that weight, that guilt, and saying, 'You waited your whole life for the opportunity to be here, and you're gonna do good with it now that it's knocking at your door.'"
"Nothing To Me Feat. E-40 & Keyshia Cole"
"This is kind of like the encore of the album—'For This' was going to be the last song, but 'Nothing to Me' is like the victory lap. To get two Bay-Area superheroes on the album and on the same song was definitely a dream come true. Just to be able to connect the dots and make that happen was really fuckin' crazy. There's just something about going out on that note with E-40 and Keyshia Cole on the album."