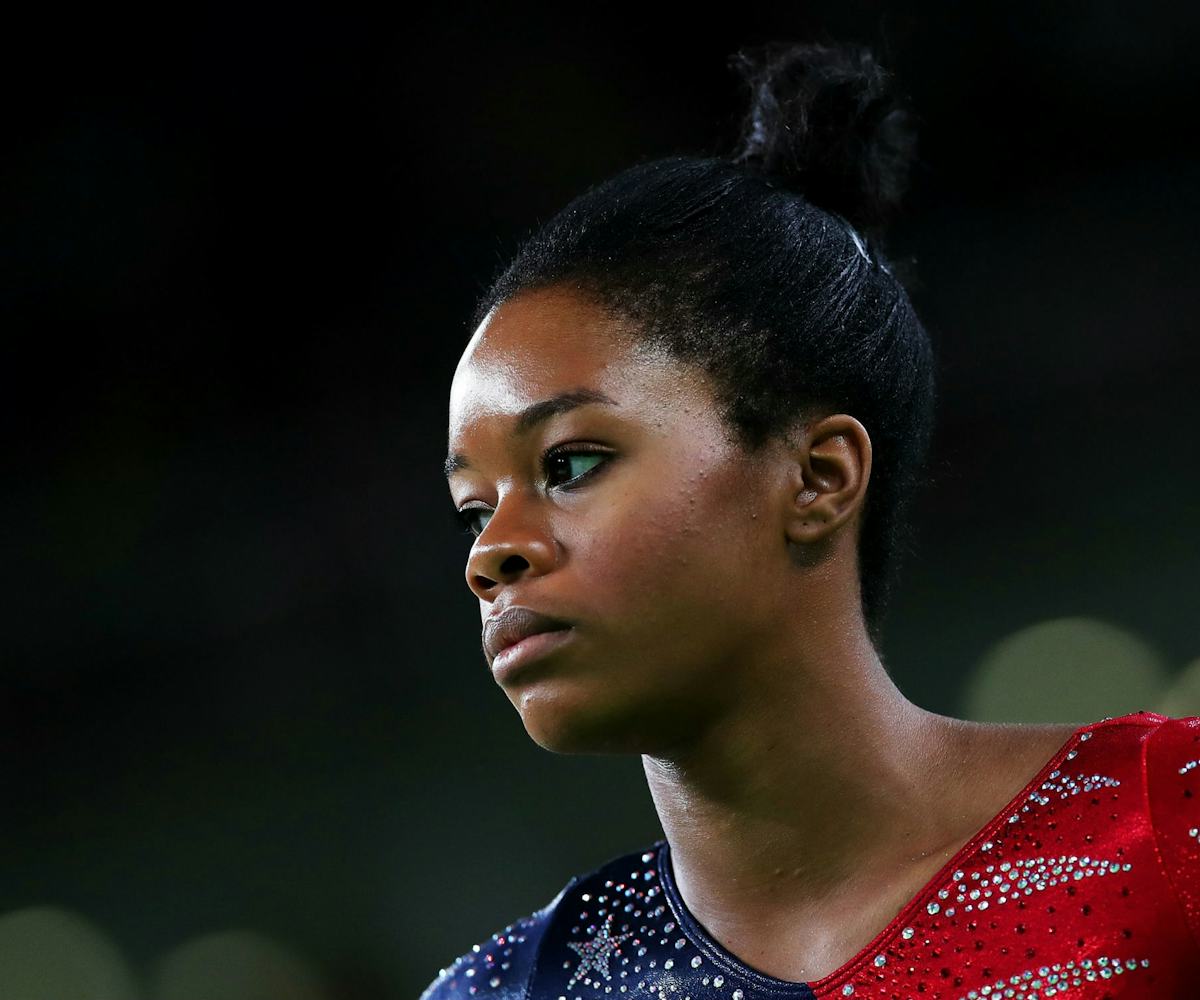 Photo by Tom Pennington/Getty Images.
Gabby Douglas Apologizes For Comments Made About Women And Abuse
The gymnast also reveals she too was abused by the Team USA doctor
Gabby Douglas is the third member of the "Fierce Five" to come forward with allegations against former USA gymnastics team doctor Larry Nassar. She revealed the news in an apology statement about comments she made following teammate Aly Raisman's allegations against Nassar. A spokesperson for Douglas later confirmed that she, too, was a victim of Nassar.
Douglas' note came after many people called her out for implicitly blaming victims for their own abuse by critiquing the way women dress. Following Raisman's 60 Minutes interview in which she revealed the abuse she endured, Raisman posted a note on Twitter outlining that "just because a woman does a sexy photoshoot or wears a sexy outfit does not give a man the right to shame her or not believe her when she comes forward about sexual abuse." Douglas then responded to the message (in a since-deleted tweet), noting that it's our responsibility as women to "dress modestly and be classy," adding that "dressing in a provocative/sexual way entices the wrong crowd." 
Douglas' statement outlines the way in which her initial response to Raisman was a part of internalizing the abuse she'd experienced. "I didn't publicly share my experiences as well as many other things because for years we were conditioned to stay silent and honestly some things were extremely painful," Douglas wrote. "I know that no matter what you wear, it NEVER gives anyone the right to harass or abuse you. It would be like saying that because the leotards we wore, it was our fault that we were abused by Larry Nassar."
Raisman and Douglas' allegations come after their teammate McKayla Maroney also revealed her experience. 
Today, it was also reported that Nassar has pled guilty to multiple charges of sexual assault and will face at least 25 years in prison.