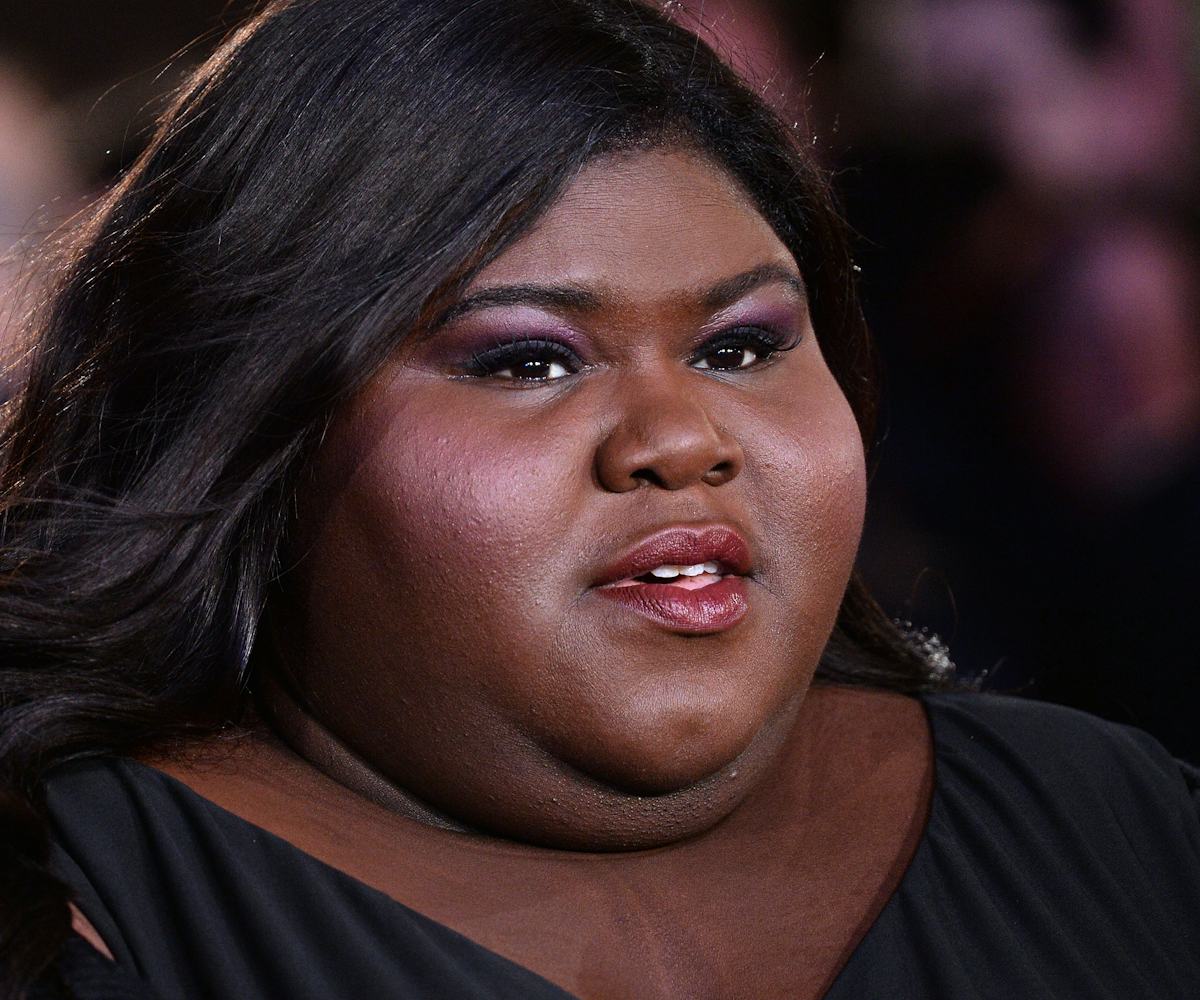 Photo by Anthony Harvey/Getty Images
Gabourey Sidibe Was Discriminated Against By A Saleswoman
She nearly turned Gabby away, until she realized she was famous
In an essay written for Lenny Letter, actress Gabourey Sidibe (Empire, Difficult People, Precious)  wrote about her experience of being discriminated against while shopping at Chanel. It's a pretty brazen example of racial profiling, and is an in-your-face reminder of the kind of prejudice that goes down each and every day. 
In the essay, Gabourey writes about heading to a Chanel store in Chicago, on a mission to pick up a new pair of eyeglass frames. It should have been a trip both easy and fun, but instead Gabourey found herself being judged by a saleswoman who clearly thought Chanel was not were Gabourey belonged. When Gabourey asked to see eyeglasses clearly on display in the store, the saleswoman directed her to a discount glasses store across the street saying that this Chanel didn't sell glasses frames. 
"I knew what she was doing," Gabourey writes. "She had decided after a single look at me that I wasn't there to spend any money. Even though I was carrying a Chanel bag, she decided I wasn't a Chanel customer and so, not worth her time and energy."
It wasn't until other saleswomen recognized Gabourey as a famous actress that the woman who had judged her changed her tune. Gabourey writes, "As we passed through [the store], other employees who were of color noticed me. All of a sudden, the woman who had pointed me out of the store let me know that even though they didn't have eyeglasses, the shades they carried actually doubled as eyeglass frames, so I should take a look at the shades I'd come to look at in the first place. Just like that, I went from being an inconvenience to a customer." 
Moments like this happen all the time. People are judged, discriminated against, and most of those people don't have the platform that Gabourey has to call it out and shed light on it. "No matter how dressed up I get, I'm never going to be able to dress up my skin color to look like what certain people perceive to be an actual customer," Gabourey writes. "Depending on the store, I either look like a thief or a waste of time. There doesn't seem to be a middle ground between no attention and too much attention." 
The House of Chanel issued an apology after the essay was published saying, "Chanel expresses our sincerest regret for the boutique customer service experience that Ms. Sidibe mentioned in this essay. We are sorry that she felt unwelcome and offended. We took her words very seriously and immediately investigated to understand what happened, knowing that this is absolutely not in line with the high standards that Chanel wishes to provide to our customers. We are strongly committed to provide anyone who comes in our boutiques with the best customer service, and we do hope that in the future Ms. Sidibe will choose to come back to a Chanel boutique and experience the real Chanel customer experience." 
An apology is a good step, but what should really be happening is a universal adoption of the adage our parents always told us when we were kids, "Treat people the way you want to be treated." Why is that so hard?