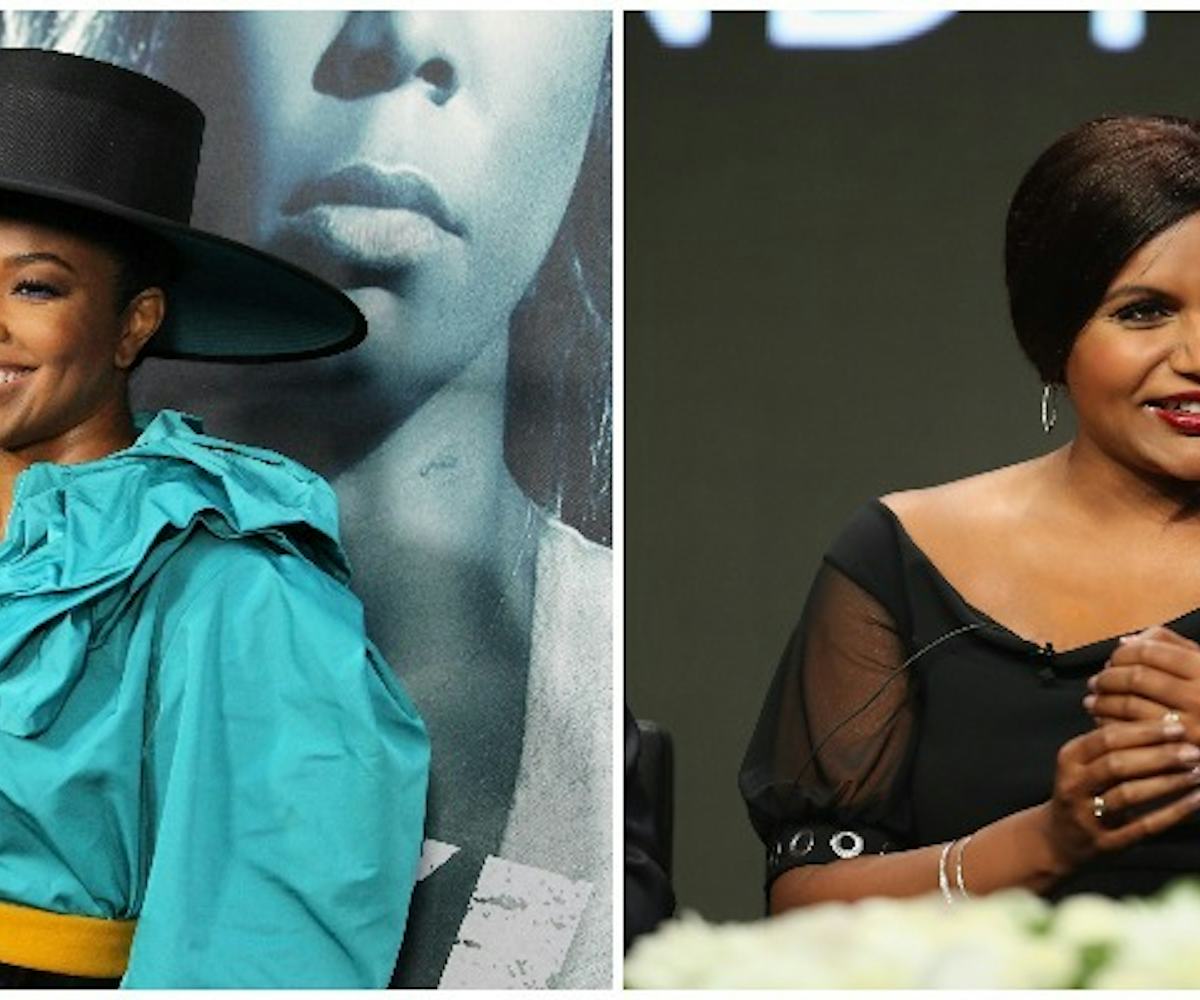 photos by Leon Bennett;Joe Scarnici/ getty images
Gabrielle Union And Mindy Kaling Say Hotel Lotion Is "Racist"
"I travel with an economy sized Eucerin"
Gabrielle Union and Mindy Kaling are the latest celebrities to call out the hotel industry's lack of consideration when it comes to people of color. Both actresses recently responded to a viral tweet which read, "Hotel lotion is racist."
"Yoooooo!! FACTS," Union wrote in response. "Don't know how many times I put some on and realized hotel lotion didn't want me to [be] great. Straight sabotage."
Kaling agreed with the sentiment, sharing that she no longer uses hotel products. "I travel with an economy-sized Eucerin," she wrote in response to Union's tweet.
Unless you're white, chances are hotel toiletries like shampoo, lotion, and body wash do nothing to benefit or hydrate your skin or hair and often leave you looking washed out and ashy.
Back in April, Halsey aired out her frustrations with this lack of inclusion, citing that hotels "entirely alienates people of color."
"I've been traveling for years now and it's been so frustrating that the hotel toiletry industry entirely alienates people of color," she said in a since-deleted Twitter thread. "I can't use this perfumed watered down white people shampoo. Neither can 50% of ur customers. Annoying."
Halsey, who is biracial, said that, while she is lucky enough to afford to bring her own products with her, other people may not have that privilege. "The point is that mass production of those products as the standard is part of a greater problem of disenfranchisement," she continued. "If white ppl can enjoy the luxury/convenience, there should be an option for everyone to. Its an 'insignificant' example of a bigger problem. That's all!"