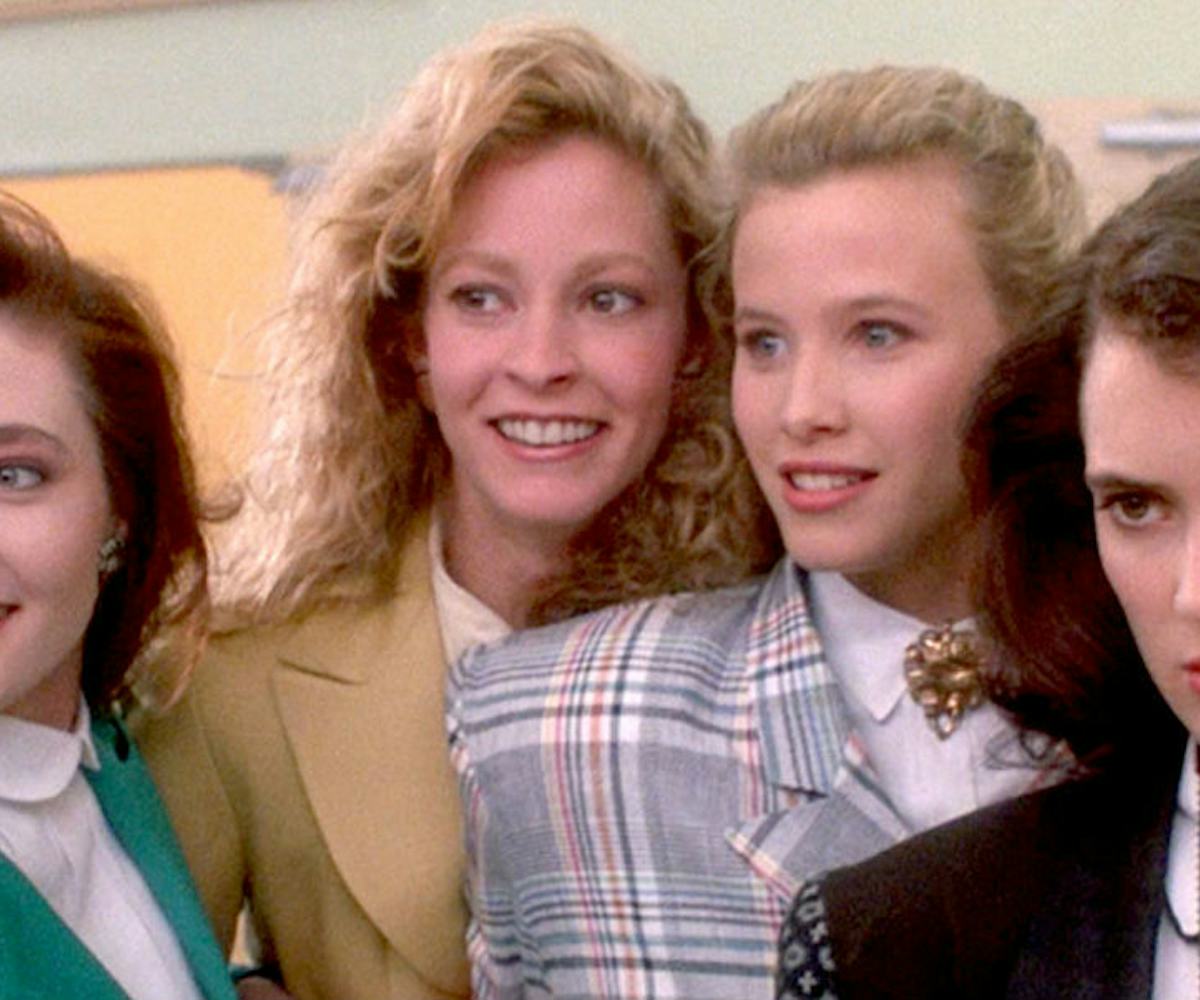 Courtesy of IMDB
The 15 Best Galentine's Day Films On Netflix To Watch With Your BFFs
Celebrate the ladies in your life with a movie marathon
Valentine's Day is fine, but every woman knows that the superior February celebration is Galentine's Day. It's the time to honor your favorite ladies with a gathering full of mimosas, movie marathons, and zero men. But while you'll have to stock your own Champagne, this list has you covered on the best films to stream with your gals this month. 
The list is certified cheese-free, which means no Matthew McConaughey rom-coms or movies where the girl takes her glasses off and you realize she was beautiful the whole time. With only understated indies and snarky cult classics making the cut, you have a whole female-led cinematic world at your fingertips that doesn't involve makeover montages or manic pixie dream girls. 
The following is a selection of 15 films with something for everyone, spanning genres from horror to comedy. So click through, find your perfect match, and stream with all your sisters. And it's also worth noting that of these excellent films, seven were written or co-written by women and six were directed by women, giving us a glimpse of just how great cinema could be if we reach 50/50 by 2020. 
Frances Ha
Academy Award nominee Greta Gerwig proves she's a talent on and off the screen in this indie dramedy shot completely in black-and-white. Gerwig, who also co-wrote the film with partner Noah Baumbach, plays Frances Hallaway, an aspiring dancer whose best friend-roommate decides to move out of their NYC apartment. Unable to afford rent on her own, Frances is left bopping around the world, from Sacramento (sound familiar?) to Paris to her alma mater Vassar, searching for a place, and people, to call home.
Heathers
This 1988 cult classic film-with-a-body-count stars Winona Ryder as the only Veronica in a clique of Heathers who falls for outsider J.D. (Christian Slater, whose eyebrows have not mellowed over the years) and joins him on a killing spree of all the bullies at Westerburg High School. Ryder steals the show, per usual, with incredibly quotable lines like, "Lick it up, baby. Lick. It. Up." and by wearing... a monocle. It'll have you asking "What is your damage?" all night long.
Bachelorette
This 2012 comedy starring Kirsten Dunst, Lizzy Caplan, Isla Fisher, and Rebel Wilson went largely under the radar upon its release and split critics on the raw and brutally honest approach to the characters' interactions with one another. A standout performance by a particularly bitter and subsequently savage Dunst makes Bachelorette a film that shows the dark and twisted ways lots of ladies find to have fun. Spoiler: Champagne and cocaine are never in short supply.
Adult World
This indie comedy stars Emma Roberts as a recent college grad whose ill-sought poetic aspirations lead her to work in an adult video store. The film, with supporting roles by Evan Peters (Roberts' future on-again, off-again fiance) and John Cusack, navigates indie tropes in a surprisingly refreshing way as it tells the story of art and the reasons people create it.
Southside With You
Southside With You takes viewers back to Chicago in the summer of 1989, when Barack and Michelle (then Robinson) Obama had their very first date. Parker Sawyers and Tika Sumpter are remarkable embodiments of the future first couple of our country (and our hearts), as they stroll through the Southwide streets. It'll fill the Obama-shaped hole in your heart for a solid 80 minutes, and your eyes will be opened to the untapped romantic potential of Baskin Robbins.
For a Good Time Call...
Ever dream of starting a successful business with your best friend? Then this is your film... if your business plan is a phone sex line, and your best friend is your former college nemesis. For a Good Time, Call... treats us to the spectacular comedy stylings of Ari Graynor as Katie Steele, a struggling writer who makes cash on the side being a phone sex operator. When she and new roommate Lauren (film co-writer Lauren Miller) decide they want more cash, they go into business for themselves with their own line, 1-800-mmmhmm. Easily a Galentine's Day classic.
XX
In the mood for a little Galentine's Day gore? This anthology of four short female-directed horror films is told from the female perspective and brilliantly pushes the boundaries of storytelling. With stories from Jovanka Vuckovic, Roxanne Benjamin, Karyn Kusama, and Annie Clark (aka St. Vincent), the ladies take the chance to own this male-dominated genre, and it'll leave you feeling empowered (and substantially spooked).
Lovesong
Indie darlings Jena Malone and Riley Keough star in this bittersweet drama that follows two former college best friends who reunite after years apart. When they decide to take a road trip to reconnect, their relationship crosses the line into intimacy. Named by Indiewire as one of 2017's "criminally overlooked indies," Lovesong relies on the effortless chemistry between its two leads to tell the story of the nuances of friendship.
The Last Five Years
Nothing says Galentine's Day like a movie musical, and The Last Five Years is one of the most beautifully composed and deeply affecting of the bunch. The utter talent of Anna Kendrick is showcased brilliantly within the first five minutes of the film, which tells the story of a couple whose relationship builds and breaks over five years. You'll laugh, you'll cry, you'll really wish you could sing even half as well as Kendrick with a snake around her neck, Britney-style.
The Craft
This '90s cult coven classic centers around Sarah, the new girl in school with supernatural powers, who joins Bonnie, Nancy, and Rochelle, three other girls with the same abilities, to cast spells on their classmates. With an abundance of gothic chokers and a slew of random supporting actors (yes, that is Cole Sprouse's dad on Riverdale, as well as Travis from Clueless), The Craft will have you and your ladies planning an impromptu séance in no time.
The Incredible Jessica James
The Incredible Jessica James stars former Daily Show correspondent and co-host of "2 Dope Queens," Jessica Williams, as an aspiring playwright who works at a children's theatre workshop. While navigating a messy breakup with her ex, Damon (LaKeith Stanfield), she pursues a new relationship with recently divorced Boone (Chris O'Dowd). Worth the watch just to see the performance by Williams, a comedic gift to all women—especially when she rocks a killer purple thrift store jumpsuit in an airport.
Miss Stevens
Starring the beguiling Lily Rabe—who is also known for transforming herself into countless different characters on American Horror Story—Miss Stevens tells the story of English teacher Rachel Stevens who takes her three students to a drama competition in California. Co-starring a pre-Call Me By Your Name Timothée Chalamet and pre-Riverdale Lili Reinhart, this touching dramedy is a must-watch if you and your ladies are looking for a quiet but affecting indie with a killer cast.
Bring It On
No Galentine's day binge is complete without the celebration of the cheerocracy. This cult classic 2000 teen satire tells the story of the Rancho Carne Toros, a high school cheer squad who must rethink their strategy when they realize their old captain had been stealing cheers from the East Compton Clovers. This wickedly sharp comedy has withstood the test of time, tackling issues of race and economic inequality, not to mention the fact that it boasts an all-star cast of Kirsten Dunst, Gabrielle Union, and Eliza Dushku, for sobbing out loud.
Sleeping with Other People
Sleeping With Other People, starring our December/January cover star Alison Brie and a charming Jason Sudeikis, centers on the relationship between two former college classmates who run into each other years later at a sex addiction meeting and decide to forge a friendship. Directed by Leslye Headland, who also directed Bachelorette, this rom-com is both truly romantic and truly funny, ironically a rarity in the genre. Brie easily steals the show, especially when seen dancing on ecstasy at a children's birthday party.
Welcome to Me
Since her reign on SNL, Kristen Wiig has shown off her serious side in several indie films, though Welcome to Me is one of her most nuanced performances, where her comedic and dramatic talents meet (see The Skeleton Twins, sadly not on Netflix, for more of her best). Here she plays Alice, a woman with borderline personality disorder who wins the lottery and, due to her deep obsession with Oprah, decides to spend $15 million on her own live TV show where she does, basically, whatever she wants. Wiig's hilarious and often heartbreaking performance anchors the film's premise, which grows more outrageous and unsettling as Alice decides to go off her medication. It's a dark comedy—emphasis on the dark—but also an immensely satisfying one that you'll want your ladies around for to discuss.