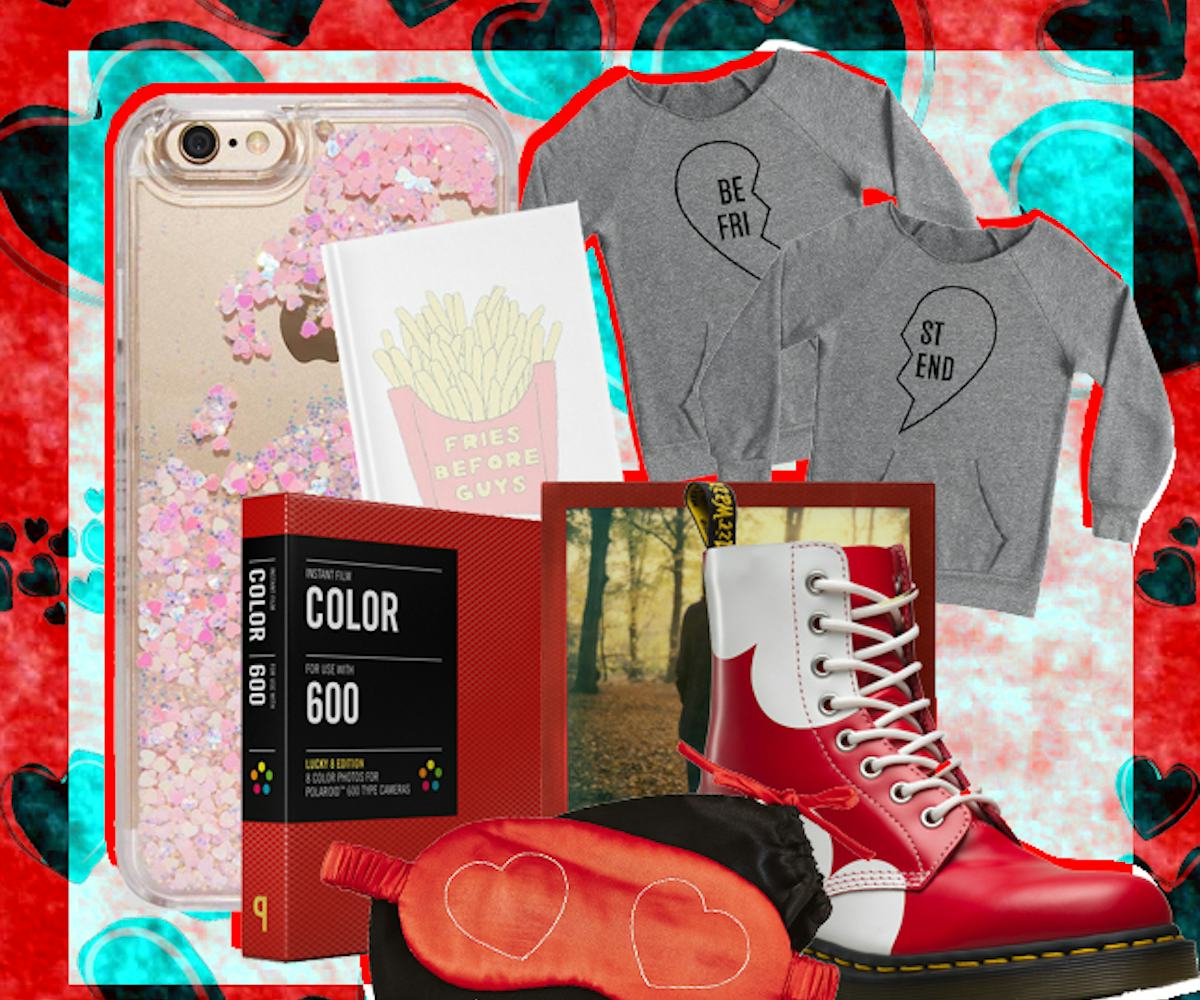 The Nylon Galentine's Day Gift Guide
the best gifts to celebrate your favorite ladies
Valentine's Day is just around the corner, and although you may have plans to spend the day with your honey (or in bed with a bottle of wine and box of chocolate), we must not forget to take the time to celebrate our favorite girlfriends. Luckily, thanks to Leslie Knope on Parks and Recreation, February 13th is (un)officially Galentine's Day, a day for "ladies celebrating ladies"—which is the perfect opportunity to show your BFF, sister, mom, or WHOEVER just how much they mean to you. 
We put together the ultimate Galentine's Day gift guide for the leading lady in your life, from jewelry to treats, to spa-day-at-home supplies. Click through to the gallery to peruse our top picks. 
Ankit, Bitch Mug, $24.99, available at Ankit.
Annabee, Best Friends Sweatshirt Set, $116, available at Annabee.com.
Aquarian Soul, Moon Priestess Pink Salt Soak, $30, available at Aquarian Soul.
Damselfly, I Love You Candle, $59.95, available at Damselfly.
Dr. Martens, Pascal Valentine Boot, $130, available Dr. Martens.
Fatty Sundays, Valentine's Sprinkle, $8, available at Fatty Sundays.
HausWitch, Ohm For The Home Spell Kit, $35, available at HausWitch.
Morgan Lane, Lolita Sleeping Mask Set, $98, available at Morgan Lane.
Pintrill, PB & J Pins, $20, available at Pintrill.
Polaroid 600 Camera, Cool Cam in 'Red,' $157.99, available at Impossible Project; Impossible Project Lucky 8 Edition Color Film for 600, $24.49, available at Impossible Project.
Redbubble, Fries Hardcover Journal, $20, available at Redbubble.
Rue Gembon, Justine Necklace, $38, available at Rue Gembon.
Skinnydip London, Moving Hearts iPhone 6/6s Case, $28, available at Nastygal.
Sucre Sucre Miniatures, BFF Pizza Necklace, $30, available at The NYLON Shop.
Venessa Arizaga, Queen Bee Bracelet, $50, available at Opening Ceremony.
Verameat, Vmoji Happy Poo Earrings, $38, available at Verameat.