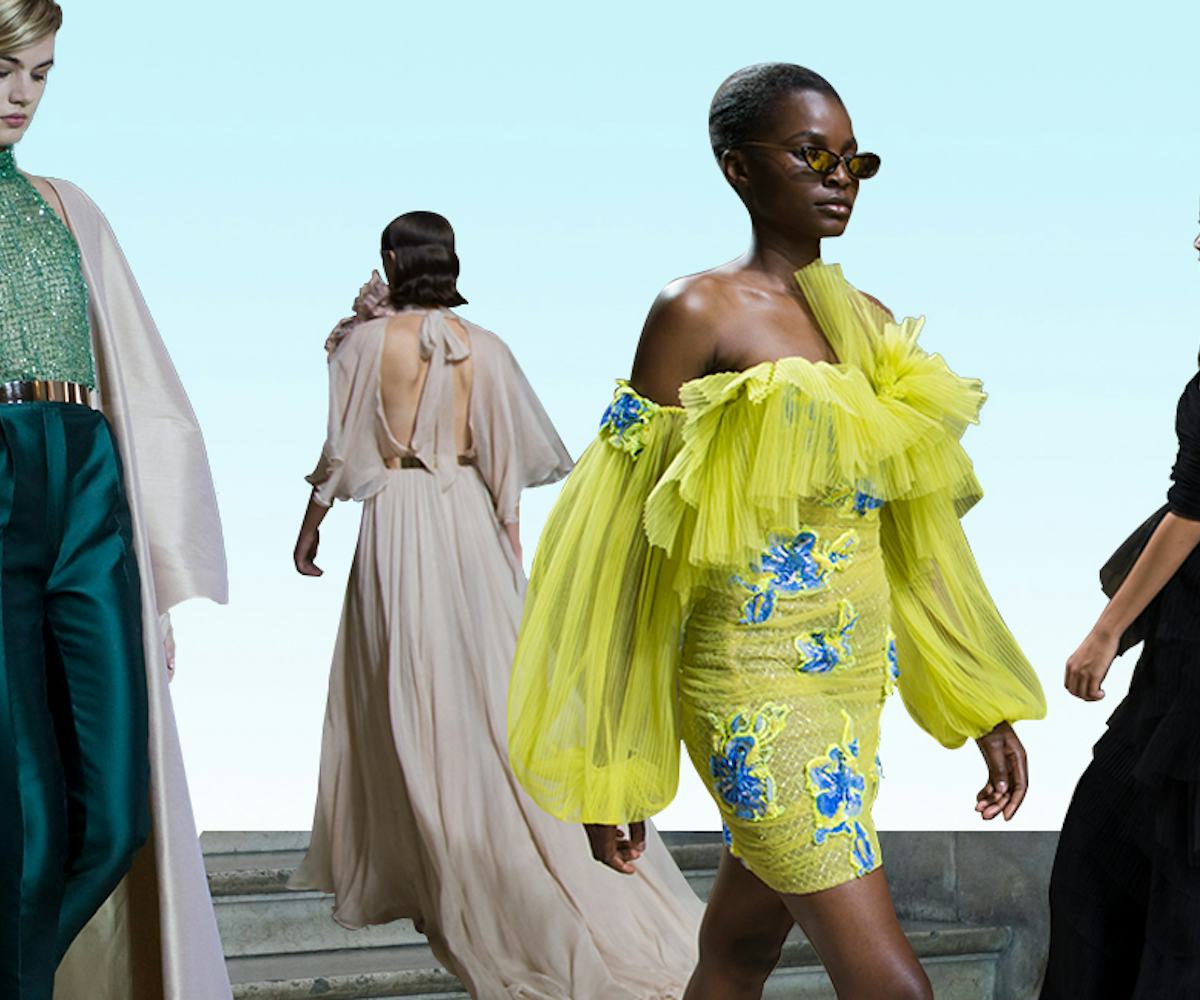 Galia Lahav's Fall 2019 Couture Collection Is The Ultimate In French Girl Chic
A la Brigitte Bardot in 'And God Created Woman'
Paris Couture Fashion Week has come to an end, and we're left brimming with inspiration from all the magic we spotted on last week's runways. Perhaps the most captivating of all? The latest from design duo Galia Lahav and Sharon Sever of Galia Lahav.
Inspired by Juliette Hardy, Brigitte Bardot's character in the 1956 Roger Vadim film And God Created Woman, the Fall 2019 Haute Couture collection incorporates seaside-inspired tulles with whimsical florals (a motif seen in Sever's own watercolor works) in the form of gowns, jumpsuits, corset tops, and T-shirt dresses. With the stunning French Riviera as a backdrop, intricate floral beading was seen alongside shocking chartreuse tulle, while sweeping gowns were belted and paired with sunnies for the ultimate effortless French girl twist—carefree and très chic, indeed.
The collection is sensual, yet it isn't over-the-top sexy. It's flirtatious and playful. Most of all, it serves to empower its wearer to come into her own; to find her independence and express her inner beauty—the ethos of this collection. And, as always with Galia Lahav, it's absolutely breathtaking.
Below, check out the full collection—and prepare to be swept away to the French Riviera.
We're not sure what we love more—this floor-length puffer robe or the beading on this gorgeous emerald halter top.
We've got our Valentine's Day look sorted.
An outfit fit for a royal.
The perfect cocktail dress now exists, and it comes in this earthy tone.
That strut! That draped forest green cloak! We are swooning.
This sheer overlay is a cotton candy dream.
Bubblegum, but make it fashion.
Who knew it was possible to pull off a statement dress and statement face jewelry?
This gorgeous set is perfect when you're not sure if you're feeling a ball gown or a formal pantsuit.
Now this is what we mean when we say "send nudes."
If you need us, we'll be wearing this witchy dress to our ex's wedding party.
This yellow look is anything but mellow—and we love it.
This silky baby pink skirt is the answer to all our sartorial problems.
High-low dresses are back and chicer than ever.
This boho-inspired look is all we need for the summer.
Let your neckline do all the talking with this beautiful pussy bow gown.
Who needs jewels when your top is dripping in sparkles?
This cinched waistline is everything.
Elegance in the front, party in the back.
Talk about a statement dress.
This dress screams, "Eat your heart out!"
Okay, but can we please talk about this appliquéd top?
We love the delicate sleeves on this ensemble.
When in doubt, give 'em the cold shoulder.
This adorable minidress is giving us such '80s vibes.
We love the playful design on the top of this two-piece number.
Canary yellow is officially in!
This whimsical number makes us want to frolic in a cherry blossom garden.
Did anyone call for a millennial pink dream?
Who said the color black can't be delicate? Clearly, someone who hasn't seen this sleek number.
A goth floral dress? Groundbreaking.
This is how you do drama. These ruffles are so major!