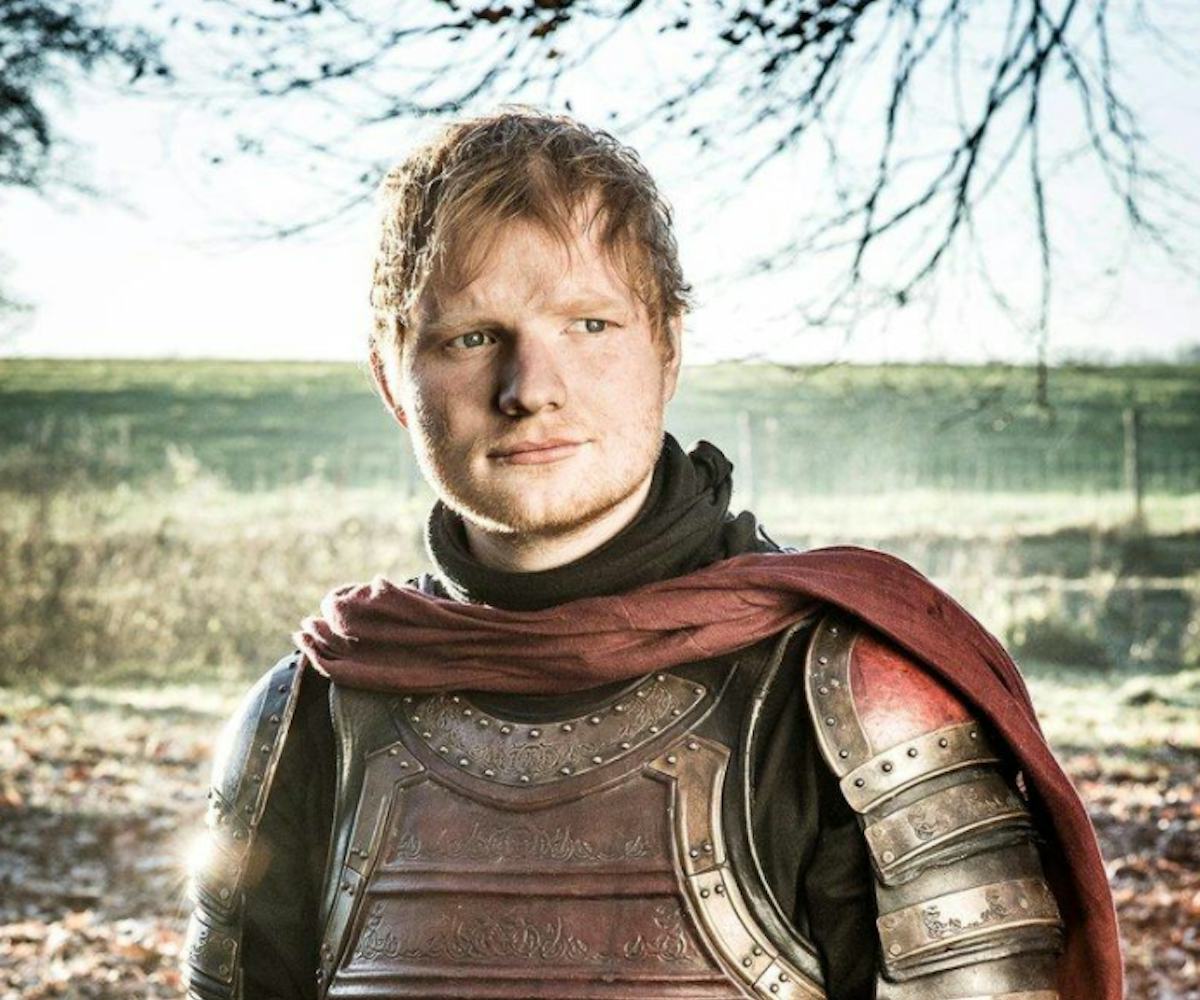 Ed Sheeran's 'Game of Thrones' Cameo Got Mixed Reviews
People weren't all that thrilled though
After waiting months for the return of Game of Thrones, fans finally got to watch the premiere of Season 7 last night. But for some, this blissful moment was ruined by the appearance of a certain pop star, Ed Sheeran. Following a cold open where Arya Stark-as-Walder Frey poisons the Frey family and watches them die around the dinner table, Stark makes her way through the woods when she stumbles upon Sheeran.
He sings a quick little song with his soldier buddies and Stark joins them for some blackberry wine. The short scene is really only important because Stark says, "I'm going to kill the queen." However, it ended up being one of the most controversial moments in the episode. Some people were thrilled to see Sheeran, while most were, well, not. 
"Ed Sheeran has now polluted two classic fantasy franchises," someone wrote, referring to when Sheeran wrote and produced music for The Hobbit: The Desolation of Smaug. "Probably gonna play Ged in Earthsea whenever they get around to it." 
People started to incorporate Sheeran's songs into the episode. "Ed Sheeran's going to meet Brandon Stark and be like 'when your legs don't work like they used to before,'" someone tweeted. 
"Arya telling Ed Sheeran that she's gonna kill the queen," one person wrote. "She's thinking out loud" 
Then the memes started. "The club isn't the best place to find a love, so the forest is where I go," somebody wrote over an image of Sheeran and Stark. 
"Arya: That's a pretty song. I've never heard it before," someone tweeted. "Ed Sheeran: It's from my new album Divide. Buy it on iTunes."
A lot of people would just like to forget the scene altogether.  
While most fans didn't understand why Sheeran was there, some people could still appreciate it. "Damn his voice is so good!" someone tweeted. 
And some people came to the singer's defense. "Friends, please tell me more about how seeing Ed Sheeran in your dragon show is unrealistic," comedian Ronald Funches wrote. 
Whether you loved it or hated it, you won't forget Sheeran's cameo anytime soon. "We'll all remember where we were when we realized that that was Ed Sheeran on #GameofThrones," one person wrote.