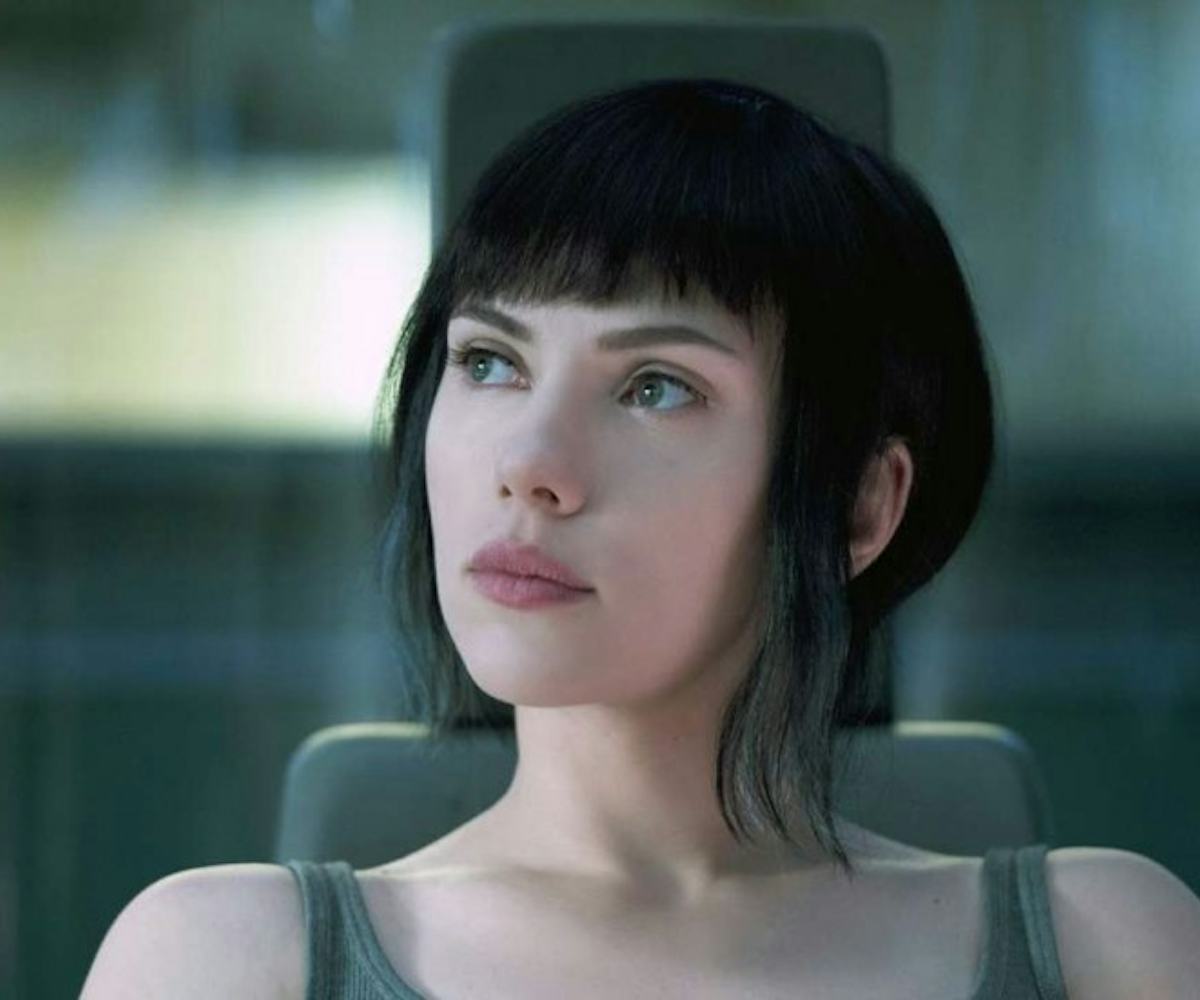 Photo courtesy of Paramount
What Went Wrong With 'Ghost in the Shell'?
The controversial movie bombed at the weekend box office
The sun is currently shining in Southern California, but there's a storm cloud hovering above the Paramount lot. The studio, already in the middle of a rough patch after a string of flops, is currently enduring a nightmare scenario. Ghost in the Shell—their $110 million sci-fi experiment and potential franchise-starter—is officially a flop, finishing the weekend with an almost invisible $18.6 million, good enough for just third place behind Beauty and the Beast, which continues to clean up, and Boss Baby, which won the weekend at nearly $50 million.
At this point, Ghost in the Shell cannot be separated from the whitewashing controversy that dogged the film almost an entire year before its release, when it was announced that Scarlett Johansson would be playing Major, a character that is Japanese in the source material, an iconic Japanese manga, upon which Ghost in the Shell is based. But as the autopsy of Ghost in the Shell's disappointing box office result is being conducted, the question remains: What kind of an impact did the casting controversy have—if any—on the movie's flimsy debut?
It's very possible—and even likely—that the studio's strategy of casting a white movie star in a role that should have probably gone to an actor of Asian descent backfired. The reason Johansson was cast as Major—a gun-toting, ass-kicking cyborg—in the first place was because of the actress's recent emergence as an action star. While Johansson made a name for herself in indies like Ghost World, Lost in Translation, and Match Point, her star power and visibility reached the stratosphere thanks to her role as Black Widow in the incredibly lucrative Marvel Cinematic Universe. Then, in 2014, Johansson helped turn Lucy—another sci-fi action movie, this one from director Luc Besson—into an out-of-nowhere box office hit, solidifying herself as one of Hollywood's few proven box office entities. Along with Charlize Theron and Jennifer Lawrence, Johansson became one of three women on the planet that studio execs trusted to top-line an action movie. 
That was the rationale used by screenwriter Max Landis, who tried to explain Johansson's casting last October. And in a move that likely had Paramount executives breathing a sigh of relief, Mamoru Oshii, who directed the original Ghost in the Shell animated movie, defended Johansson's casting for reasons that had nothing to do with keeping investors happy. "What issue could there possibly be with casting her?" he told IGN. "The Major is a cyborg and her physical form is an entirely assumed one. The name 'Motoko Kusanagi' and her current body are not her original name and body, so there is no basis for saying that an Asian actress must portray her. Even if her original body (presuming such a thing existed) were a Japanese one, that would still apply."
Oshii's reasoning aside, the controversy surrounding Johansson shrouded the movie up until its release, with Johansson herself having to awkwardly defend the decision in several interviews last week. Speaking to Good Morning America's Michael Strahan, Johansson said that her character "is living a very unique experience, she is a human brain in an entirely machine body, she is essentially identity-less." Johansson also felt comfortable that the movie itself would put the controversy to bed. "I would never attempt to play a person of a different race," she said. "Hopefully any question that comes up of my casting will hopefully be answered by audiences when they see the film." Almost immediately after the interview, The Media Action Network for Asian Americans accused Johansson of lying. 
More alarm bells rang when the studio only screened the movie for critics two days before its release and forced them to hold their reviews until the day before. Typically, when a studio is confident in its final product, it will screen the movie to critics early, in order to build positive word-of-mouth on social media and let the movie's presumably high Rotten Tomatoes score seep into the public consciousness. No such thing happened with Ghost in the Shell, leading to bad buzz before the first review dropped. And when the first reviews did hit the web, the domino effect was fast and devastating. Most publications complained that the movie was all style and no substance, a visually striking action movie that ultimately betrayed the original's heady philosophical leanings. (Ghost in the Shell currently sits at a less-than-stellar 43 percent on Rotten Tomatoes.) In fact, many critics called it an "Americanization" of the original, with complicated themes surrounding human consciousness abandoned for mindless action set pieces. And The Atlantic's David Sims went as far as accusing the film of using a late twist to explain away Johansson's presence to audiences. "A third-act twist attempts to confront Johansson's casting in a way that ends up feeling awkward, misguided, and vaguely insulting to Oshii's film, summoning the specter of its original protagonist in an effort to explain why the Major's 'shell' might look like the American actress," he writes. 
But most people agreed that among the movie had flaws, Johansson herself was not one of them, and that the actress gives an appropriately haunting and robotic performance (which makes sense, given that she plays a haunted robot). The New Republic call her "the best thing the movie has going for it." Still, her appeal was not enough to overcome the accusations of whitewashing, with Megan Colligan, Paramount's marketing and distribution, admitting that "it had some impact, but it was more of the impact overall on reviews," she said. "I think people are becoming more vocal on these types of issues." After the lessons learned with Ghost in the Shell, she is probably—and hopefully—right.