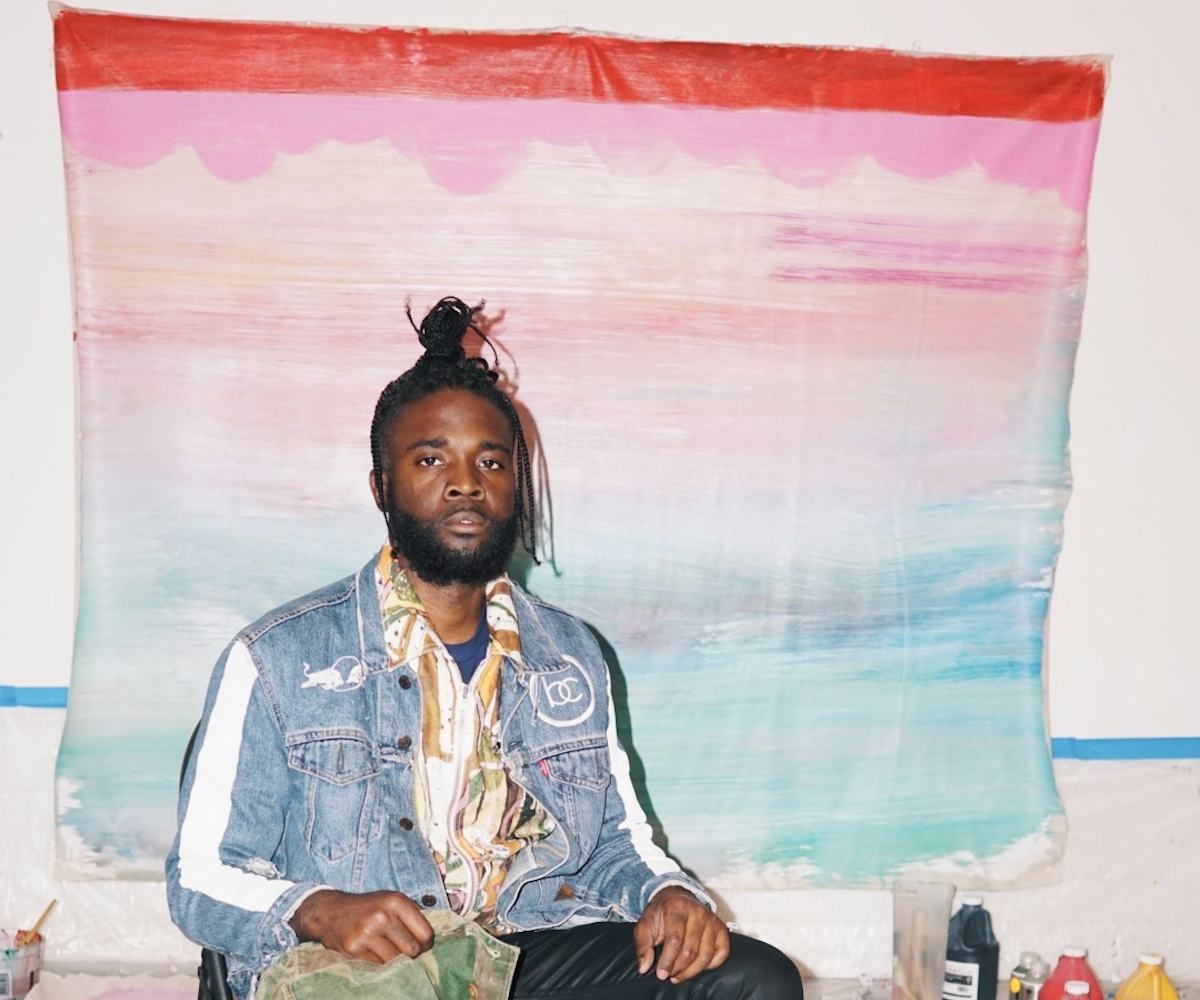 Photographed by Gianni Lee
Fashion Designer And DJ Gianni Lee Proves His Artistry
He discusses his first-ever art exhibition, "Why Won't You Hear Me?"
Some people just have it—this uncanny ability to excel in whichever field they choose to apply their skills. Gianni Lee is undoubtedly in this category: As a DJ and producer, the Philly native has established a cult-like following with his mixtapes and remixes, even going on to winning first-ever VFiles x Def Jam DJ Championship and performing at Afropunk and Trillectro Festival. As a fashion designer, he co-created the Babylon Cartel clothing line, which graces the wardrobes of Willow Smith, Iggy Azalea, and Rihanna. As a painter, he has participated in campaigns with Hennessey and Kenneth Cole. Now, he has further refined his skills with his first solo exhibition, entitled "Why Won't You Hear Me?," proving himself as an artist in every sense of the word.
"I used to just complain on Twitter about everything, and I don't like doing that anymore," Lee says with a laugh while walking me through the exhibition that has occupied the Brooklyn Waterfront Artists Coalition in Red Hook since March 25. "As soon as I found art it really gave me a voice. It allows me to continue to basically say anything I want to." The works in the exhibit—which are comprised of paintings as well as painted bags and denim jackets—all connect to tell stories within a futuristic world populated by pink and blue characters with no explicit ethnicity or race, and settings that have no designated geographical location or time. Lee notes that he's inspired by origin stories, be they of Spider-Man or Basquiat, and it's clear from the detailed and well-developed nature of the realm that he's created. 
Despite the vivid colors that characterize this fictional society, all is not bright and pleasant; the pink and blue characters stand at odds against each other, with the pink ones seemingly having the upper hand as they all fall victim to the side effects of communication and technology. Lee set out to get his viewers thinking about the symbolism of his works to come to a conclusion about their meaning, rather than impose opinions upon them. "I want to hear what people think," he says. "Some people can dig deep and see the overall picture, and sometimes you can push people in the direction where they understand." "(SOLD)iers to Slavery" puts his goal to the ultimate test. It's an expansive work in which a blue figure is being pulled across a body of water into a pink mass, leaving behind two other blue figures. Though, for me, it immediately calls to mind the transatlantic slave trade and the resulting separation of families of African descent, Lee notes that it could represent any institution that can "oppress, control, and profit," as he says, be it the prison industrial complex or church.  
Apart from touching on social issues such as the plight of black people in America, the missing girls in Washington, D.C. and the Bronx, and civil unrest in Mississippi in the '60s, "Why Won't You Hear Me?" gives insight to Lee's personal life as well, with some of the pieces inspired by his past relationships, lack of a connection with his father, and being a product of his environment. "I've got this weird relationship with emotion. I feel like it's because I grew up in a very masculine environment, so it was always, 'No bitchin', no complainin'. All that shit is pussy,'" he reflects. "I grew with that for so long that I internalized a lot of emotion and not ever showed it. This is the first time I actually showed emotion, in my paintings. This is like the first time I have shown emotion in my work—and even in general, in life. It took painting to get me there."
But even more impressive than the details of his work, the symbolism throughout the exhibition, or the emotional intelligence Lee has gained in the process of creating it is the fact that Lee has only been honing in on his painting skills for just a year. "I just look at it like, if I can make music, why not make music? If I can design, why not make clothing?" Lee says of his foray into fine art. "If I know how to design that means I know how to draw. I know color theory, I know shapes, I know bodies, so why can't I paint?" The experience of developing his skills has certainly left a mark on Lee: He plans on releasing a Babylon Cartel collection this fall that will incorporate aspects of "Why Won't You Hear Me?" and hopes that, one day, he'll reinterpret the futuristic universe that he's created as an animated work. Through it all, he's bridging the mediums in which he works—the mark of a true artist. "I feel like people are starting to really put the pieces together [of what I can do]," he says. "I just do it because I love to do it and I know it will eventually get out there. But after a while, I'm an artist like anybody else. I want my shit to be heard. I want my voice to be heard."