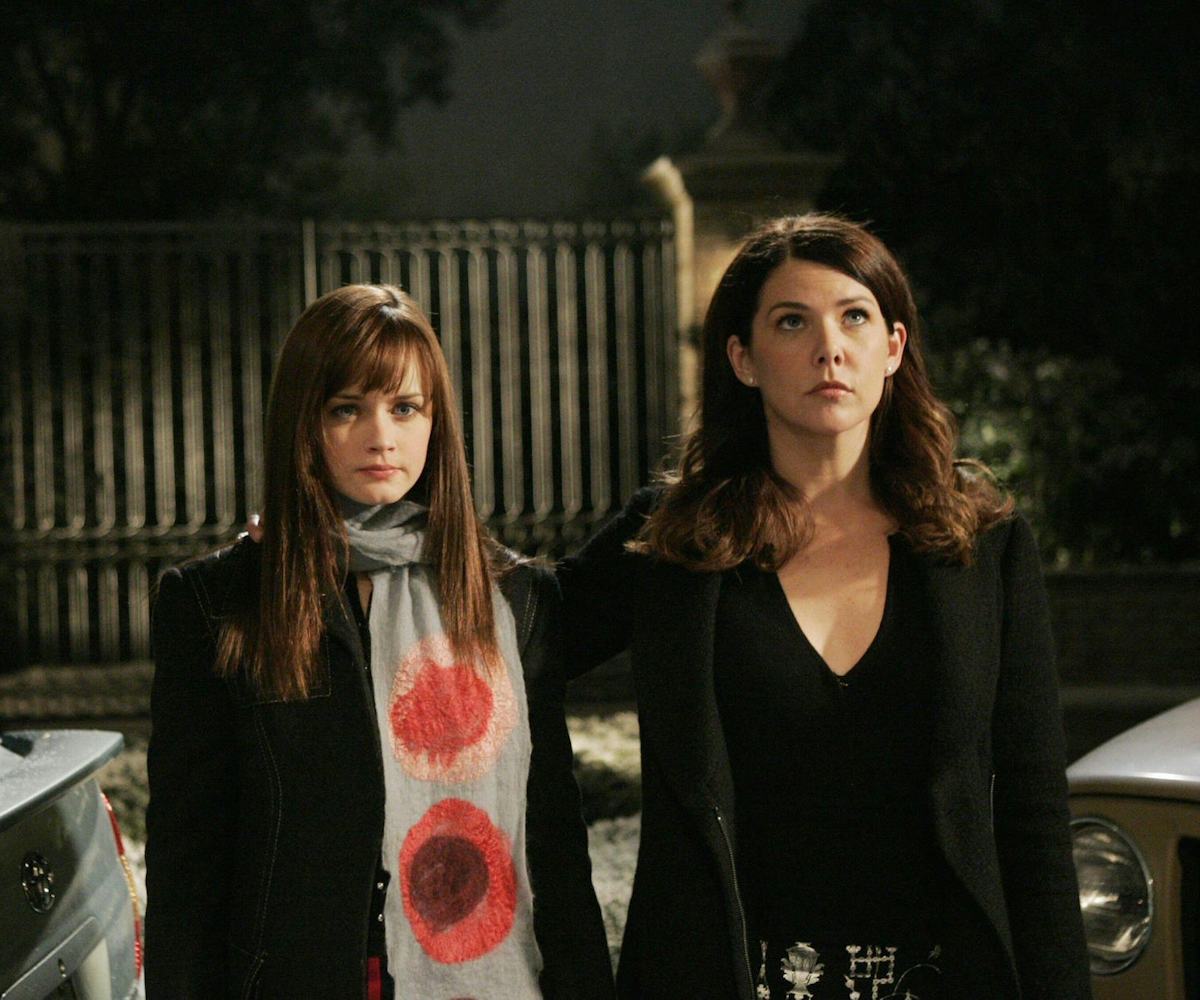 Photo via The CW
4 'Gilmore Girls' Revival Conspiracy Theories
But are they too good to be true?
No one is more excited about the return of Gilmore Girls than me. I have been waiting for this day to happen for 10 years. (Note that I intentionally skipped over the seventh season. You all know why...) In the series finale, Rory graduated from Yale, turned down Logan's proposal, and announced that she was off to follow Barack Obama on his presidential campaign trail. Lorelai and Luke finally got back together after one too many years of nonsense getting in the way.
Gilmore Girls: Seasons isn't projected to premiere until sometime in 2017, but that doesn't mean we have to wait that long to start hypothesizing. (Besides most of us loyal watchers have been drawing conclusions of our own over the years.) My co-worker and I came up with four conspiracies that could potentially be developed into the plot. As far as that wedding is concerned though, we're betting our money on Luke and Lorelai. Click through to watch the fictional drama unfold.
1. Everyone is going to return for the funeral of Rory's grandfather.
Seven years after the last season of Gilmore Girls aired, Edward Kirk Herrmann, aka Richard Gilmore, passed away. Obviously, there's no replacing Richard so we're thinking that maybe his death will be worked into the story line. (You can't kill someone off if they're already dead, that would be tacky.) Even though Richard and Emily Gilmore weren't the biggest fans of Stars Hallow, everybody in town knew who they were because of Lorelai and her troubled past. And throughout all seven seasons, the two of them played a major part. The funeral will most likely be held in Hartford, Connecticut because that's where Richard and Emily lived. (What will happen to the Gilmore mansion?) Since none of Rory's exes could possibly be over her, we think that all of them would show up to the funeral to pay their respects and show their support. Before the big show, there will probably be a dramatic Friday night dinner and we will cry hysterically.
2. Dean is probably still living in Stars Hollow with child.
Dean Forester seemed like he meant well, but then he would wind up doing the most long-term damage. I mean, what kind of a guy breaks up with the love of his life in front of the whole town at a dance marathon, casually starts dating someone else not too long after, gets into a fist fight with his ex-girlfriend's new boyfriend at a party, and then goes on to marry the other girl anyway? Oh, and let's not forget how Dean had an affair with Rory which caused the demise of his marriage with Lindsay.
Whether or not he was able to make amends with Lindsay after the divorce, we can totally picture Dean as a dad. We still haven't decided if he's married or divorced, but he has to have kids. Now that we know Rory is a teacher, we're thinking that she works at one of the schools in Stars Hollow. Perhaps she'll run into her first ex at a parent-teacher conference? We thought he would finally be gone for good in Season 5, but you can't ever get rid of your first love, can you?
3. Jess is probably single.
The last time Jess Mariano came back to town was to pay Rory a visit at her grandparents' house in Season 6. He seemed like he had his life together—he moved to Philadelphia, joined a small publishing house, and even wrote a novel. Unfortunately, she was with Logan at the time and they obviously did not get along. (None of Rory's exes ever do.) Rather than take this opportunity to profess his undying love for Rory, Jess expresses his disappointment about the direction her life has taken after dropping out of Yale. How did she become that girl? So what does Rory do? She moves out of her grandparents' house and goes back to Yale. Who does she have to thank for that sudden wave of motivation? Jess.
Even though he's one of the most lovable and hateable characters, Jess was a bad boy that managed to redeem himself slowly over time. (The same can not be said for others...) He probably still has some issues to work through though, so he probably hasn't felt the need to commit to anyone because he's so focused on himself. Also, nobody will ever measure up to Rory so he's definitely been waiting for the right moment to come back into her life and beg for a second—wait, how many chances is this guy on? 
4. Logan is probably married... or a widow.
Based on where we left off with him, Logan Huntzberger was ready to settle down. He wanted Rory to take that next step with him, but she walked away and left him in the dust. He was probably devastated, but not enough to wait for her forever. As the the heir of the Huntzberger fortune, he might have had a couple of wives by now. The real kicker would be if he was a widow though. Not only would this make him the most changed of the exes, but he would also be the ultimate bachelor. He'll waltz back into Rory's life and try to win her back because you can never truly get over the one that got away, even after all this time.