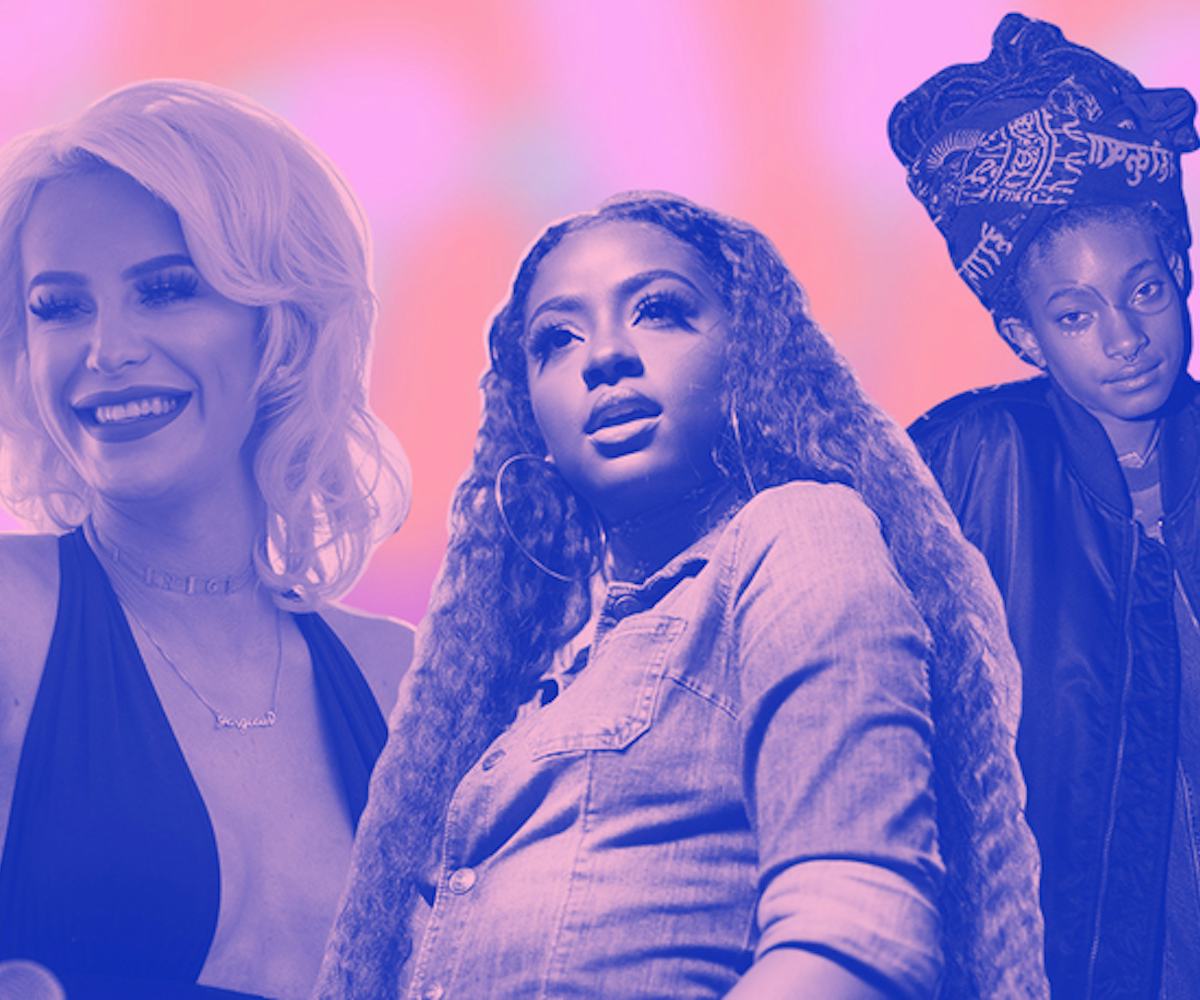 Photographed by Helen Boast
Girl Cult's Inaugural Year Aims High And Gets Halfway There
Let's talk about this feminist festival
A lot has changed since feminist festival Lilith Fair first burst onto the scene in the mid-1990s. Conversations about sexuality, gender, and women's rights have become mainstream. The entry bar for pop culture players has been lowered, which means almost anyone with an Instagram account has the potential to become an "influencer." And hey, we almost had a woman in the White House. (Oh, what could have been.) But despite any advances we've made, there's still space for plenty more. Enter Girl Cult, a feminist festival held yesterday at Los Angeles' Henry Fonda Theatre, that seemed poised to hit a sweet spot. Its target audience, post-millennial (aka teenage) young women, already seem to understand that women are capable of anything and everything, including dancing to great music and changing the world. But what could an event offer savvy teenagers when it comes to empowerment? 
In the early hours of Girl Cult, that question went largely unanswered. Separated into two stages, the rooftop "Queen Stage" and the interior "Goddess Stage," attendees could listen to bands indoors or sit in on panel discussions in the sun. The musical artists presented indoors were the big winners of the day, with R&B being, without a doubt, the event's most popular genre. However, the success of the group discussions was harder to quantify. Covering topics like "The Business of Beauty" and the self-explanatory "Fashion," there was room for discussion of social norms, personal experiences, and trend-bucking. And with panelists such as Kim Walls (global manager of Lime Crime), model Lauren Wasser, influencer Lori Harvey, and blogger Marianna Hewitt, there was a huge range of both talent and life experience on display. But ultimately moderator Margie Plus led each discussion toward crowd-pleasing, easy-to-digest quotes. At its best, a discussion on authenticity led to the tweetable battle call, "eat bread and cry." At its worst, a panelist went unchallenged when she declared that Instagram was a great way to show her "authentic self," a claim that anyone familiar with even the most basic photo editing and curation techniques would find difficult to believe. 
This trend became particularly frustrating during Gigi Gorgeous' panel when nearly half of the trans icon's allotted 15-minute speaking time was lost to a discussion of lip gloss and contouring. Why not ask about her work within the LGBTQ community? Or even her career as a YouTube star—a notable feat regardless of gender? The elephant in the room remained. Why invite such a wide range of accomplished women to speak, only to mow over the differences that make them so special in order to promote unity? 
Thankfully, an evening speech from Kimora Lee Simmons addressed that question. Joined by her daughters, Ming Lee Simmons and Aoki Lee Simmons (who advocated for women in science and leadership roles), the model-turned-Baby Fat mogul praised the sheer diversity of womanhood to a cheering crowd:  
You're all so beautiful. Everybody in their own shapes, size, looks, skin, color, hair. It takes all of us to make the world go around. I think if you guys have followed my career for 100 years, then you know I support women of all shapes and sizes, women of all colors. It's important. When you look at all the magazine pages now and forevermore, know you that everybody doesn't look like that in the magazine pages. Those girls don't even look like that in the magazine pages. So don't try to break your neck to be something that you are not or break your back to be like someone else. Be yourself!
Tyra Banks, who built a singularly impressive career that's taken her from runways and magazine covers to the driving force behind the America's Next Top Model juggernaut, likewise praised the power of being oneself. 
"Write down all the designers who love ass," she told the audience, recounting the advice her mother gave her when she started to mature beyond the traditional model body type. "Because your ass is getting bigger, and I'll be damned if my baby starves for this damned industry." When she was told some of the clients she wrote down herself didn't like black girls, she wore down her agency until they agreed to market her. With that, she delivered what might be the evening's strongest takeaway: "Tell them to kiss your big fat ass, your skinny ass, whatever!" 
Banks' keynote speech was coupled with a de facto headline set from Willow Smith. (Rap duo Chloe x Halle was relegated to playing to a near-empty room at midnight.) Praised by Banks as a free-thinking youthful artist she admires, Smith played a set that seemed to make good on that high praise. Songs from her 2016 debut, Ardipithecus, felt presciently off-center, unexpected, and—most importantly—a lot of fun. 
The day's most basic goal was exceeded: support among women was fostered, and new artists like Telana, Justine Skye, and Diana Gordon were given a platform to shine. But it seems a shame not to embrace the all-female lineup as an opportunity to dig into the complexities facing women across the board. Admirable attempts in places, yes. But tweaks will be needed next year before this becomes a cult truly worth joining. See photos from the event, below.
Margie Plus and Debby Ryan
Gigi Gorgeous
Lauren Bennett
Justine Skye
Sevyn Streeter
Snoh Aalegra
Kimora Lee Simmons
Tyra Banks
Willow Smith
Chloe and Halle
Brooke Candy
Diana Gordon