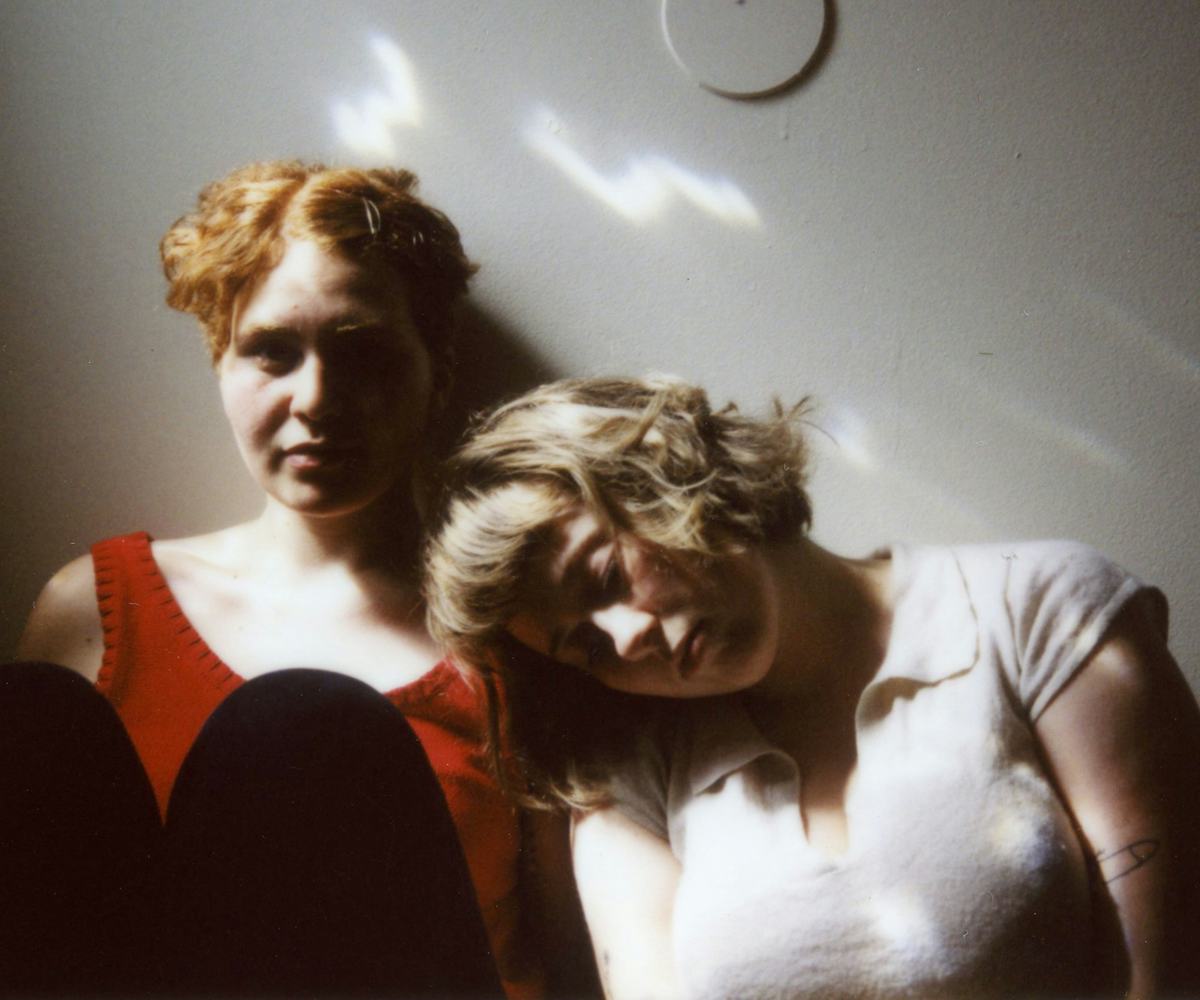 Photo by Allyssa Yohana/Getty Images
Band Crush: Girlpool Are The Teen Queens We Deserve
If you live in Philadelphia, chances are you've seen Girlpool hanging around at the DIY venues with other local legends, like Alex G. The two-piece folk-punk band is the project of best friends Harmony Tividad and Cleo Tucker, who are both originally from Los Angeles. Even though they are only 20 and 19 years old, don't hold their age against them—Girlpool is totally dominating the indie-rock scene. This past June, they released their debut Before the World Was Big LP, and it's the kind of album that makes you feel like you're speaking directly to an old friend from high school. It's got the energy of a young woman who has yet to shut herself off from her feelings, and the stories told in the songs will remind you of actual experiences from your past (or present).
We managed to catch up with Girlpool via email while they've been on tour, and we learned more about how the band became a real thing, what books they're reading right now, and how Tividad and Tucker got started with music in the first place. Throughout it all, they made us laugh and wish that we could have been this cool when we were their age. Get the 411 in this exclusive interview, below.
Could you first tell me the story of how you both met? 
Cleo: Harmony and I met at a DIY venue called The Smell in Los Angeles. In high school, we were both playing in punk bands and going to shows there every weekend.  
How did Girlpool come to be? And how has your relationship changed since being in the band together?
Cleo: We both wanted to create a project that was super collaborative. We were inspired by each others' passion to play and write. Our relationship blooms newness every day. It has taken a special shape since the start of Girlpool.
How did you both get involved with music? What was your path to learning how to read, play, and write music?
Cleo: My mom took me to see Joan Armatrading at a Borders Bookstore after school one day. After that, I asked my parents to buy me a guitar from the toy store that used to be in the neighborhood. I started taking lessons around the corner from my house when I was seven or so. 
Harmony: My dad's a musician and was always showing me music as a kid, getting me into different bands, and explaining the different elements of the song to me. I also was in choir from when I was seven until I graduated high school, and I learned about reading music from my dad and from my theory classes. I had a piano teacher for two years when I was in middle school, but would never practice. But I taught myself guitar when I was 13 just through using the Internet. 
Do you have any recollection of the moment when you both decided to take your band seriously and really pursue it as your full-time profession?
Cleo: When we first started Girlpool, Harmony and I were still going to school. Writing together and playing shows around Los Angeles quickly started to take up all of our time, there wasn't anything else we wanted to do. There hasn't really been a time that we haven't felt the yearn to sit in what we make with sincerity and focus. 
Harmony: This is a difficult question to approach entirely as there are so many elements to being in a band today. Cleo and I begun Girlpool with a very serious intention—to make music that felt honest and real to both of us—but also the "non-serious" intention of playing for fun, with no plans to "professionally" be in a band. Our goal has always been to make music that feels warm and fervent to play. It's hard for me to completely envelop myself in the idea of it being a "profession" still, as it being a profession has so many connotations within society that I don't identify with my personal practice of playing and writing music. Thus, the moment has yet to occur where it's become more or less "serious" as we have always taken it seriously on our terms, just not within the terms and ideologies that are more often presented as being in a "serious band." 
What brought you both to Philadelphia?
Cleo: We both wanted explore a world outside of the one we were comfortable and familiar with. We sorta chose Philly because it was something we new little about. 
I know that your band name is based off a chapter in Cat's Cradle. Are you both bookworms? What are some of your favorite novels? Are you reading anything good right now? (If so, what?!)
Harmony: I love books very much. I just finished this book The Daniel Clowes Reader (which Cleo actually got me for my birthday), which is a series of analytical essays about Daniel Clowes' comics, as well as excerpts from interviews with him and a bunch of his comics in it. It was really amazing, really presented some interesting ideas into my view. Another book I finished recently was Torment Saint which is the most recent Elliott Smith biography, which was also really amazing and insightful. 
What's the worst, most embarrassing or funniest thing that's ever happened to you while on stage?
Harmony: I peed myself laughing at my own joke on stage.
Who are your biggest musical influences?
Harmony: We both love Elliott Smith, Arthur Russell, Dear Nora, and a lot of our friends' bands.
I noticed that a lot of your songs are very observational—what typically inspires you externally to then look internally and turn it into a song?
Cleo: I believe that everything sort of soaks into you, and there's no way to really control that. Songs feel like concoctions of experiences and feelings.
How would you describe Girlpool's aesthetic to someone who's never listened to your music before?
Harmony: I have never tried explaining our aesthetic and I really hope I dont ever have to! 
Cleo: Same, I feel like both of our "persons" contain millions of people. 
You already released your debut album, so what's next? What have you been working on lately? Any details on when we can expect to hear some new tunes?
Cleo: We're exploring and growing and making, and it's so filling!