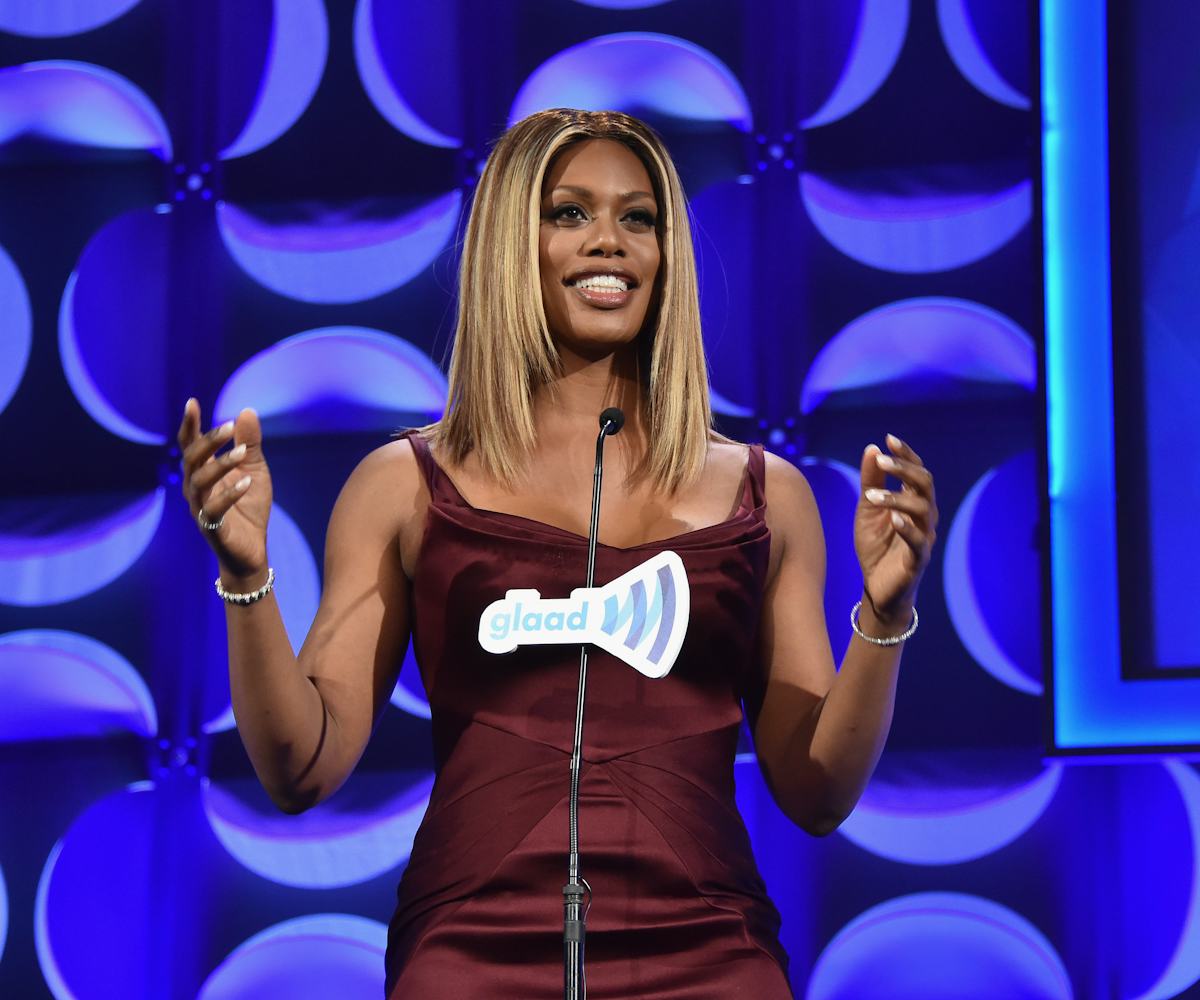 Photo by Mike Coppola/Getty Images for GLAAD
party monster: the 26th annual glaad media awards
hanging out with laverne cox, andreja pejić, and more!
It's been a huge year for LGBTQ visibility: Between shows like Orange Is The New Black and Transparent, and history-making news segments on mainstream stations spotlighting discrimination, the media is finally starting to reflect an honest diversity of queer experiences. That visibility—and the subsequent social progress it indicates—was celebrated on Saturday night at NYC's Waldorf Astoria during the 26th Annual GLAAD Media Awards, where some of our favorite celebrities came together to honor the work of journalists, actors, and other media-makers. 
Of course, despite the tremendous progress made this year, there's still a lot of work to be done. As GLAAD President and CEO Sarah Kate Ellis emphasized to NYLON, "We've had seven trans women killed this year." And in a moving speech later in the evening, Ellis stressed the fact that equality and acceptance are two very different things. Even as marriage equality inches closer to becoming a reality, with the upcoming Supreme Court decision, violence against LGBTQ people abounds. "People still get beat up for holding hands in states where it's legal to get married," she said. 
On the red carpet, the mood was celebratory, as actors and activist heroes talked about the accomplishments of the past year. Laverne Cox said, "What has been so impactful for me as a black transgender actress playing a black transgender character on Orange Is The New Black is that audiences who are trans* and non-trans* alike are having empathy for my character and the actress who plays her." She continued, "I've heard so many people tell me that their ideas of trans people have changed because of this character. And trans people say they feel like they can fulfil their dreams because of her."
Australian model Andreja Pejić's professional success is having a similar impact. She's about to be the first-ever transgender model to be featured in Vogue, and just became the face of Make Up For Ever's new campaign. "Every woman has a relationship with beauty," she told us. And while she says it's a huge step for her career, she also realizes that it's a huge moment for trans women: "This is going to open up people's minds about what beauty is and how we define it." 
"We're making history," Orange Is The New Black's Dascha Polanco told us. "I never thought I would be part of history. It's amazing."
And Jeffrey Tambor, whose groundbreaking role on Transparent has helped bring the trans* experience into living rooms across America, said that in his opinion, things are changing extremely quickly. "I think my kids and their kids and their grandkids won't even have genders that we recognize because of gender fluidity. It's so fast. And the Millenials are empathetic and passionate and compassionate." Co-star Judith Light chimed in, "And they know that freedom for one sector for the population is freedom for everyone."
Click through to see photos from the event. 
Actor Jonathan Groff was a special guest. 
Laverne Cox, being flawless. She also said that she loved our reporter's purple hair, a compliment we are still squealing over.
Actress Dascha Polanco was wearing a floor-length embroidered, bedazzled jacket, and is officially our hero.
Alicia Menendez, nominated for her TV segment "A Model with a Mission" and Janet Mock, writer and trans* activist. 
Kelly Ripa was honored for her contributions to LGBTQ visibility on mainstream television.
Rupert Friend and Aimee Mullins were there, because having ridiculously attractive allies always helps. 
Ugandan trans* activist Pepe Julian Onziema was honored for his appearance on Last Week Tonight With John Oliver. 
Transparent actress Trace Lysette positively stunned.
There wasn't a dry eye in the room when shooting survivor Kristene Chapa gave a speech about her resiliency after the horrifying hate crime in 2012 that led to the death of her girlfriend. "It's hard to be gay in south Texas, but I believe that God loves everybody, no matter if you're gay or straight," she said, receiving a standing ovation.
It was hard to look away from Carmen Carrera and her dazzling ensemble.
Norwegian musician and all-around cool girl Maya Vik was giving us serious curl-envy. 
Linda Carter—the original Wonder Woman—is still a superhero.
Andreja Pejić giving serious model face.
Kelly Ripa and her close friend Anderson Cooper.