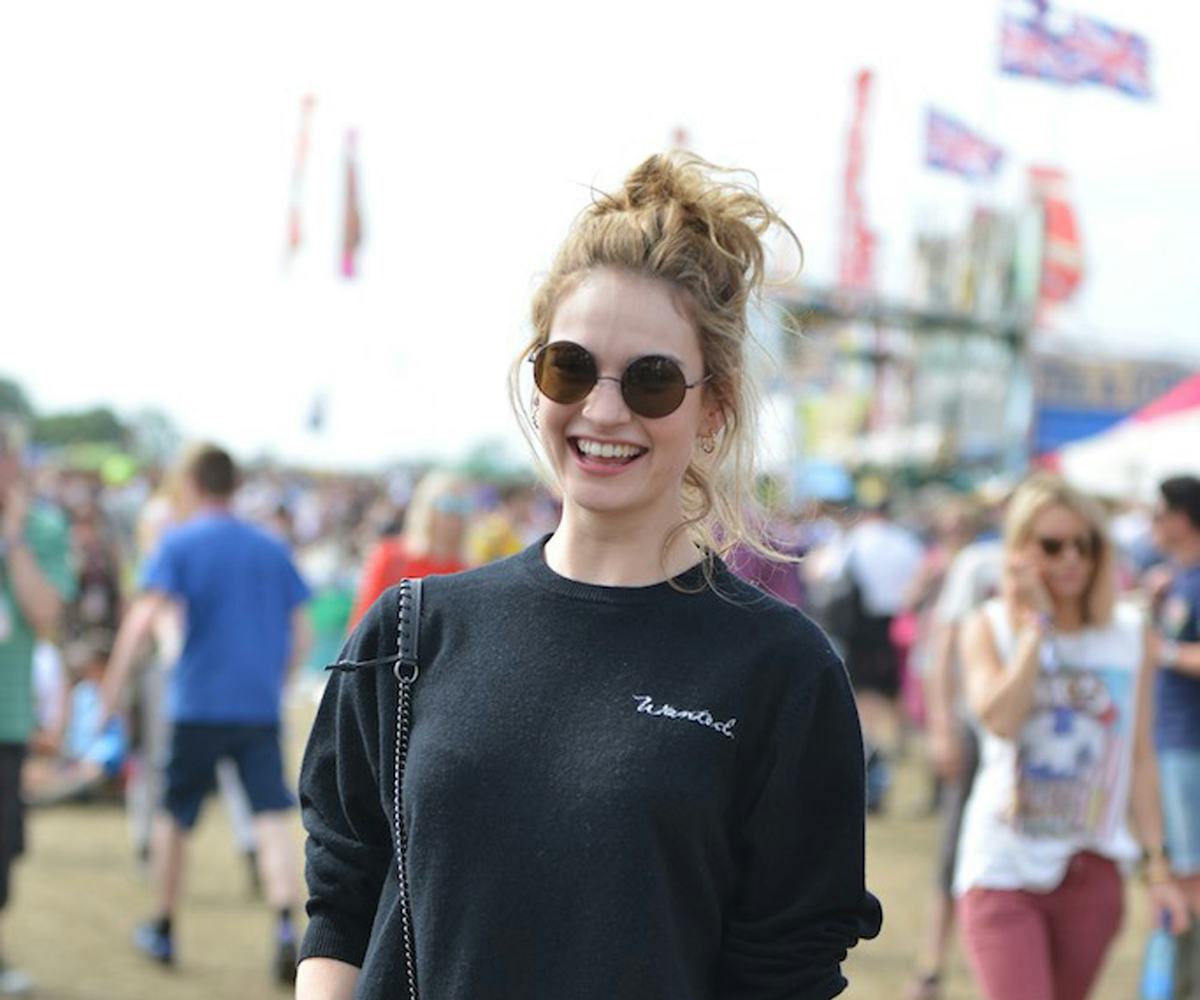 photo via Handout/Getty Images
20+ glastonbury looks that survived the mud and rain
how to do festival-wear in english weather
England isn't exactly known for its sunny, temperate climate and weather pattern. So, when the biggest music festival in England comes to town, it can be a little tricky figuring out how to do festival-wear without compromising for the weather. If you're lacking inspiration on how to still look amazing at a rain-filled, muddy festival, look to the people who killed the street style at the 2015 Glastonbury Music Festival. From muted earth tones to wild colors, these looks definitely beat the mud and rain. Oh, and the star of the entire event? Wellies. Wellies everywhere.
Click through the gallery to take a look at how these folks tackled the weather.
Lily James ditched the fancy Cinderella dress in favor of something a little more venue appropriate.
Chelsea Leyland complements Lily James' black pullover with her own white one.
Josephine de la Baume looks absolutely badass in those shearling sleeves.
A sturdy pair of Wellies ensures you can trek through all that mud and grime to watch your favorite artists perform.
Jaime Winstone knows how to mix prints.
That striped shirt + straw hat combo is definitely working for Will Young.
Paloma Faith is a vision in her multicolored garb.
Can Florence Welch do any wrong? She killed it with her Western-inspired look.
Kim's stilettos may not be the most festival-appropriate, but she reassured her Instagram followers that she had packed a pair of Wellies.
Alexa Chung, Cara Delevingne, and Poppy Delevingne make the most stylish trio ever.
Lionel Richie also pays tribute to Wellies.
Who else but Alexa Chung can rock a mock-neck like this?
Greatest denim jackets of all time.
Daisy Lowe looks like she's come straight out of a Free People catalogue.
Poppy Delevingne steps out in fringe with her man.
Leopard and leather combo is a no-brainer.