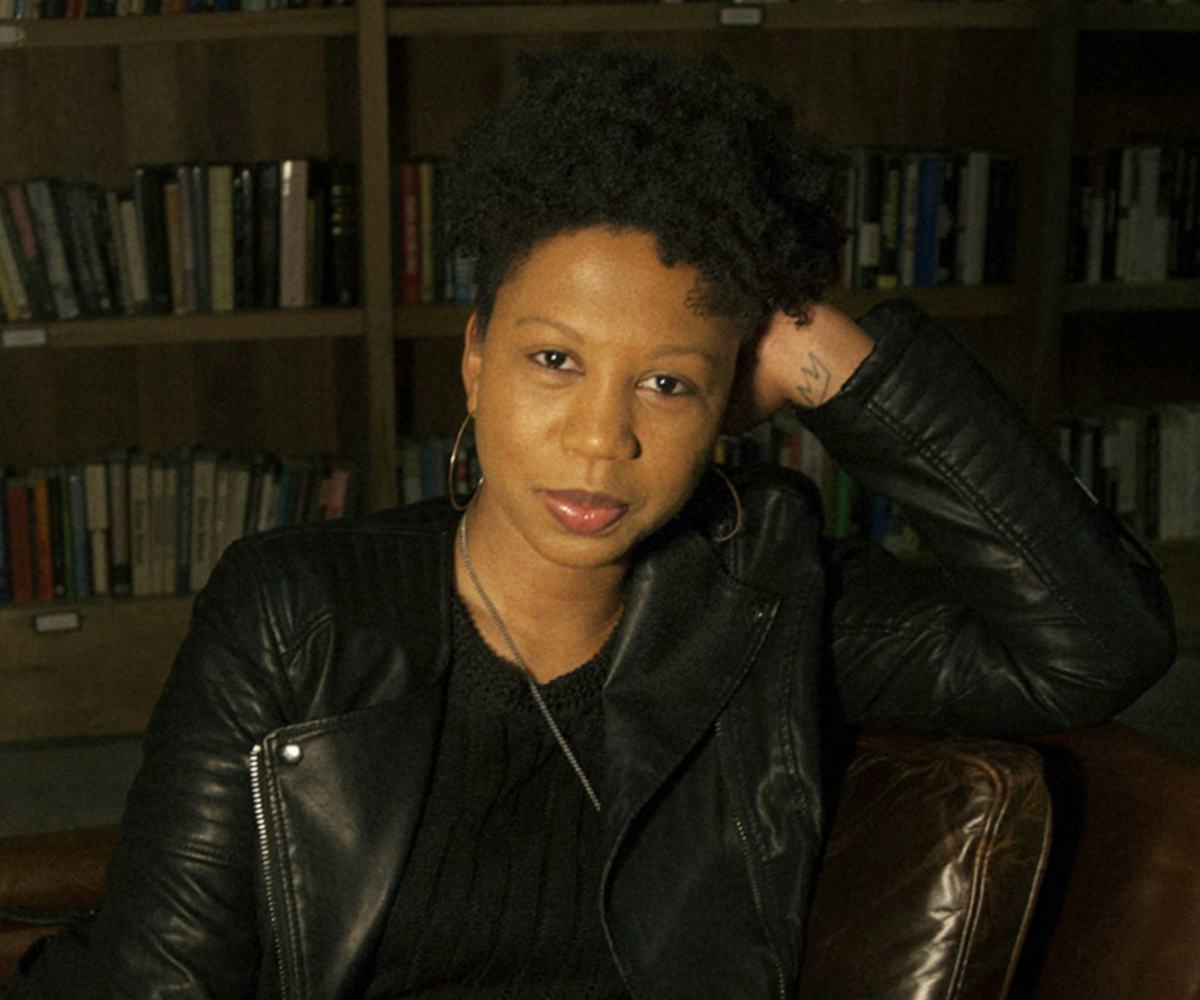 Photo Courtesy of Glory Edim.
Glory Edim Talks About The Power Of Being A Well-Read Black Girl
And about her forthcoming book
Glory Edim is the first to tell you that she didn't plan on Well-Read Black Girl becoming a thing, it just sort of happened. What started out as a gathering of eight to 10 of her closest friends quickly blossomed into a gathering three times that size; then, over time, it became a real community—a growing sisterhood.
The name, Well-Read Black Girl, can be interpreted in different ways. It can mean a black girl who is well-versed in "high-brow" literature—like Walt Whitman and, say, Foucault, Edim gives as examples. "I could have it that way, but that's not what I want to do. I really want to focus on the work and the legacies of black women." She does so by way of an online newsletter, a vibrant social media presence where she often highlights different authors and makes it a point to retweet or highlight black women in the writing space, and, of course, an IRL book club based in Brooklyn where, along with conversation, there's also typically an appearance from the author of that month's book pick. 
A book club meeting, today, usually brings in about 30 to 35 people, Edim says. And it always sells out. "I imagine if I allowed 50 or even 100 people [to come], it would still sell out because people want to participate and talk to the authors." But Edim caps it at a smaller number because she wants to keep the discussions and the group intimate. Also because it's an easy number to manage. WRBG just got its LLC recently, which allowed Edim to add some members to her team. But, for a long time, she was doing everything herself. Bringing on help has allowed her to expand beyond monthly book clubs and do one-off events. Like, for instance, the inaugural WRBG festival that happened this past September and hosted over 250 black women from across the country. Speakers included authors Lesley Nneka Arimah and Naomi Jackson, as well as writers Jenna Wortham and Ashley C. Ford. That, too, quickly sold out. 
The concept of WRBG is pretty simple when you think about it. So much so that it seems strange something like it didn't exist before—at least, not on the same scale. "It seems like such an obvious thing, but, for whatever reason, we didn't do that," Edim says. "When I say we, I mean like collectively black women, people of color, we didn't designate this space for ourselves. We were already doing the work, and there were so many book lists that highlight black authors, but there's not a space completely dedicated to us." There is now, and Edim hopes to bring it to the next level in the new year. On top of another festival and live-streaming book club meetings, so people can watch from home, she wants to bring more nuance to the organization. "I was approaching it more like a community art project, and I still do to a certain extent, but now there's another level of responsibility," she says. "So I'm digging deeper into archiving, and taking an oral history class now, I'm doing all of these things to kind of have more depth and more expertise in what I'm doing. Everyone can Google a quote from Alice Walker, but who are others that you haven't heard of, who are the people that really don't get that recognition?"
On top of that, Edim shares, exclusively, that she'll be working on an anthology book in the new year. Well-Read Black Girl: Finding Our Stories, Discovering Ourselves will focus on the first time black women authors saw themselves represented in literature and will include weigh-in from the likes of Zinzi Clemons, Nicole Dennis-Benn, Marita Golden, and Tayari Jones. "I always thought I'd be the reader, so it's been exciting to be on the other side of things and see the love from the women that have supported me from the very very beginning," Edim says about the project. 
But, Edim is a reader first and foremost—and a voracious one at that. Ahead, we chat with her about 2018 career resolutions, her favorite books of the year, and what book she thinks every black woman should read. 
I feel like this past year has been a better year for black women and woman of color authors. Jesmyn Ward won the National Book Award for Sing, Unburied, Sing and there were numerous women of color nominated. Are you hopeful that things can continue to improve?
I do have a sense of optimism that things will continue to work in a way that benefits people of color, especially black women. I feel like Angela Davis, Toni Morrison, June Jordan, Alice Walker, all of these women have created a roadmap for us to follow, and we are simply building upon their legacies. We have the opportunities now to achieve another level of visibility that I think was truly unthinkable in the past. Social media is definitely a factor of breaking down those barriers, and then, we have women like Jesmyn Ward, she's now won two National Book Awards. If that's not encouraging, if that doesn't cheer us on to continue to advocate for ourselves and create spaces for ourselves… I  do feel like there's just so much possibility. I love Solange, but before Solange did A Seat At The Table, Shirley Chisholm definitely said, "If they don't give you a seat at the table, bring a folding chair." All of these women, it's just in our DNA to create our own spaces, to create our own roadmaps. We have to do the things that others won't do for us. What's beautiful about it, is that when black women do something, it is with pure excellence. So I feel optimistic. I'm looking forward to what 2018 will bring for black literature. 
People will find a reason to complain about anything, and I'm wondering if you've received criticism or blowback regarding the club being a space for black women first and foremost. 
I had one or two incidences where I definitely got those words—"reverse racism"—and I had to check people like, This does not exist. But no, I'm not going to give you a history lesson on slavery or any of the context of any of that. We know that's a made-up [concept]. I'm just really clear about my boundaries and say, "This is a creative safe space for black women, and there are plenty of other spaces than you can join, but this is not one of them." It's always respectful and said with love and a smile, and people have their responses... Every once in a while, people have a book club member maybe bring a person that is not of color into the space, and they'll always ask me beforehand if the invitation is okay. As long as they follow the ground rules in terms of allyship, listening more than speaking over people, just simple things about respect and boundaries, it's fine.
You're writing an anthology. Has writing always been something that you wanted to pursue? [Ed note: Edim currently works full-time as an outreach specialist for Kickstarter]
My degree is in journalism, but originally, I did want to pursue creative writing. My mom and my dad were just like, "Look, we know you're creative, but we need that creativity to be in a professional space." And I'm thankful for that because it really did move my direction into branding and strategy and marketing, and the skill set I have now is because of the experience I had working as a journalist and as a freelance writer. But it did skew away from creative writing, so I am starting to journal more and write down my ideas. I definitely have a couple of op-ed pieces that are sitting on my laptop that I haven't shared with the world yet, but that day is coming soon. I think next year will be a time for me to explore my own writing in a vivid way. 
And also, I talk about this idea of honoring your story a lot, and that's such a real thing for me because I had some pretty dramatic experiences in college and even in adolescence. My mom was very ill, she suffers from depression, and I've spoken a little about it, but I haven't really shared it in a really public forum. My mom actually didn't talk for several years, she was very, very ill and unable to work, and my brothers and I really took care of her during this period. And when you tell someone that your mother is ill with cancer, people understand that immediately. When you tell someone your mother is depressed and she's not speaking, people are just like, "Why?" Or, they'll say, "You should pray about it, you should go to church." There's no real understanding of how bad depression can be. People think, Oh, she's just sad. But, no, you can see the physical impact of what depression can do. So, I'm really hoping to tell that story more to help other people. 
I'm not that old, I'm 35, I'm still living my life, but my experiences I've had in the past, I'm excited to share. So, I'll be working on a memoir, too. 
What draws you to a book? 
Basically, having a protagonist that I can see myself in. Something that feels intimate and relatable. I love when it's not linear—when the story hops around, or it jumps from one character to the next and it feels a little bit like a puzzle. I also really love memoirs. Right now I'm reading Jessica B. Harris' memoir, and she talks so much about her upbringing in New York and befriending [James] Baldwin and Maya Angelou. She has these little, beautiful tidbits of New York. I also really enjoy historical fiction where I can pretend like I was in, like, the 1970s… or thinking about black people during the Harlem Renaissance. One of my favorite books is Jazz [by Toni Morrison] because of that. I love those eras of time, where it's vintage and glamorous and they have a level of shine to it. 
Okay, literature lightening round: Bookstore or library? 
Bookstore. 
Fiction or non-fiction? 
Fiction. 
Physical copy or e-book? 
Physical copy. Are you kidding me? I like to mark them up and, also,  god willing, I will have so many assets to give my unborn children. If I don't have a dollar to my name, they're getting all of my books. 
Hardcover or paperback? 
Can I say tie? Because, aesthetically, I love a hardcover, just how it feels, the binding of it, they're so beautiful—especially first-edition books. But, when I'm marking up a book or I'm preparing for a presentation, a paperback is so much easier for transportation and to make it messy. The practical part in me is like paperback—let me throw that joint in my purse and be on my way—but the person who loves bookshelves, and uses them as aesthetically pleasing decor, loves hardcovers. 
Fold the page or bookmark? 
In a paperback, I fold it, but for a hardcover, I use a bookmark. But more bookmark. 
Write in the margins person or read and go? 
It really depends on how I'm interacting with the book. If it's a book club book, then I'm highlighting and doing my notes, but if it's just something that I'm reading for pleasure, then it's just light little scratches. Because, again, the books are going to my unborn babies, so I want them to be nice. 
Favorite place to read? 
In bed.
Favorite time of the day to read? 
Night, it helps me to settle down. I have a system, if it's a heavier book that I don't want to carry around, I'll keep it on my nightstand and read a chapter a night. Unless it's a Sunday, then I'll read all day. If I can read a book in one sitting, I feel so accomplished. It's like my version of binge-watching Netflix. I'm like, I did a thing, I finished it. I got through it. I feel very, very accomplished.
Favorite book of the year? 
That's so hard just because there have been so many. 
Okay, top three...
Thank you! Okay, Electric Arches by Eve Ewing; What We Lose by Zinzi Clemmons; and the last one is a book I feel like not enough people read and I would love for it to get some light and it was one of my favorites: The Talented Ribkins by Ladee Hubbard.
What book are you reading right now? 
The Jessica B. Harris memoir, My Soul Looks Back, I'm finishing that up. I'm also reading a couple advanced reader copies of books that haven't come out yet that are really dope. There's one called Black Ink, it's an anthology and is edited by Stephanie Stokes Oliver. It's basically a collection of all of these great literary essays. She has a story from Frederick Douglass, the foreword is written by Nikki Giovanni, and there are speeches from Martin Luther King—there are basically speeches from great black people. And then Halsey Street by Naima Coster. I'm in love with it; we're definitely going to make it a book club book. 
Guesstimate of how many books you've read this year? 
That's a hard question because I don't keep track. I would probably say 50 to 55. I've read a lot of poetry this year, too. Nicole Sealey's Ordinary Beast, I loved that book. And Nikki Giovanni's A Good Cry. My father passed this year, so something about it felt comforting and doing these small snapshots of reading felt very satisfying. 
The book that's impacted you the most? 
It's going to sound cliché, but I will say The Bluest Eye by Toni Morrison. It's probably the book I've read the most and at different stages in my life... it's definitely been a foundational text for me. 
A book that's been on your to-read list forever? 
Gabrielle Union's new book, We're Going To Need More Wine. It will probably be my holiday read. 
The book you think every black woman should read?
Sister Outsider by Audre Lorde. 
The best entrepreneurial advice you've received? 
Get yourself a mentor. Have someone you can be really candid and honest with and ask the questions that you need. Don't rely simply on Google because there's stuff that has context and nuance to it that you may not be able to get on a Google search. So, surrounding yourself with people you trust, who you can ask questions of. I think mentorship in any entrepreneurial space is so crucial, especially as black women. You need people you can trust, to help you, to guide you through the process.
What are you most proud of from 2017? 
I feel proud of being able to inspire other people. That brings me so much joy, to see how people are impacted by the work I'm doing and that they can see themselves. I'm glad that when you come to the space that I created that it's all about celebration and it's all about joy. And if I continue to have that sense of affirmation, then I'm happy. 
The other part of this is economic empowerment—that people are able to buy the book that I'm promoting and help the authors just have more leverage, get on the New York Times best-seller list; whatever that thing is, that they need to sustain their careers, if I can have a hand in that, I'm really proud to do so. All of this has come to me in a way that I feel very fortunate and blessed. I didn't set out a plan to be like I'm going to create this... I did not have a business plan, it didn't come in that way, so I can just take it as a blessing and as a gift and use it as best as possible to help other people. And that's what I'm trying to do. I'm still learning a lot in the process, but the best thing is the inspiration behind it. 
Do you have any 2018 career resolutions? 
I definitely want to organize more events that are purposefully designed to make a difference in the lives of young women—and I'm thinking the ages 11 to 18, from middle school to high school. Just trying to find ways to build better communities and build more intergenerational conversations, whether we're going to host events to celebrate their introduction to their own book club or just have a mentorship group of some sort... I'm still working on what that would look like and piloting out how that would work. 
It's one thing for us to be having conversations amongst ourselves, but this all started in our youth, when we're young girls, and how these books shaped our girlhood and really protected us in so many ways. As I mentioned, my mom was ill, and during that time, when I felt like I couldn't really talk to my mom directly or have an understanding of what she's going through, I relied on books to help me navigate those things and to teach myself how to just feel empowered and not feel alone. I know from experience that books can make a difference. You can see yourself and you can find hope in the words of a story, so I really want to make that a component in 2018. And also really paying tribute to the living icons that are still here and pay respect to, like, Barbara Smith... people that are living and making work still as they move into their 70s, 80s, 90s. That feels really important to me, and I feel a sense of urgency around it, so I'm going to make time to carve out those initiatives in 2018. It's going to be a full, very enriching year.