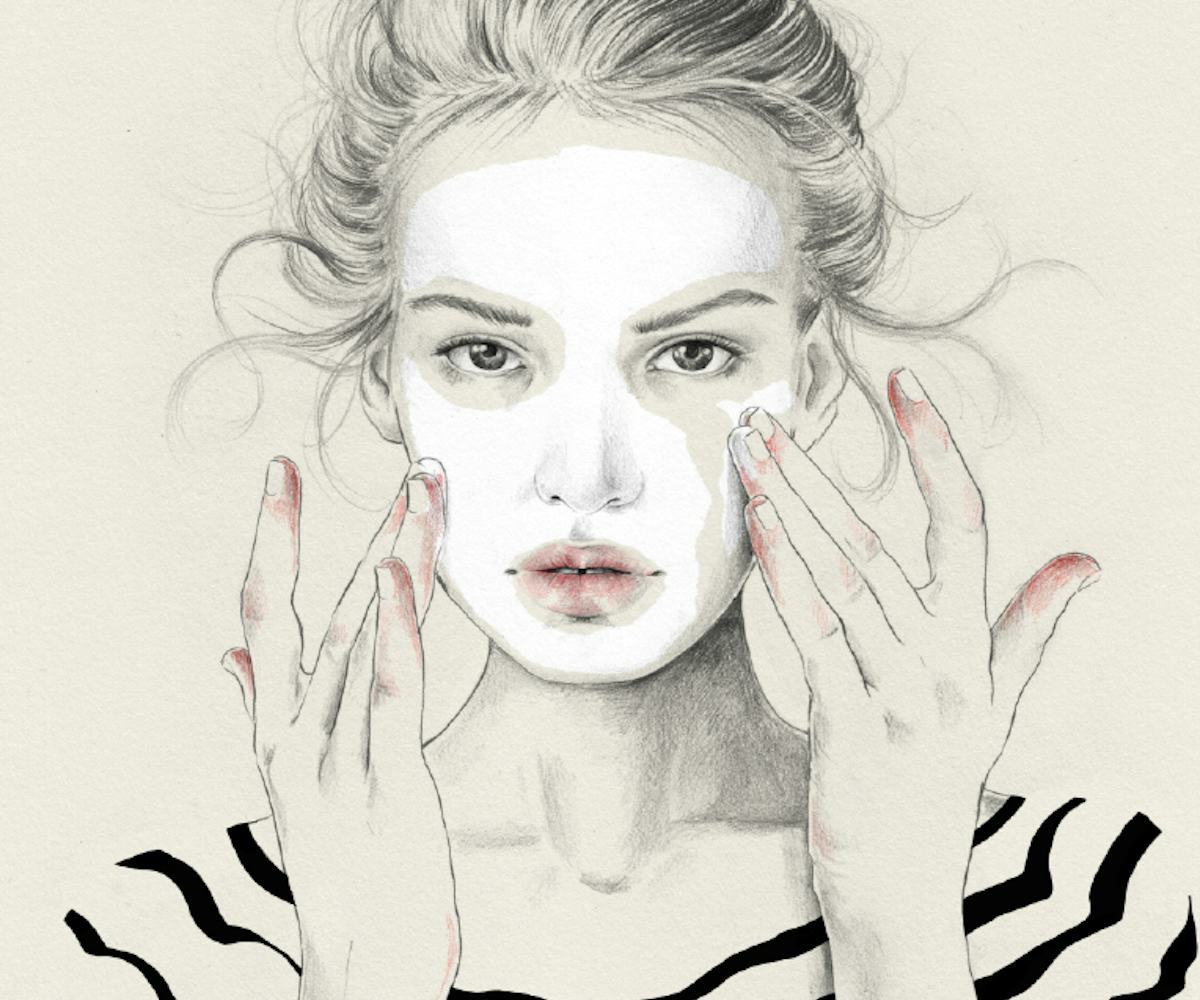 illustration by esra roise
we tried glossier's new face masks
meet the 'mega greens galaxy pack' & 'moisturizing moon mask'
Ever since Glossier's revolutionary launch in October, the sticker-coded Phase 1 set has redefined our top shelves. To refresh your memory, Into The Gloss founder Emily Weiss started her own beauty brand last year introducing luxury quality products at affordable prices. And the results have dropped a realness bomb on the beauty industry that couldn't have come at a more perfect time.
So far, Glossier has given us a priming moisturizer, a perfecting skin tint, a soothing rosewater facial mist, and our new favorite universal skin salve (preceding those fancy limited-edition liquid foil liners, if you were lucky enough to cop a pair). But now, meet their newest (and cutest) artillery in the battle for perfect skin: the Mega Greens Galaxy Pack and Moisturizing Moon Mask. With ingredient lists that cater to your skin in the perhaps the gentlest way we've ever seen, the mask duo packs cleansing and hydrating agents that truly reveal slow and steady wins the race at just $22 a pop.
The Mega Greens Galaxy Pack contains some of the beauty industry's most effective elements of the moment: leafy green phytonutrients, bitter orange peel, avocado oil and aloe, creamy white clay, and a super-fruit antioxidant blend. It "balances and conditions pores while helping to calm inflammation," in all of its creamy-yet-crunchy light green splendor. Far too often masks strip our skin of its natural oils in order to reach the depths of our miniature face craters, but this bad boy draws out those hidden impurities with ease (and just the right amount of tingle). Hot tip: This one works really well as a nightly cleanser, too!
The Moisturizing Moon Mask, on the other hand, takes the moisturizing process even deeper and leaves your skin with that dewy glow that Glossier has come to be known for. Oxygenizing agents, natural emollients (shea butter, plant-derived squalene, and sweet almond & soybean oils), licorice root, lemon extracts, hyaluronic acid (which is basically like a monsoon of holy water that floods your pores), honey, and aloe "dive deep beneath the surface to plump skin up with hydration" and "help to smooth fine lines and restore elasticity." If this sounds tasty to you, that's because it is, but please refrain from licking it off your lips in case you overdosed and masked outside the lines. And here's a trick: I like to put this one on top of the Mega Greens Galaxy Pack—after its worked its magic—to reactivate the kaolin clay once it's dried for an extra round of cleansing.
But perhaps the best part about this launch into Glossier's skin-care galaxy is the team's list of what to do during those 20 minute waiting times:
- read your horoscope
- pay some bills
- find your center
- find the remote
- watch the 'Law' half of a Law & Order episode
- take a selfie and put it out in the universe (as in Instagram)
- do absolutely nothing
Now that, people, is a to-do list we can get behind. 
Click through the slideshow to get the full effect. And as an added bonus, head on over to Glossier.com to get free shipping on the masks if you purchase them together.