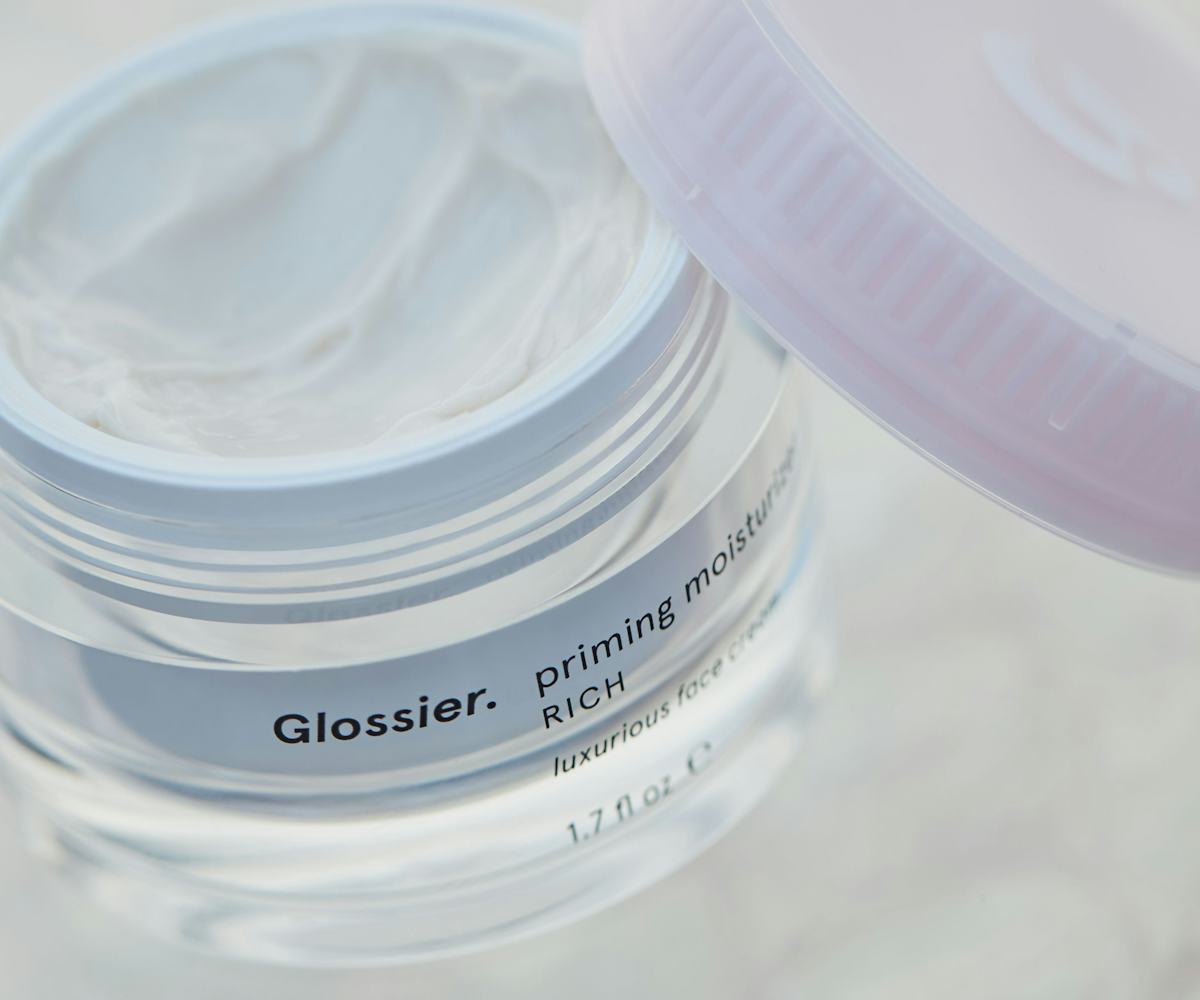 Glossier's New Moisturizer Will Protect You Against The Tundra
It's mid-January, spring feels light years away, and we're not sure if our skin will ever cease being dry. Comes with the territory of winter, most assume. And they're not wrong, but it doesn't have to be your reality if you take the proper precautions. One of which is investing in a heavy-duty moisturizer. Enter: Glossier's newest product.
Joining the brand's Priming Moisturizer is a new, more nourishing version that goes by the name of Priming Moisturizer Rich. How's that for to-the-point? Launching today, the product is a winter version of its prototype that doubles down on hydration. It's blended with shea and murumuru butters, ceramides which help strengthen the skin's barrier, and a red algae complex—all mixed up and presented by way of a luxurious texture. 
Now, about that presentation. After polling readers and devoted fans last winter, most requested the cream come in anything but a jar. As you might've noticed from the above picture, that didn't end up being the case. Glossier explained its reasoning in a blog post on Into The Gloss, stating:
We tried everything—tubes, bottles with pumps, packs... Let's just say that there's a reason so many heavy creams come in jars. There's no real way to house the sumptuous texture we wanted in anything other than a jar. But it's OK! After months of testing, we found a preservative system that kills bacteria, keeps the formula stable, is still free of parabens, and is safe and gentle on skin. Plus, we only chose specific actives that are not sensitive to light or minimal air exposure—worry not about spoilage here.
The jar issue shouldn't turn you off, though, especially if you're in the market for a more emollient cream. The product itself doesn't feel overly heavy or leave you with a greasy film, like some winter creams, and can be used morning and/or night. I'm partial to using it at nighttime, though. I apply SPF religiously in the morning so, after applying the cream, I will layer it on when I feel like I need an additional barrier. I don't mind the extra step, but I'd be lying if I said I didn't wish the PMR came with sunscreen already infused in it. We understand that this launch is no more than an hour old, but we're ready to put in a request for the new batch of products. 
The Priming Moisturizer Rich is available today (now!) on Glossier's website for $35.