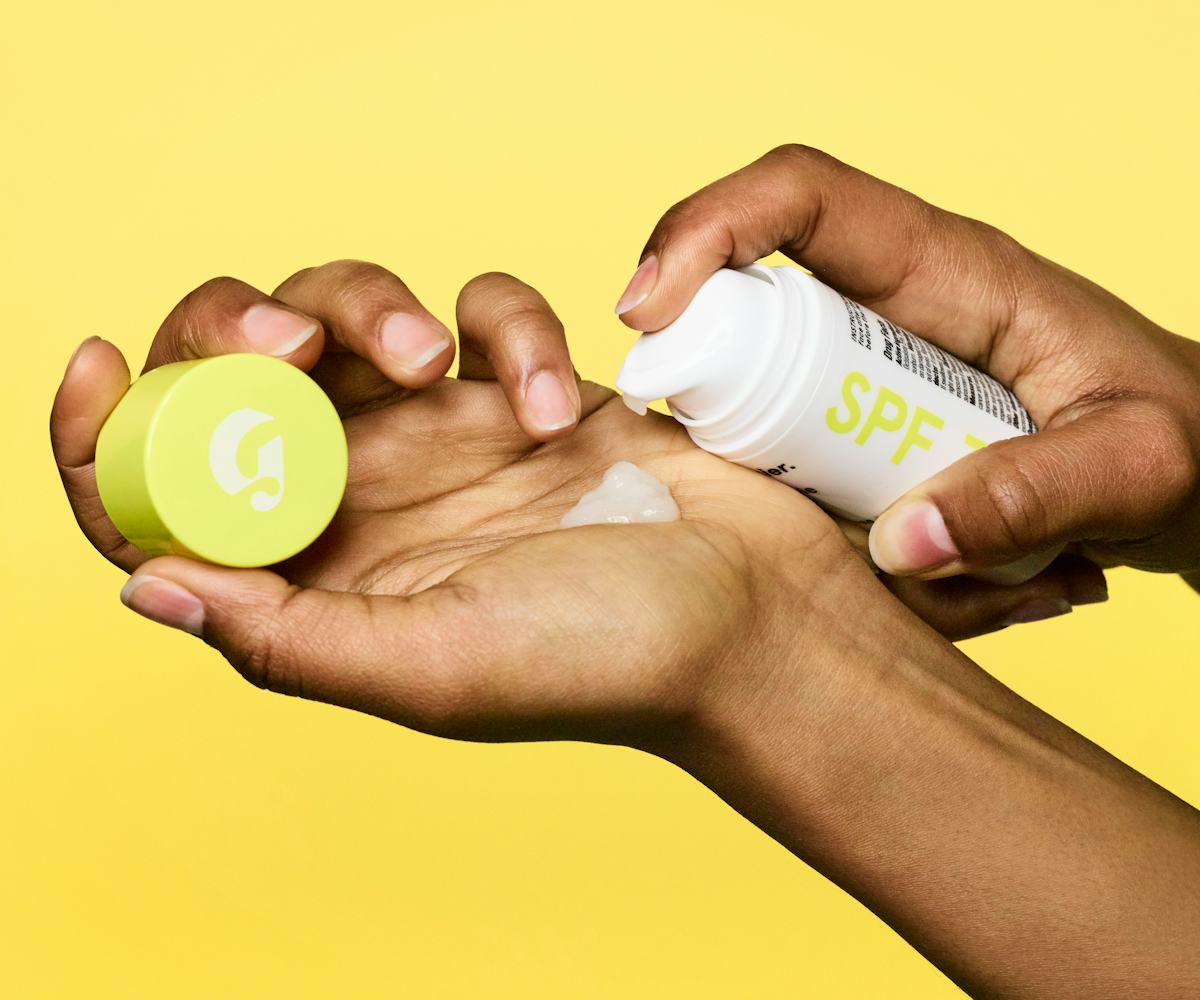 Photo courtesy of Glossier
Glossier Wants To Save Your Skin With An Invisible Sunscreen
It was only a matter of time before Glossier made yet another product that we couldn't live without. As summertime quickly approaches, we're all itching to shed our layers of clothing and show off our skin. But we can't (or, more like, shouldn't) do that without the proper protection. The cult beauty and skin-care brand's latest invention is Invisible Shield, a clear serum sunscreen that protects everyone under (and from) the sun.
At last, no more thick, white gloop is necessary to fight off all those harsh rays and nasty pollutants in the atmosphere. Instead of struggling to squeeze sunscreen out of a bottle, all you have to do is pump this tiny tube of SPF 35, and the formula comes right out. (Perfect for all of us ladies on the run, shout-out to Beyoncé.) 
Invisible Shield is loaded with active microcapsules that have anti-UVA and -UVB properties; an antioxidant complex comprising vitamin E, vitamin P, broccoli, and aloe leaf extracts that neutralize damaging free radicals; and fermented yeast and vegetal extracts to "prevent pollution from getting in." The sunscreen's water-gel formula is so transparent that it sort of sparkles on your skin before it settles on the surface. Also, it doesn't smell like a laboratory experiment of chemicals poured into a tube; instead, you can inhale the aroma of the sweet orange essential oil. Glossier recommends putting on Invisible Shield after moisturizing your face, but before you apply any makeup. 
Prior to the official launch, CEO and founder, Emily Weiss, wrote a post on Into The Gloss about her conversion to sunscreen. As someone who was late on the sunscreen wearing game, Weiss was motivated to make a sunscreen that was "so good, so imperceptible, it'll convert even those who hate wearing sunscreen." In the piece, she declared that sunscreen is "the ultimate in adulting," and essentially "life insurance for your face."
We have definitely been guilty of forgetting to slather on sunscreen from time to time, but the threat of skin cancer is very real and should not be dismissed—especially with the fate of our access to good health care resting in a big man's tiny hands. Somebody please cue "Here Comes The Sun," and bring on the rays, baby, because we're officially covered now.
Invisible Shield is available to purchase now at Glossier for $34.