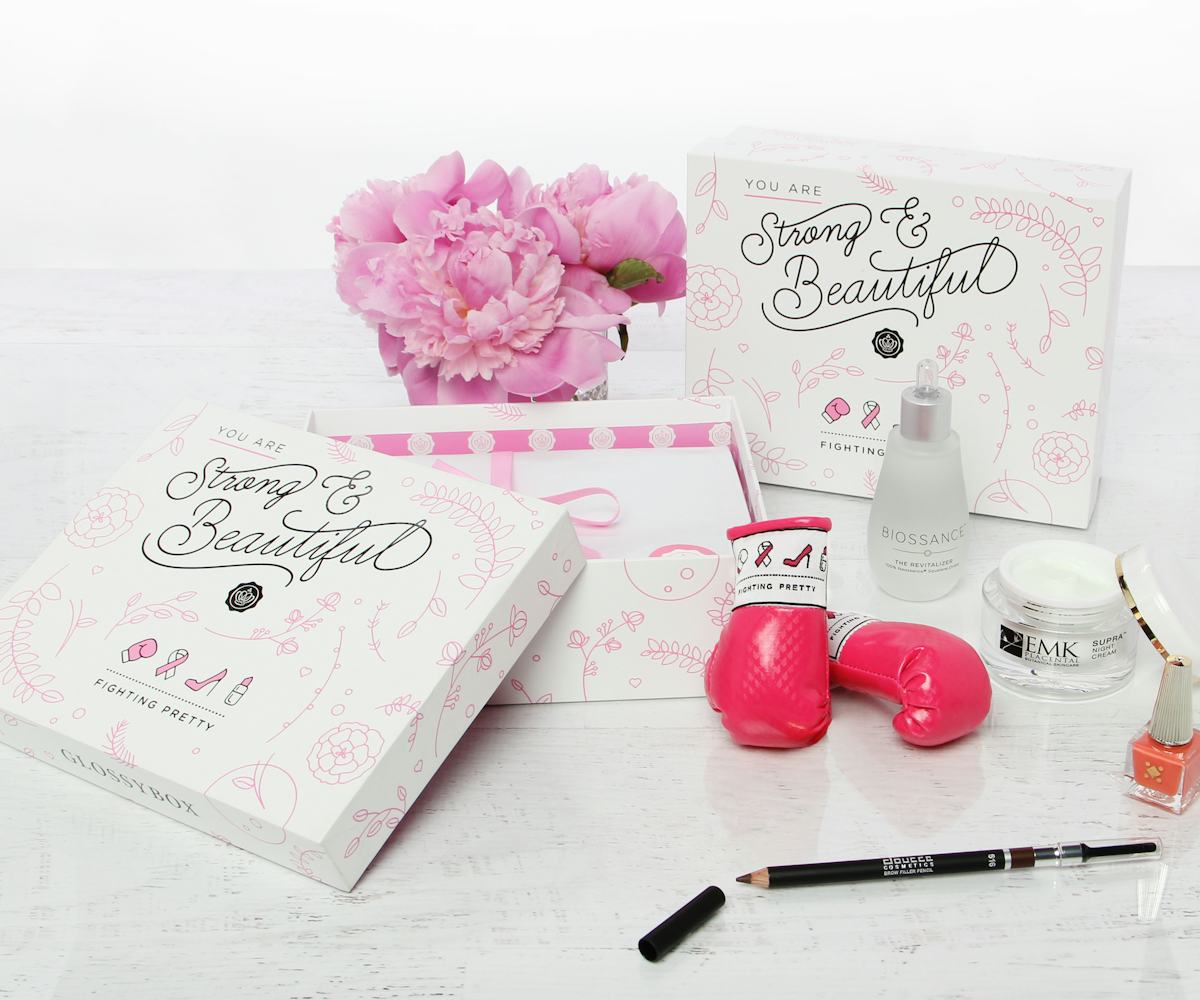 Photo courtesy of GLOSSYBOX
This New Beauty Box Has An Inspiring, Powerful Message
GLOSSYBOX and Fighting Pretty have teamed up to help women fight cancer with confidence
Kara Dolce was just 26 years old when she found a suspicious lump in her armpit area after performing a self-breast exam. After being told by her doctors that she was "too young to worry," she pushed for them to have a closer examination, only to find out that she did, in fact, have stage 3B breast cancer, which is considered to be an advanced and invasive stage of the disease. 
After facing a double mastectomy, eight rounds of chemotherapy, four weeks of radiation, fertility treatments, a year of Herceptin treatments and hormone therapy that would last for the next decade, Dolce realized she wanted to go through this ordeal by "fighting pretty"—with a smile on her face, lipstick on her lips, and strength in her heart. She knew she needed to share this attitude with other women facing similar battles, which is when Fighting Pretty was born.
She began sending care packages out of her Brooklyn, New York, apartment to other cancer patients, settled on the name and logo, and watched as her project rapidly expanded. Fighting Pretty is now recognized by the American Cancer Society, has received donations from major brands such as Maybelline and Revlon, and even has an O.P.I. nail polish named after it ("Fighting Pretty," naturally). More significantly, over 2,500 Fighting Pretty packages have been sent to women all over the world. 
GLOSSYBOX, one of the world's leading beauty box subscription services, has just joined forces with Fighting Pretty to launch an exclusive limited-edition box last week that will feature a specially curated assortment of five environmentally conscious cosmetics. These boxes are intended for all women, not just cancer patients, to promote a sense of strength and self-confidence. The best part? All net proceeds go back to Fighting Pretty to help continue its mission of offering support to the women across the world battling cancer. 
The original Fighting Pretty packages carry a vast array of items that are customizable: lipstick and nail polish (which, according to Dolce, offer "immediate gratification"); scarves and socks, which help aid in the after-effects of cancer treatment; and a pair of mini hot pink boxing gloves emblazoned with the Fighting Pretty logo, which Dolce describes as "the ultimate symbol of strength," for a little extra ass-kicking confidence. For GLOSSYBOX's limited-edition version of the Fighting Pretty package, Dolce and the brand worked together closely to select the cosmetics included in the box, making sure that an uplifting lip color, nail polish, and boxing gloves were included.
The boxes, which are valued at over $240, retail at just $40 each and are available exclusively on Glossybox.com. 
"Be patient with yourself and embrace how your life is changing," Dolce says to those facing similar battles as her own. "It's going to be a crazy ride, but stay strong and know that you are amazing, fierce, and beautiful. You are Fighting Pretty, and you can do this!"