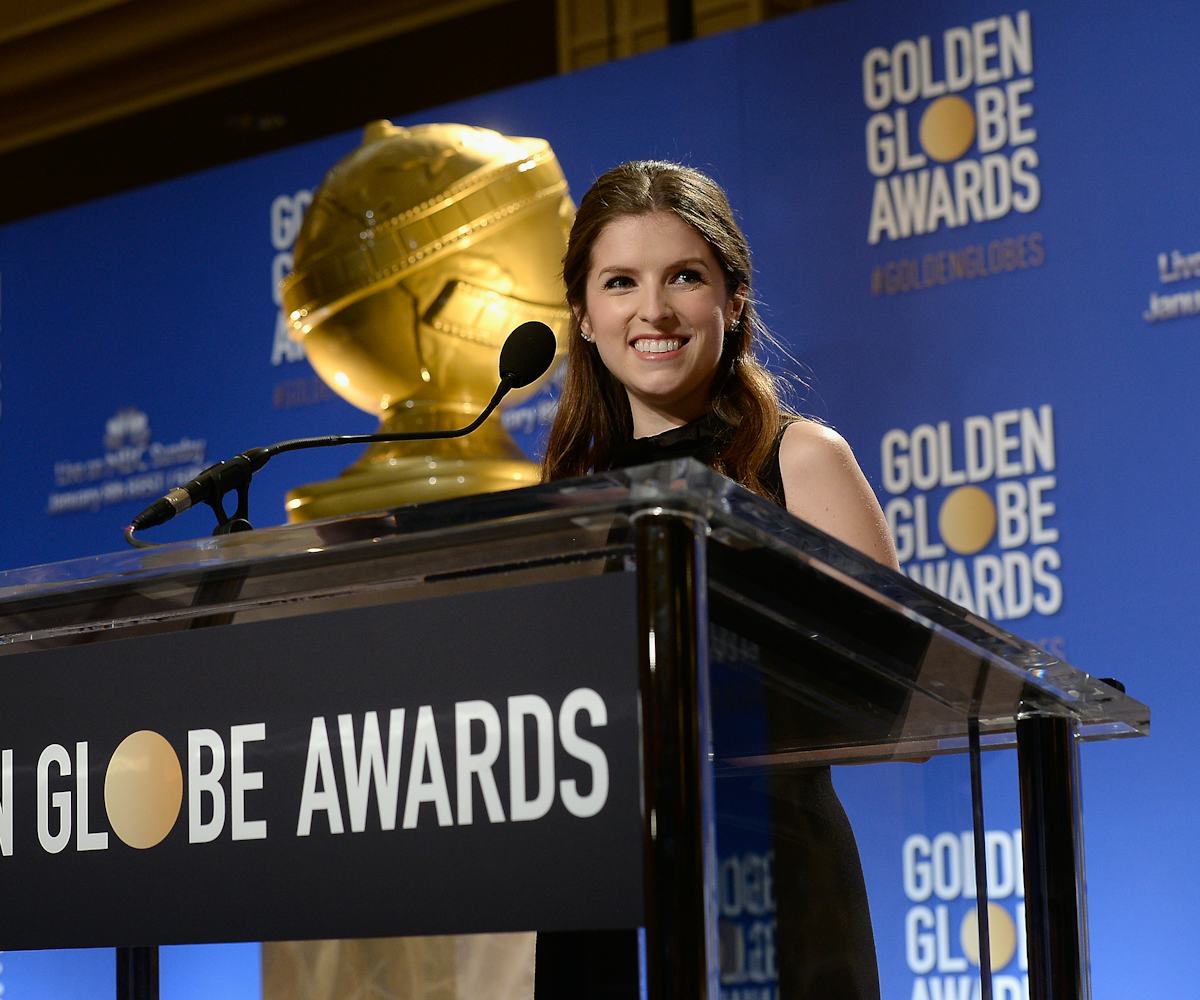 Photo by Kevork Djansezian / Getty Images
Here Are Your 2017 Golden Globe Nominations, Snubs And Surprises Included
'La La Land' continues its march
The nominations for the Golden Globes, Hollywood's annual Oscar pre-game, were announced this morning, and just as nobody predicted, Deadpool scored nominations for Best Motion Picture (Musical or Comedy) and Best Performance by an Actor (Motion Picture, Musical or Comedy) for Ryan Reynolds. Wait, what? Deadpool was an inventive, R-rated take on the superhero genre that broke the fourth wall with abandon, but this was unexpected. That's what happens when the voting body of your award show (that would be the Hollywood Foreign Press) is an international cabal of critics more interested in throwing a party than honoring great art.
The rest of the nominations, however, stuck mostly to script, with La La Land, fresh off its record-breaking weekend, leading the pack with seven nominations. It was followed by Moonlight with six and Manchester by the Sea with five. All three movies are considered the top three contenders for this year's Academy Awards. The television categories were led by The People v. O.J.Simpson, with hits like Stranger Things, This Is Us, and The Crown all doing well for themselves too.
The Golden Globe nominations, which were announced this morning by Don Cheadle, Laura Dern, and Anna Kendrick, did pack a few surprises besides the Deadpool noms. Martin Scorsese's religious epic Silence was completely shut out, as was Tom Hanks for his very Tom Hanks-y performance in Sully. On the flip side, dope for Hailee Steinfeld, who low-key gave one of the year's top performances in The Edge of Seventeen and couldn't be more deserving of her nomination for Best Performance by an Actress (Motion Picture, Musical or Comedy).
Lion and Hacksaw Ridge, movies that were well-received but not necessarily expected to be top contenders, landed noms for Best Motion Picture (Drama), keeping movies like Arrival (two nominations) and Fences (two nominations) out of contention.
You can see the full list of nominees, below, and catch the Jimmy Fallon-hosted ceremony when it airs on January 8.
Best Motion Picture, Drama
Moonlight Manchester By the Sea Lion Hacksaw Ridge Hell or High Water
Best Motion Picture, Musical or Comedy
La La Land20th Century WomenSing StreetFlorence Foster JenkinsDeadpool
Best Performance By an Actress in a Motion Picture, DramaIsabelle Huppert, Elle 
Natalie Portman, Jackie 
Ruth Negga, Loving 
Amy Adams, Arrival 
Jessica Chastain, Miss Sloane
Best Performance By an Actress in a Motion Picture, Musical or Comedy
Emma Stone, La La Land
Annette Bening, 20th Century WomenLily Collins, Rules Don't ApplyMeryl Streep, Florence Foster JenkinsHailee Steinfeld, The Edge of Seventeen
Best Performance by an Actor in a Motion Picture, DramaCasey Affleck, Manchester By the Sea 
Denzel Washington, Fences 
Joel Edgerton, Loving 
Andrew Garfield, Hacksaw Ridge 
Viggo Mortensen, Captain Fantastic
Best Performance By an Actor in a Supporting Role in a Motion PictureMahershala Ali, Moonlight
Jeff Bridges, Hell or High Water
Dev Patel, Lion
Simon Helberg, Florence Foster Jenkins
Aaron Taylor-Johnson, Nocturnal Animals
Best Performance by Actress in a Supporting Role in a Motion PictureMichelle Williams, Manchester By the Sea 
Viola Davis, Fences 
Naomie Harris, Moonlight 
Nicole Kidman, Lion 
Octavia Spencer, Hidden Figures
Best Director, Motion PictureDamien Chazelle, La La Land 
Kenneth Lonergan, Manchester By the Sea 
Barry Jenkins, Moonlight 
Mel Gibson, Hacksaw Ridge 
Tom Ford, Nocturnal Animals
Best Performance by an Actor in a Motion Picture, Musical, or ComedyRyan Gosling, La La Land
Ryan Reynolds, Deadpool
Colin Farrell, The Lobster
Hugh Grant, Florence Foster Jenkins
Jonah Hill, War Dogs
Best Screenplay, Motion PictureManchester By the Sea La La Land MoonlightHell or High Water Nocturnal Animals
Best Original Score, Motion PictureArrival
Lion
La La Land
Moonlight
Best Motion Picture, Animated
Kubo and the Two Strings
Moana
My life as a Zucchini
Sing
Zootopia
Best Original Song, Motion Picture"Can't Stop the Feeling," Trolls 
"City of Stars," La La Land 
"Faith," Sing 
"Gold," Gold 
"How Far I'll Go," Moana
Best Motion Picture, Foreign Language
Divines, France
Elle, France
Neruda, Chile
The Salesman, Iran/France
Toni Erdmann, Germany
Best Television Series, DramaThe Crown
Game of Thrones
Stranger Things
This Is Us
Westworld
Best Television Series, Musical or ComedyAtlanta Veep Transparent Black-ish Mozart in the Jungle
Best Television Limited Series or Motion Picture Made for TelevisionAmerican Crime
The Dresser
The Night Manager
The Night Of
The People v. O.J. Simpson
Best Performance By an Actor in a Television Series, Drama
Rami Malek, Mr. Robot 
Matthew Rhys, The Americans 
Bob Odenkirk, Better Call Saul 
Liev Schreiber, Ray Donovan 
Billy Bob Thornton, Goliath
Best Performance By an Actor in a Television Series, Musical, or Comedy
Donald Glover, Atlanta
Jeffrey Tambor, Transparent
Anthony Anderson, Black-ish
Gael Garcia Bernal, Mozart in the Jungle
Nick Nolte, Graves
Best Performance by an Actor in a Limited Series or Motion Picture Made for TelevisionRiz Ahmed, The Night Of 
Bryan Cranston, All The Way 
Tom Hiddleston, The Night Manager 
John Turturro, The Night Of 
Courtney B. Vance, The People v. O.J. Simpson
Best Performance by an Actor in a Supporting Role in a Series, Limited Series, or Motion Picture Made for TelevisionSterling K. Brown, The People v. O.J. Simpson Hugh Laurie, The Night Manager John Travolta, The People v. O.J. Simpson Christian Slater, Mr. Robot John Lithgow, The Crown
Best Performance by an Actress in a TV Series, DramaWinona Ryder, Stranger Things 
Claire Foy, The Crown 
Evan Rachel Wood, Westworld 
Catriona Balfe, Outlander 
Keri Russell, The Americans
Best Performance by an Actress in a Supporting Role in a Series, Limited Series, or Motion Picture Made for TelevisionOlivia Colman, The Night Manager
Lena Headey, Game of Thrones
Chrissy Metz, This Is Us
Mandy Moore, This Is Us
Thandie Newton, Westworld
Best Performance by an Actress in a Leading Role in a Series, Limited Series or Motion Picture Made for TelevisionSarah Paulson, The People v. O.J. Simpson
Kerry Washington, Confirmation
Felicity Huffman, American Crime
Charlotte Rampling, London Spy
Riley Keough, The Girlfriend Experience
Best Performance By an Actress in a Television Series, Musical, or ComedyRachel Bloom, Crazy Ex-Girlfriend
Sarah Jessica Parker, Divorce
Julia Louis-Dreyfus, Veep
Issa Rae, Insecure
Gina Rodriguez, Jane the Virgin
Tracee Ellis Ross, Black-ish