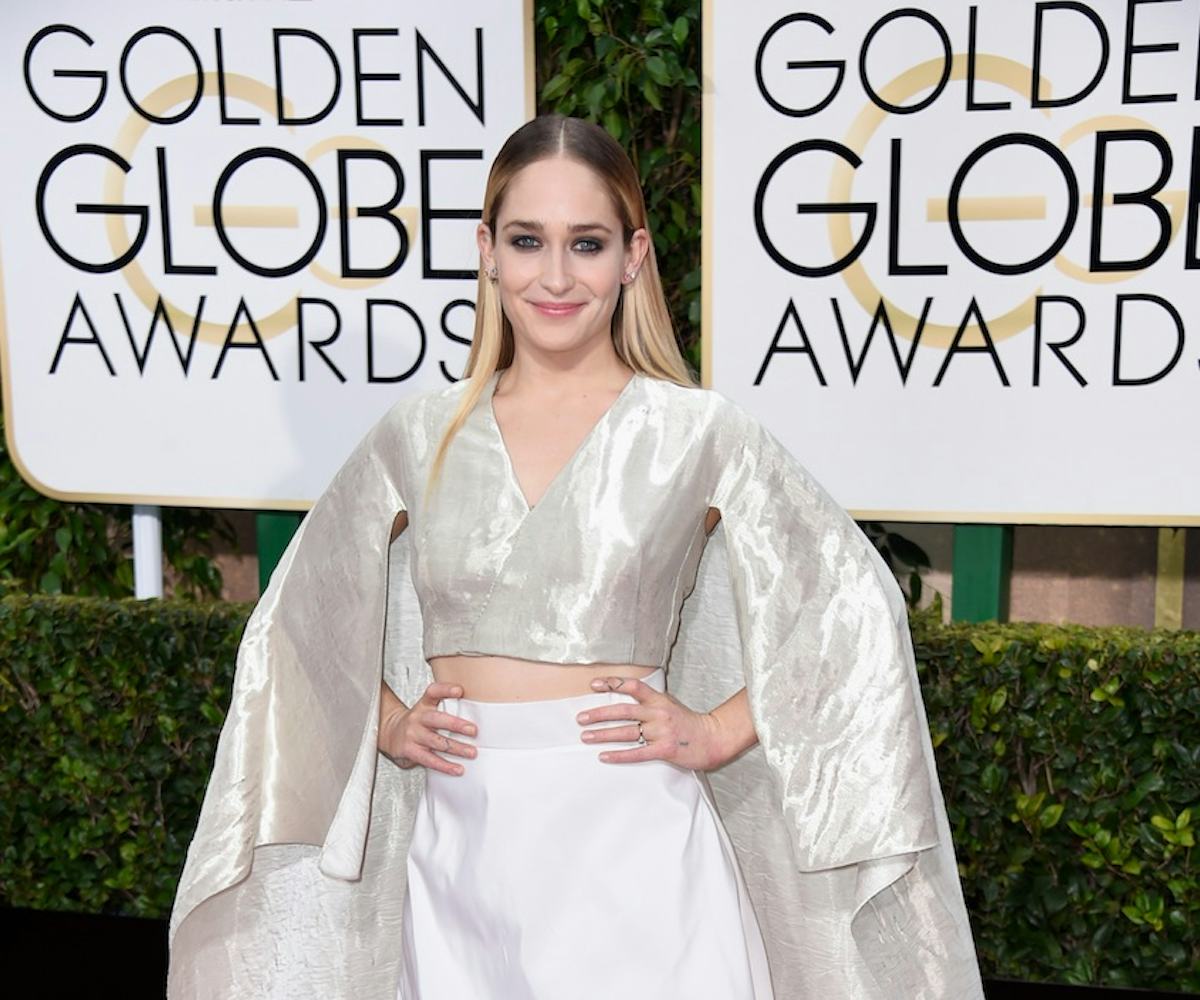 photos via getty images
the 14 most stunning looks from the golden globes
The red carpet isn't typically the place for celebs to experiment with edgier styles—after all, why take a big fashion risk with the whole world watching? However, tonight's Golden Globes has us pleasantly surprised in the inspiration department. From brightly colored gowns in big, bold shapes to trousers to capes (yes, that's capes plural), there's a definite shift away from classic glamour and into modern statements. And we can't get enough of it.
Ahead, our 14 picks of the most stunning outfits on the red carpet. 
Can we talk about Lena Dunham's shiny red Zac Posen dress? The fact that it's structural instead of flowy makes that high-low hemline surprising instead of expected. Also, bonus points for matching her shoes to the gown—if you're going to wear red, might as well just go or it. She's really coming into her own on the red carpet.
Lacy, ornate, kind of over-the-top—so what if Chrissy Teigen's dress vaguely resembles a beach over-up? Awards season — and specifically the Globes — is the one time of year that you can dress like a mermaid bride and have it be okay. She's also wearing over a million dollars worth of diamonds by Harry Kotlar, so there's that. 
Naomi Watts wore a sunshine-yellow strapless Gucci dress, but the real piece to talk about here is that diamond snake necklace. Why can't we be wearing that, every day, forever? She is really channeling some Michelle-Williams-circa-2006 Oscars realness.
Jessica Chastain can do no wrong any day of the week, but this gothic-mermaid-angel dress by Versace is really just everything.
J. Lo's Zuhair Murad gown had a cape, so we can all just go to bed now because nothing will be as epic. Also worth noting: That leg slit. Hi. Hi, little leg slit! We love you.
Kerry Washington's two-tone pink-and-purple metallic gown had a futuristic sheen that makes it fit for an alien princess. Just how we like it. 
For a floor-length ball gown, Taylor Schilling's bright red Ralph Lauren dress was pretty sporty. The backless halter situation almost looks like a bathing suit top from behind, if you cover up the spectacularly enormous bottom-half of the dress.
This was a bold choice for Tina Fey, and we support it: The strapless white-and-black Antonio Berardi dress, complete with a healthy amount of bedazzling, was quirky and fun.
Anna Kendrick's ethereal, woodland fairy gown by Monique Lhuillier is the perfect about of pretty. The sheer, nude fabric looks like it's covered in falling pink petals—totally dreamy.
Lorde won our hearts and our vote for best dressed of the evening with this Narcissi Rodriguez dress. Read all of our feelings here.
Jumpsuits on the red carpet are always the right choice, and Emma Stone's Lanvin number proved it. Shiny, chic, and accented with a long sash, Emma was the embodiment of cool couture.
Okay. Just stop what you're doing and gaze upon the majesty that is Amal Clooney in a black Dior gown and long white gloves. Like, what is it like to be so perfect? Most of us will never know.
Wait, stop. Lupita Nyong'o's strapless Giambattista Valli gown literally makes her look like she wrapped herself in a garden of magical purple flowers and rolled around until they became part of her. This is the most elegant look of the evening, by far: And it's even better because it's so unique. 
Taking a page from Solange, Jemima Kirke's caped white two-piece really deserves it's own Golden Globe for just being impossible to look away from. We also like how the two pieces don't match exactly—a super-pale shiny silver on top and a crisp white matte on bottom prevent it from looking like a wedding dress.