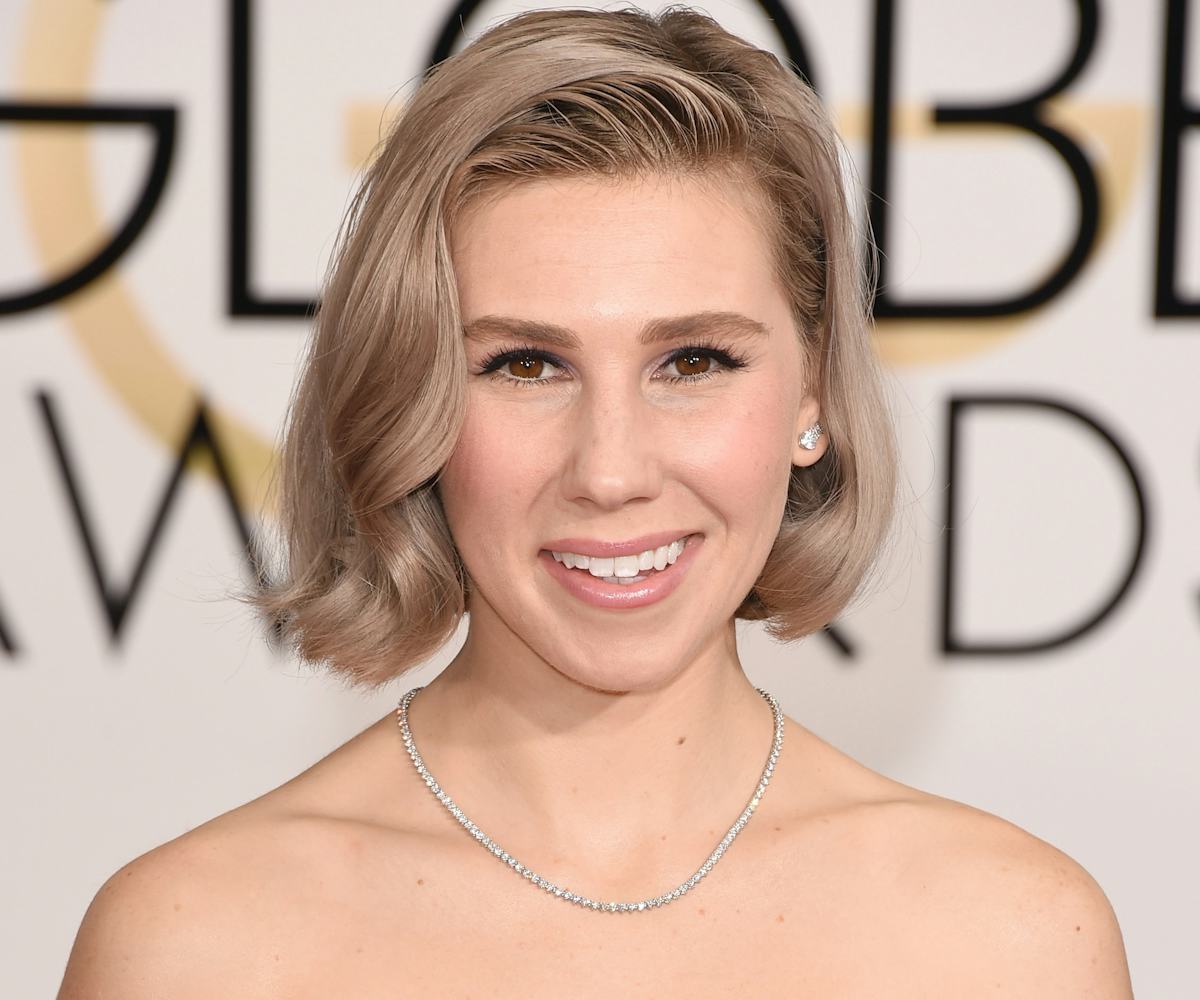 photos via getty images
the 8 best beauty looks of the golden globes
on-point hair and makeup inspo for the rest of our lives
Our favorite stars on the red carpet at tonight's Golden Globes seemed out to make one major statement: Don't you dare call their beauty looks predictable. Between Jemima Kirke's sleek, visible roots, Uzo Aduba's plum lip, and Jessica Chastain's, well, everything, there's so much cool, quirky prettiness to obsess over. Ahead, our favorite picks—and while you're reading, we're going to be in front of the mirror trying to copy them. 
Emily Blunt's boho braid crown is about to inspire every music-festival-going babe for the rest of the year. To complement it, makeup artist Jenn Streicher for Kiehl's and Dior Beauty used "tons of Dior Show Masacra" to create that doe-eyed look. To tie it all together, she used the same blush (Cocktail Peach #553) on her cheeks and her eyelids.
Note to self: Take a page from Viola Davis and try wearing sparkly pink eyeshadow with luminous red lipstick.
Don't be surprised if you see the raddest girl you know copying Jemima Kirke's beauty look tomorrow morning. Grown-out roots have never looked so cool—and that middle-parted, slicked-down situation doesn't hurt, either. Finally, the smoky eye standing out on an otherwise-bare face proves she's ready for the red carpet and whatever awesome after-party she's headed to. 
Uzo Aduba's deep plum lip and silvery smoky eye complement the intricate pattern on her dress perfectly. Makeup artist Janice Kinjo used all Giorgio Armani products to do her makeup—and that lip is just Giorgio Armani Smooth Silk Lip Pencil in #11 covering her whole lip. Talk about some serious color payoff. 
We totally miss Lena Dunham's green hair, but the warm brown hue of her bob—nearly the same color as her eyes—is really flattering. Paired with shimmery brown eyeshadow and a brick red lip, she looks all grown up. 
Ok, yeah, Jessica Chastain just looks damn pretty, but the mastery here is how every part of her look is part of that coppery color scheme—matching her Veronica Lake waves.
Paired with a pretty, pale-pink lip, rosy cheeks, and minimal eye makeup, Zosia Mamet's silver, elegantly wavy bob is perfection.
Emma Stone's tousled, piece-y bob sets the bar for elegant bedhead pretty high. Also, with her eyes lined in indigo blue, a luminous rosy lip, and glowing skin, she represents a new generation of red-carpet beauty: One that doesn't take mandatory fanciness all that seriously but still manages to look ready for anything.