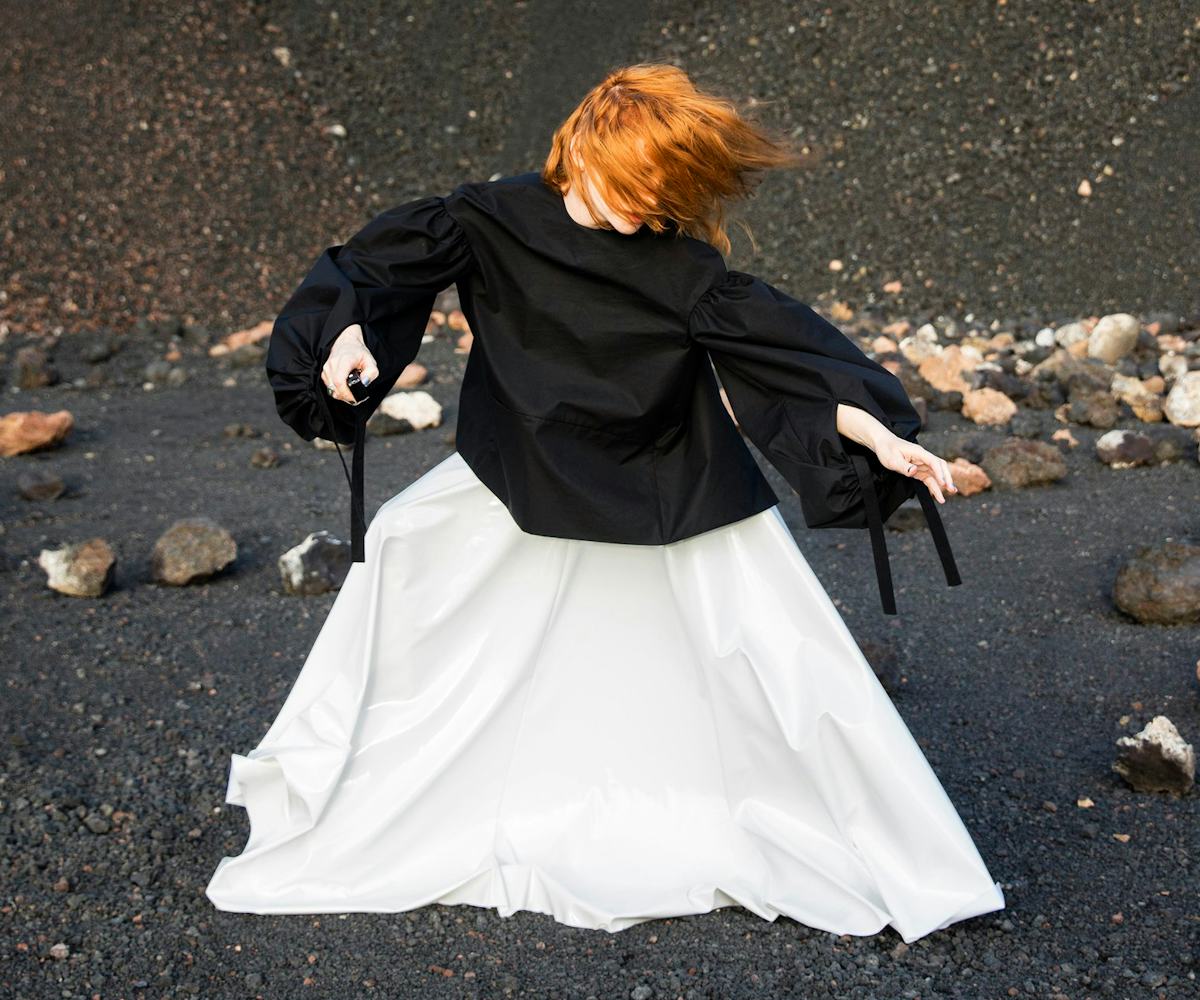 Photo by Alison Goldfrapp
The Return Of Sultry Goldfrapp Is Here
It's their (super) nature
Something happens to your body the instant the synth track starts bouncing on Goldfrapp's 2005 single "Ooh La La." It awakens an innate carnal part of your DNA, firing off pheromones and lowering your eyelids to bedroom levels. Supernature, Goldfrapp's album that touts the aforementioned and other sophisticated seduction anthems, like "Ride A White Horse," solidified the English electronic duo as a quiet force of nature, armed with an ear for provocative production and a sultry, almost mystical desire that they carried through from 2003's Black Cherry. In Goldfrapp's world, though, even the naughtiest of desires are served up with glamour and class.
Now with Silver Eye, the duo's seventh album and first in four years, Goldfrapp return to the world they helped create with their previous electronic albums. Seduction, as it turns out, only gets more polished with time.
Goldfrapp's effect on popular music is everywhere these days. It's in the whispered verses that explode into made-for-festival drops; it's in the underground rise of the sinister, woozy melding of R&B and electronic music. But as their influence began to subtly infiltrate the rest of the world, Goldfrapp veered into the dreamy folk territory. They dabbled in the '80s on 2010's Head First but softened on 2013's Tales of Us. "We didn't want to rush anything," Alison Goldfrapp tells me over the phone last month, discussing the wait between albums. "We [Goldfrapp and her music partner Will Gregory] wanted to do something a bit like Supernature without repeating ourselves." What originally began with acoustic drums and guitars led them back to the synth machine and drumkits. "When I listened to the album the other day," she continues, "I thought it felt like a hybrid of other things we've done, but expanded." 
Admittedly, Silver Eye feels familiar, but it challenges Goldfrapp's previous work by centering desire and lust around the elemental rather than the corporal. Songs like "Ocean" and "Tigerman" marvel at the interconnectedness of all things, the cycle of life, love, and satisfaction. "The idea of transformation, the occult, magic, shamanism, and the moon fuel this album," Goldfrapp elaborates. ("Silver eye" is a reference to that giant, glowing rock in the sky.) "Become The One" takes the listener on an undulating descent to self-actualization, with its demonic vocal distortion, juxtaposed shimmering synths, and soaring, layered falsettos. "I really love 'Become The One,'" Goldfrapp says. "I can't wait to do it live. When you start playing songs at shows, they take on new lives and become different beasts." One song that will definitely turn the audience out will be "Systemagic," Silver Eye's most Supernature-like song. It has a filthy synth track and bassline that drops in with a knowing wink while Goldfrapp flirts with badass witchcraft.
Do you believe in magic yourself? I ask her.
"Well magic is such a funny word, isn't it? Do I believe in magic? Yes, I suppose I do. I believe in the unexplainable. I also very much believe in the power of imagination—that feels like magic in itself, really—and the elemental; the earth that we live on and walk on feels like magic to me."
Silver Eye is Goldfrapp's lucky number seven. It's a return to form, but wiser and done so with an intention. It's sultry, yes, and it's smart and oh so gratifying. Ooh la la, indeed.