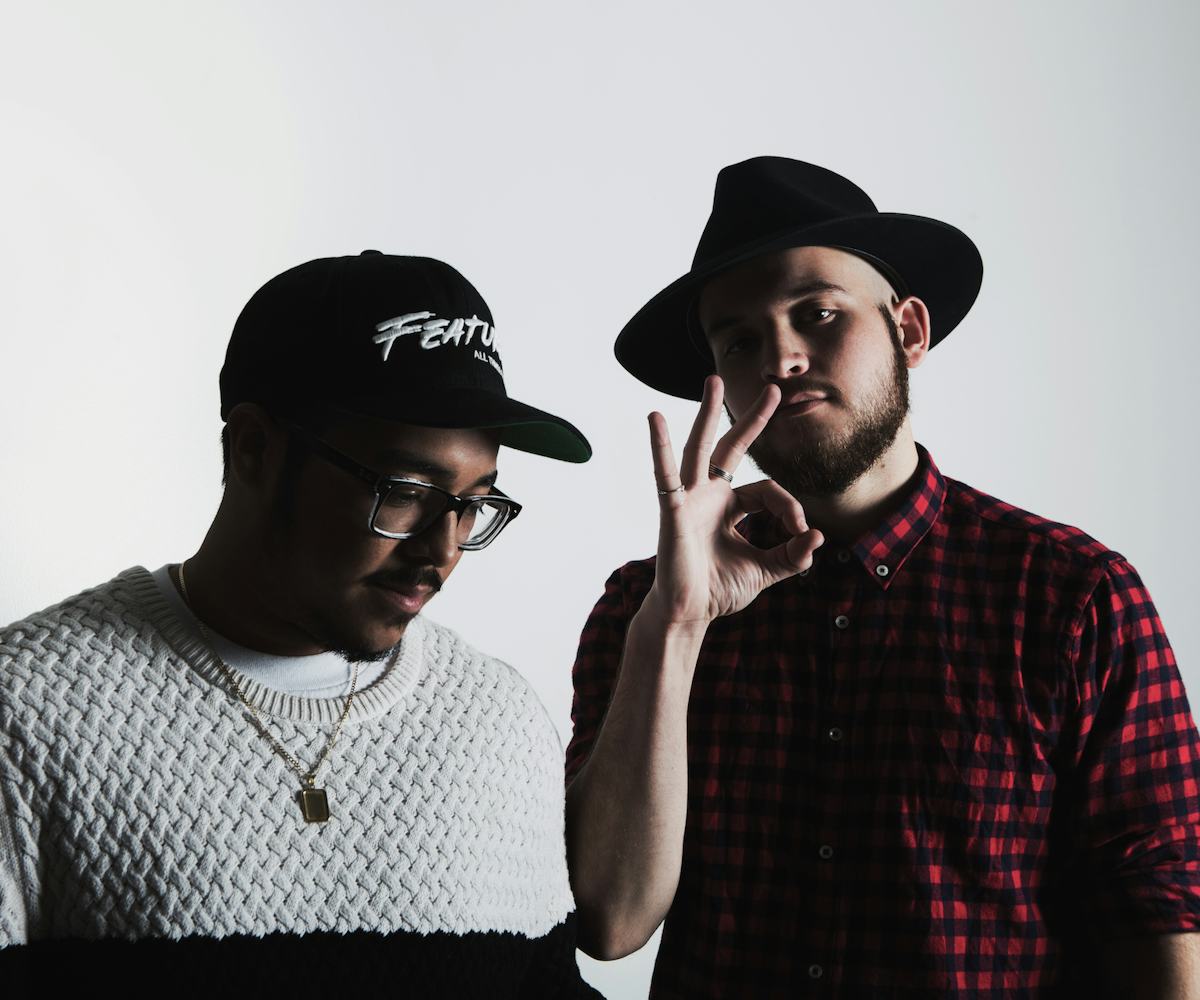 Photographed Jasmine Safaeian
Good Times Ahead On Meeting Online, Opening For Rihanna, And Their Latest Project
Like many matches these days, DJ duo GTA aka Good Times Ahead owes its musical partnership to the internet. "We met through a mutual friend on Facebook," Julio Mejia tells NYLON over the phone. After hearing Matt Toth's music on SoundCloud, Mejia sent him a message. Then, says Mejia, Toth "picked me up randomly on a random day and we ended up listening to some music and jamming out for a while, and it was a good time. After that, we just continued to make music, and now it's GTA."
Over the past few years, the Miami natives have gone from low-key jam sessions to arena shows, opening for big names like Rihanna, Tiesto, and Calvin Harris. GTA released their debut LP of the same name last month, a 10-song set that showcases their versatility. The pair has also produced some impressive collaborations: On "Little Bit of This," Vince Staples lends impassioned verses to a hypnotic track that is punctuated by croaking frogs and on "All Caught Up," guest vocalist and NYLON cover star, Tinashe, soulfully croons over the full-bodied bass.
Recently, we spoke with GTA about their new album, genre nonconformity, and their favorite decades of music.
What city are you guys in right now?
Matt Toth: We're here back at home in Los Angeles. We have a few days off.
How's the tour been going? 
MT: Oh, it's been great. We just wrapped it up over the weekend in Boston and Fort Lauderdale—those were the last two shows. It was awesome. It's always awesome when we can do a tour of our own because it allows us to do our own thing.
I know you guys have been touring a lot over the last few years. Is there any show that stands out as particularly memorable to you?
MT: Yeah, the Shrine [Auditorium & Expo Hall] in L.A. It was actually the biggest show that we've ever done on our own ever. The whole thing was unreal—having family there and just having the whole city come out and go nuts with us.
You released a three-volume series of EPs called Death to Genres, and you seem to incorporate a diverse array of sounds into your music. What's behind that title and how would you describe your music?
Julio Mejia: Well, Death to Genres was kind of just like our mantra in a way. It's basically the way we approach music, whether it's through the music we produce or DJ. For us, it's mostly about being open-minded. We love to blend genres, we love all kinds of music, so I think that Death to Genres Volumes One and Two are mostly club music but combine different influences. Being from Miami, I think one of the main influences is Latin—you'll hear a lot of Latin percussive rhythms blended with electronic or rock elements. That's Death to Genres.
You collaborated with so many different artists on Good Times Ahead. How did working with people like Vince Staples and Tinashe influence the direction of the project?
MT: For a lot of them, we make the beats first. With "Little Bit of This," we made the beats about six months before we got to show it to Vince Staples. First, we make a shitload of beats, and then think about who would be good to accompany them, and that's kind of more how we work. We're constantly working on music, so we're sitting on so many tracks.
Is that what most of the recording process was like for the album?
MT: Yeah, kind of. We worked with different writers and vocalists, most of whom are featured on the song that they worked on. We'd complete a song or complete the main idea and then we kind of wrote down a list of people that we would really love to work with. Sometimes people are busy, but when we sent it to Vince Staples and then Tinashe they were very excited about the tracks and almost immediately sent back their ideas for vocals, which was pretty cool. We'd never experienced that process before.
Photographed by Jasmine Safaeian             
How long did the whole process of making the album take from start to finish?
JM: Well, for us it took us almost two years. It took a while because we're constantly on tour, so it's just hard for us to really sit there and take our time with everything. We made sure that on this album, all of the songs coincide with each other, and the album has to sound great as a whole. That takes time, to just sit in a studio and really work on it.
Over the past few years, you've worked with people like Diplo and Martin Solveig and toured with Rihanna. What did you learn from those experiences? 
MT: I think what we've learned from them is just to put as much work and careful thought into our work—to take pride in what you do and dream big. Make sure you put your full effort into each song and make the song actually about something. For a long time, we would just make music for the club, and it would just be kind of mindless stuff that makes you go crazy. And there are still crazy beats, but with more thought behind them. You know, make it mean something. And really just be humble. Those guys are some of the nicest people we've ever met and worked with.
If you guys weren't musicians, what do you think you would be doing?
MT: I would probably be working at Chipotle or something or, like, collecting garbage. I don't know. [Laughs] 
JM: Yeah, me too.
If you could go back and visit any decade in history, what would it be?
MT: The '70s, but just the music—just being a part of that whole music scene back then. I love that time period. I love classic rock and, well, any kind of music really, so it'd be cool to be more involved in that decade. It'd be pretty crazy to see all those musicians in their prime. 
JM: Yeah, I'd probably say the '90s, so I could experience them as a grown-up though and be fully aware. I was born in the '90s, so I didn't partake in anything. [Laughs]
And most importantly, if you were a flavor of ice cream, what would you be? 
MT: I think I would be chocolate chip cookie dough 'cause that's the best flavor of ice cream there is.
JM: I'd be chocolate topped with hot fudge and some sprinkles.