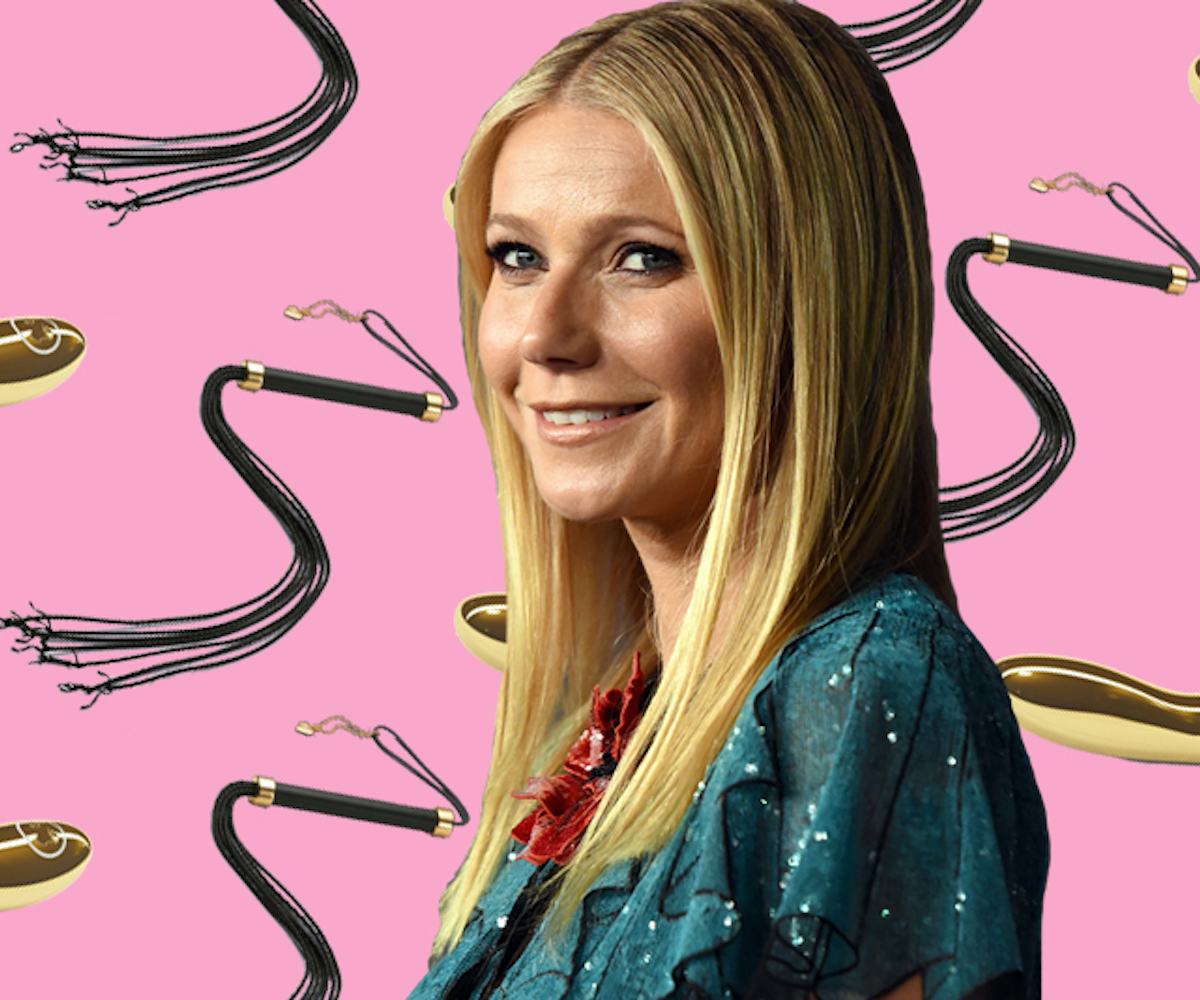 Photo by Jason Merritt/Getty Images for LACMA
I'm Not Rich Enough To Have Sex Like Gwyneth Paltrow
Gwyneth Paltrow's lifestyle brand, goop, isn't known for being particularly scrappy. Currently, it's promoting a $100 moisturizer and a $140 night cream. So as my mouse hovered over this week's newsletter in my inbox, ideas of what high-class, ultra healthy content goop's "sex issue" was publishing, washed over me. Does goop approve of dental dams? Are the materials that go into making condoms okay? Will she talk about kinks, the Mile High club, and/or the back door? 
The answers, as it would turn out, were hidden in tasteful interviews as long as the foreplay the experts suggested goop's readers should try. (Read: very long.) Condoms also contain dairy, but that's just a fun fact you can bring to happy hour. Though the interviews with naturopathic doctors, psychologists, and the creators of a pelvic floor strengthener (tech!) are enlightening and filled with actually practical tips, goop's sex toy gift list is a whole new echelon of luxe. (Lux Fux? Trend it!) It's no secret goop isn't for everyone, but damn, Gwyneth! How am I supposed to live that #authentic #whole life when I'm out $15K because of a golden vibrator I felt pressured into buying? In the world of growers vs. showers, my bank account will have to be a grower if I'm ever going to be a shower—i.e. have gold-plated, goop-approved sex. The proof is in the pudding below.
Behold: the golden vibrator. goop could've chosen to highlight the more sensibly priced silver version ($7,900), but why bother when pleasuring yourself with 24 karats of gold literally tells the world you've got the Midas touch? 
LELO, INEZ™, $15,000, available at LELO.
Here is another 24 karat sex toy. Is this a fetish?
LELO, TIANI™ 24k, $399, available at LELO.
Nothing says me-ow like a good ol' leather-and-gold whip!
Agent Provocateur, Cat Whip, $535, available at Agent Provocateur.
A golden thumb drive that also functions as a pleasure tool? And it can be engraved? Damn, goop. Back at it again with the good vibes.
Crave, 8GB DUET LUX, $219, available at Crave.
Imagine you're wearing this to a fancy party. A guest comes up to you and compliments the silver number. "Thanks," you say. "It also functions as nipple clamps." What happens next?
Kiki de Montparnasse, Droplet Necklace, $395, available at Kiki de Montparnasse.