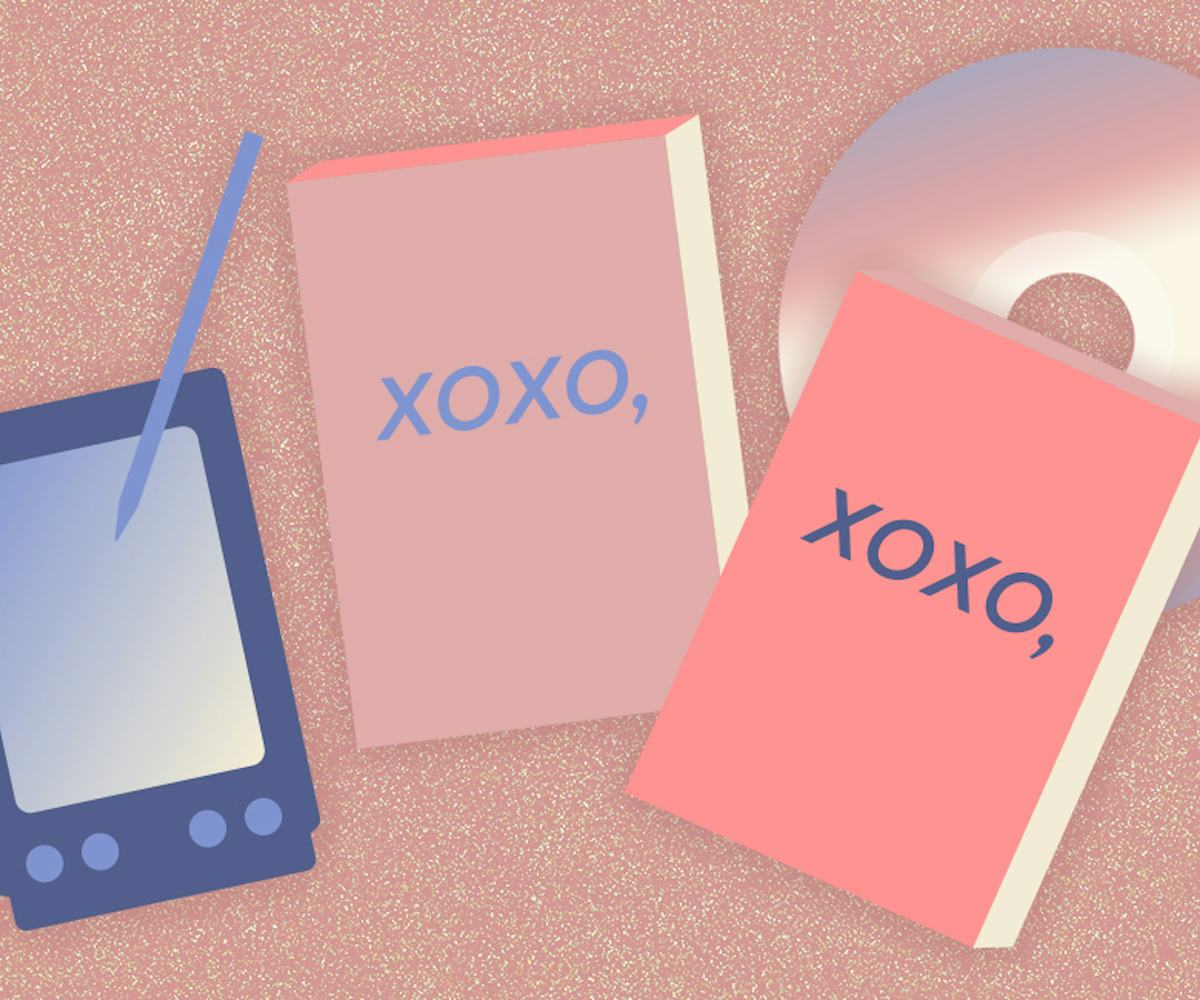 Revisiting 'Gossip Girl,' 15 Years Later
When I first laid eyes on a copy of Cecily von Ziegesar's debut Gossip Girl novel I was 14 years old, in braces, and on the perilous cusp of young adulthood, just a couple years younger than the book's characters, but living in a completely different world. 
I was standing in the aisle between the YA and psychology sections inside Barnes & Noble, the closest thing I had to a cool kid hangout in my small Southern town. I was probably clutching a sugar-laden Frappuccino from the in-store Starbucks when I caught sight of a cover featuring three glossy, mystery teens. Their faces were obscured, they had razor-straight hair, bare decolletages, and skin that seemed to glow from within. They were laughing, heads tucked in toward each other conspiratorially, and wearing party clothes the likes of which didn't exist within a hundred-mile radius of my local mall. A small stack of delicate gold bangles hung just-so from one of their wrists. I slurped my melting Frappuccino. I wanted to know these bitches. 
As the type of girl who was painfully aware of what everyone thought of me—especially bookstore sales associates—I grabbed a copy of the paperback and supplemented it with fresh copies of The New Yorker and The Economist. "I am a budding intellectual whose taste only occasionally veers into the sordid, and only under the guise of an ironic 'beach read,'" my purchases said. (The B&N sales associate didn't even make eye contact ringing up my purchases.) Upon getting home, I retreated into the collage-plastered hidey-hole of my bedroom and read it, well, like a teen: voraciously and in one sitting. 
Looking back on it now, the novel has proven to be a perfect time capsule of New York City at the turn of the 21st century. The rich teens of the Upper East Side are introduced as not only having huge apartments and unlimited access to money and booze but also their own phone lines. Blair has a schedule so laden with extracurriculars that "her Palm Pilot was always running out of memory," and sweetly burns a special CD for the first time she has sex with Nate. (Said CD includes seminal J.Lo hit, "My Love Don't Cost a Thing.") One of Blair's hapless henchmen, Kati, is caught returning a pink camo handbag at Barneys after cohort Isabel deems "all those animal prints and military shit" to be out of vogue. Out at one of the many bars in which bartenders apparently serve teenagers without batting an eye, Serena orders a Cosmo and a bartender lights her cigarette. Her cigarette, which she smokes inside a cocktail bar in New York City. Time capsule, indeed. 
Other parts of the book, however, are timeless—for better or worse. In one passage, von Ziegesar's deliciously catty narrator (the titular Gossip Girl) describes what sounds like a pretty accurate prototype of the modern fuckboy, whom she calls "the Waspoid." He has money, he's handsome, and maybe he knows how to sail, but the Waspoid doesn't invest himself in anything or anyone. "He isn't a go-getter and he never says what's on his mind. He doesn't take risks, which is what makes it so risky to fall in love with him." Speaking of fuckboys, there's also Dan, who sulks on park benches with cigarettes, coffee, and French translation of Camus. He's "rockstar-thin," because—as our omniscient narrator explains—"existentialism has a way of killing your appetite." 
And, like many enduring YA novels, Gossip Girl touches on subjects that transcend social caste, though sometimes clumsily so: Blair struggles with a form of eating disorder that apparently others know about but no one acknowledges. Lovably awkward Jenny struggles with her changing body, though, in retrospect, I have to roll my eyes at how absurdly unfairly her poor boobs are treated throughout the book. (A 34D bra size isn't obscene, you guys!). Perhaps most notably, the novel concludes with Jenny being rescued from Chuck's predatorial groping—a scene that was "gross" when I first read it as a teen, but, upon revisiting as an adult, now reads as "literal sexual assault." Truth is, amidst the hierarchies, nastiness, and, yes, gossip, being a teen is tough—even for the cashmere-clad kids who intern with Oscar de la Renta. 
For someone growing up in a small-ish Southern city where wealth was mostly displayed via head-to-toe Lilly Pulitzer, this book represented a portal to a whole new world. A bitchy, kitschy, shamelessly campy world, but a new and exciting one nonetheless. (And any restless, sulky, hometown-resenting tween knows the value of a good portal.) Sprinkled between the dramatic hijinks and over-the-top dialogue of Blair, Serena, and company, was a florid, exhilarating new lexicon: Cartier cuff bracelets! Long-sleeved Pucci dresses! The mysterious allure of starring in a Drakkar Noir commercial overseas! (The latter is mentioned among the credentials of the notoriously horny, "aftershave-commercial handsome" Chuck, to whom we're introduced in the first chapter.) Up until reading, I'd never heard of Barneys in my life; in this book, it's cited no fewer than 14 times. 
Reading Gossip Girl certainly didn't turn me into a designer-wearing Constance Billard would-be, but it did introduce me to the concept of blatantly conspicuous consumption; luxury fashion is practically its own character in the book, and I was transfixed by the power one could attain simply by spending money. There was nary a stitch of Pucci in my closet, but I do distinctly recall dialing up the internet on a school library computer to peruse a selection of pink logo-plastered Christian Dior Girly bags on eBay, just to see whether I could maybe one day afford one. It could be, I imagined, my future entree into holding court in my designer cocktail hour finery with those shiny-legged girls on the cover, talking shit, with my thin gold bracelets dangling ever so slightly off my wrist.   
Of course, that long ago dream faded fast enough. It was replaced by my reality of living in a big city, which would prove not to be very much like Gossip Girl at all. And that's okay, because, looking back now, I can now see that these Girly bags were absolutely heinous. I guess some luxuries just don't age well.