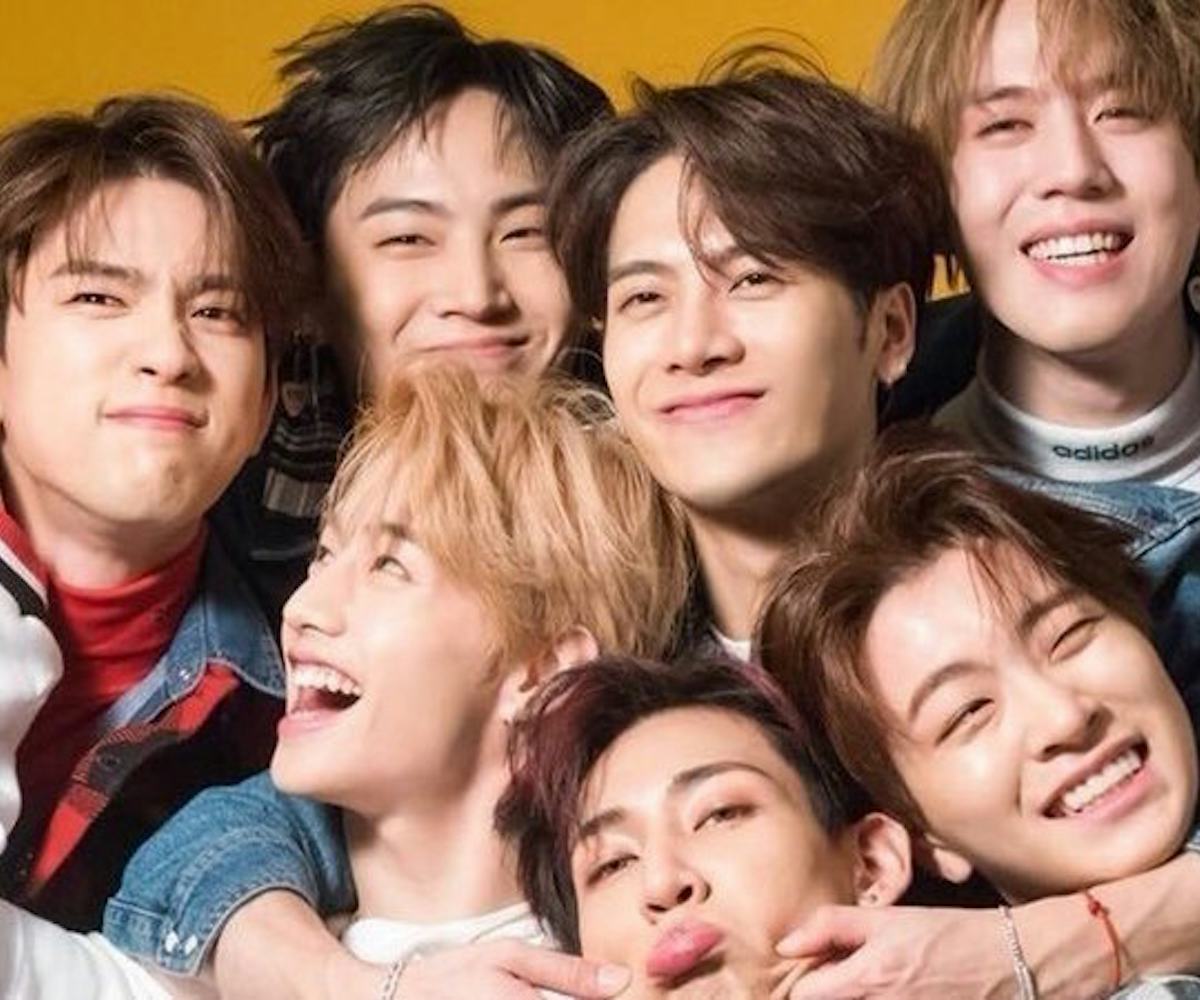 Photo courtesy JYP Entertainment
K-Pop Boy Band GOT7 Has A Message For Their Fans
About their solo projects
If you haven't been a K-pop fan for a long time, you might not be familiar with the intense and long training period—we're talking years—that happens before any group can even think of debuting. By the time GOT7, the seven-member group formed by JB, Mark, Jackson, Jinyoung, Youngjae, BamBam, and Yugyeom, first officially shared the stage, they had worked together for four-and-a-half years, which is why when I get the chance to talk with them before they perform to a sold-out crowd at Brooklyn's Barclays Center, they have the collective ease of people who have been working together for a long time, toward the same goal.
Having just finished the North and South American legs of their long-awaited Eyes On You world tour, the septet marvel at what they've accomplished—including being the first K-pop group ever to perform at the Brooklyn venue. "[The Barclays Center] is just so big. It's truly a dream. A year ago I was there to see Kendrick Lamar, and I can't believe [we're] on the other side of the stage now" Youngjae says. BamBam adds: "At the end, it's all thanks to the fans."
Yugyeom talks about how the fans remain the group's priority: "As time goes by both we and our fans have grown together, which has made our relationship stronger and more supportive. We charge and take care of each other like a big family." That family spirit permeates the group, which has an easy camaraderie and supportive dynamic, that extends to the solo efforts of the group's individual members. Jackson, whose solo career is primarily in China, where he was born, offers this analogy: "When we work for GOT7 we're seven individuals, [who work in unison]. We're a rainbow that offers seven different colors. But, let's say, I'm red on that rainbow, when I work solo it all becomes red, it all focuses on our personal shades."
JB, the leader of the group, expands on that: "When we work together we have to find a concept and a sound that fits us all. Working solo, it's all about being honest with yourself, and going for what you like, what you wanna sound like." Jinyoung says that there is comfort in performing in numbers, though: "When we work as a group we get to divide a song in parts, and that's what you focus on—all your energy goes to perform that part the best you can. It has to be perfect, but when working individually the whole project is about you—it all depends on you. This can be exciting, but also terrifying at times."
Don't think, though, that because the members of GOT7 are constantly working and thinking about the next steps of their musical career that they aren't capable of just having a little fun, as was evidenced when our conversation took an unexpected turn, and we started talking about what drink they would be, if they could be any drink.
"I'd be chocolate milk," Yugyeom says. "I'd be just water," says Jinyoung. "[It's] very simple but everyone needs it." Youngjae says he's an iced americano, because "it's energetic, it wakes you up, it can bring you up when you're down." Youngjae also assigns Champagne to Mark: "Sometimes he bursts like a bottle of Champagne. If you shake him too much, he will explode, but it can be the motive of happiness and celebration too. Very dual." Mark offers up wine for BamBam, because he's "very sophisticated, really classy, and goes with an expensive lifestyle." JB says lemon soda, because "[...] my personality is bubbly and sparkling. Kind of like a refreshing vibe."
And Jackson? He chooses moutai, a traditional Chinese drink with an alcohol content of 53 percent: "It's strong, it's intense, but it's also tradition and culture."
None of these drinks really seem to go together, but that's okay. Try them, and you can taste the rainbow. It'll all make a strange, perfect sense in the end.
Photo courtesy of JYP Entertainment / SubKulture Entertainment.