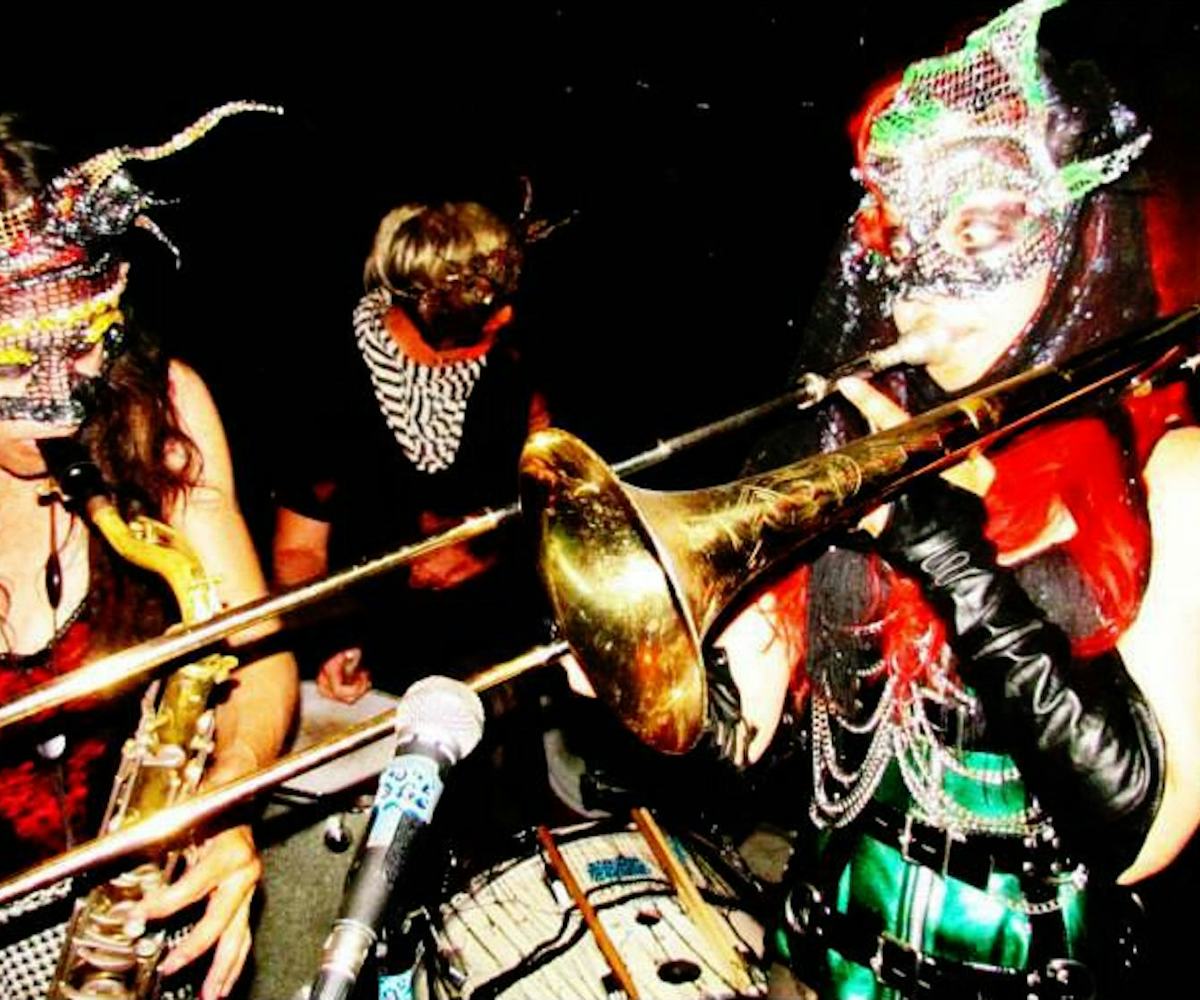 Photo Courtesy of Moira Scar/Facebook
9 Goth Girl Groups You Need To Know
The cure for your goth band needs
Since its transition to a more mainstream crowd years back, goth music has maintained its iconic status—thanks to its intense sounds and visuals and passionate musicians and fans—but has extricated itself from the accompanying troubled history surrounding its association with former elements of the genre that wasn't always inclusive in terms of race, gender, and sexuality. But that was then. Here and now, we've compiled a list of nine diverse, female-fronted goth bands that are among the best of the genre, all of whom bring unique, groundbreaking, and relatable perspectives to the goth scene.
Give them a listen and let your inner witch fly free.
Dolores Haze
Kicking off the monumentous list is a NYLON fav, Dolores Haze. The Scandinavian riot-grrrl group has a dynamic sound that brings the lighter sides of rock to the goth genre. There isn't much to know about these ladies; with band members aliases Groovy Nick, Groovy Fuck, Lucky Lollo, and Foxy Sagz they maintain a strong sense of anonymity and an air of mystery, giving us crazy amounts of jealousy to be a part of it all. What we do know: They've been around since 2014, they're here to stay, and, when it comes down to it, they are as "diva couture" and "goth sex" as it gets. And don't forget: "The haze is forever."
Chelsea Wolfe
Chelsea Wolfe has been a presence in the goth community for more than 10 years, and yet she feels as fresh as ever. Wolfe pulls inspiration from two factions of her persona: her "dark, quiet, and foggy childhood" and her prolonged dance with sleep paralysis. Influenced by the ever-present amalgamation of musical genres in which she grew up (her father was in a country band!), Wolfe was able to foster her own creativity as a young girl, recording "casio-based gothy R&B songs" at just nine years old in her father's studio. Nevertheless, today Wolfe has cultivated a sound and image unique to herself.
As for her long-time battle with sleep paralysis, Wolfe has allowed her nightly journeys and that "intersection of the conscious and unconscious" to become a source of positivity rather than fear, serving as the inspiration for her new album, Abyss, which is about "diving quickly into your own subconscious." Disorienting, hypnotic, and oftentimes overpowering, Wolfe's vision is one that resonates with most people, even if they're goth newbies.
Militia Vox
There's a running stereotype that metal singers can't actually sing. With a powerful voice and four-octave range, Militia Vox puts that cliche to rest. Amongst a long and unbelievable list of jobs and accomplishments, Vox has worked as a former VJ for MTV and VH1 (remember those days?), a backup singer for the likes of Cyndi Lauper and Nancy Sinatra, and currently fronts the band Judas Priestess, an all-girl tribute to Judas Priest. Vox channels a sound that brings synth and noise to her gloomy goth carols that have inspired a generation—so much so that Vox was dubbed the "Rock Goddess" of Afropunk. Having just released another EP, Isosceles, and announced her anticipatory sophomore album, The Villainess, Vox is clearly on the rise. She is the Rock Goddess, after all.
aTelecine
Long ago, Sasha Grey was mostly known for her work in the adult entertainment industry, though she quickly made a name for herself as a mainstream actress with parts in Entourage and The Girlfriend Experience. Grey has also worked as an advocate for sex workers and reforms in our educational system. And—surprise, surprise—Grey just happens to be the lead singer for modern-goth band aTelecine. With a murky, disorienting sound and an aesthetic to match, aTelecine is evidence of what you might call the "new goth" scene. Though Grey no longer fronts the band, their uniquely industrial sound will keep you listening, and hoping, wishing, praying for something new from them soon.
Moira Scar
The Black Belles
It's been a minute since they've released anything, but most definitely deserving of a place on the list is the Black Belles, a band that will rock your soul. Discovered by Jack White (of the White Stripes) in 2011 and a favorite of Stephen Colbert, the Black Belles has become iconic for honoring its roots in garage and goth rock whilst also pushing the bounds of sound into new territories. The lovely ladies that make up the band—Shelby Lane, Ruby Rodgers and Olivia Jean—met at an all-girls reform school, come with a penchant for wide-brimmed hats, have dramatic biographies (case in point: "she is a notorious creature that's feared throughout the world and she generally has a bad reputation for being very aggressive and highly venomous"), and come with some serious side effects. As they best put it, "Many people who come in contact with [the Black Belles] may experience serious, sometimes fatal side effects. Nausea, vomiting, headache, unusual changes in body temp." The group has been a bit inactive as of late, however, we'll be keeping our fingers crossed until the moment there's something new.
La Scaltra
"Find beauty in darkness…" advises La Scaltra, the ever-authentic, ever-eccentric German goth band of our aesthetically oriented dreams. With the gloomiest of sounds and narratives, Aeleth Kaven and Dae Widow's newly formed La Scaltra proves there's no denying that goth rock is for young people. Just last month, La Scaltra released their debut album, Cabaret, featuring eight cohesive tracks that bring a sense of modernity and techno to the genre. Uninterested in the "wannabes" and "wankers," Kaven and Widow are here to make goth music without the phoniness and conceit.
Azar Swan
"Dark music in a dark world," is the motto of Brooklyn, New York-based band Azar Swan. Made up of Zohra Atash and Josh Strawn, Azar Swan brings elements of major world issues with both members of the group outspoken about the current state of politics and terror. Their music reflects that passion for the world, carrying over their personal experiences as well as other people's into the songwriting process. Like their fellow goth compatriots, Azar Swan brings modern elements into music, exemplified in a sound that is uplifting, yet matched by a dark shadow that shines through in the key points of the tracks. Though there's no official announcement yet, Atash and Strawn assured fans that they're two songs away from finishing their LP. We can't wait.
Siouxsie Sioux
You didn't think I was going to go without mentioning the ultimate Goth Queen, did you? In compiling a list of goth goddesses, it is pretty much a requirement to pay homage to Siouxsie Sioux, the inspiration of all inspirations, queen of all queens. Lead singer of Siouxsie and the Banshees, Sioux got her start back in 1976, where she turned heads and commanded attention for her groundbreaking sound and image in a newly established, quickly growing goth genre. Sioux isn't just an inspiration, but the inspiration, influencing a generation and reminding them that there is, in fact, a community out there just like them, one that shares the same passion and appreciation for the darker things in life. Without Sioux, who knows where the aforementioned bands would be at this moment in life? Though she hasn't produced much in the past decade, her music is still as fresh, invigorating, and inventive as ever.