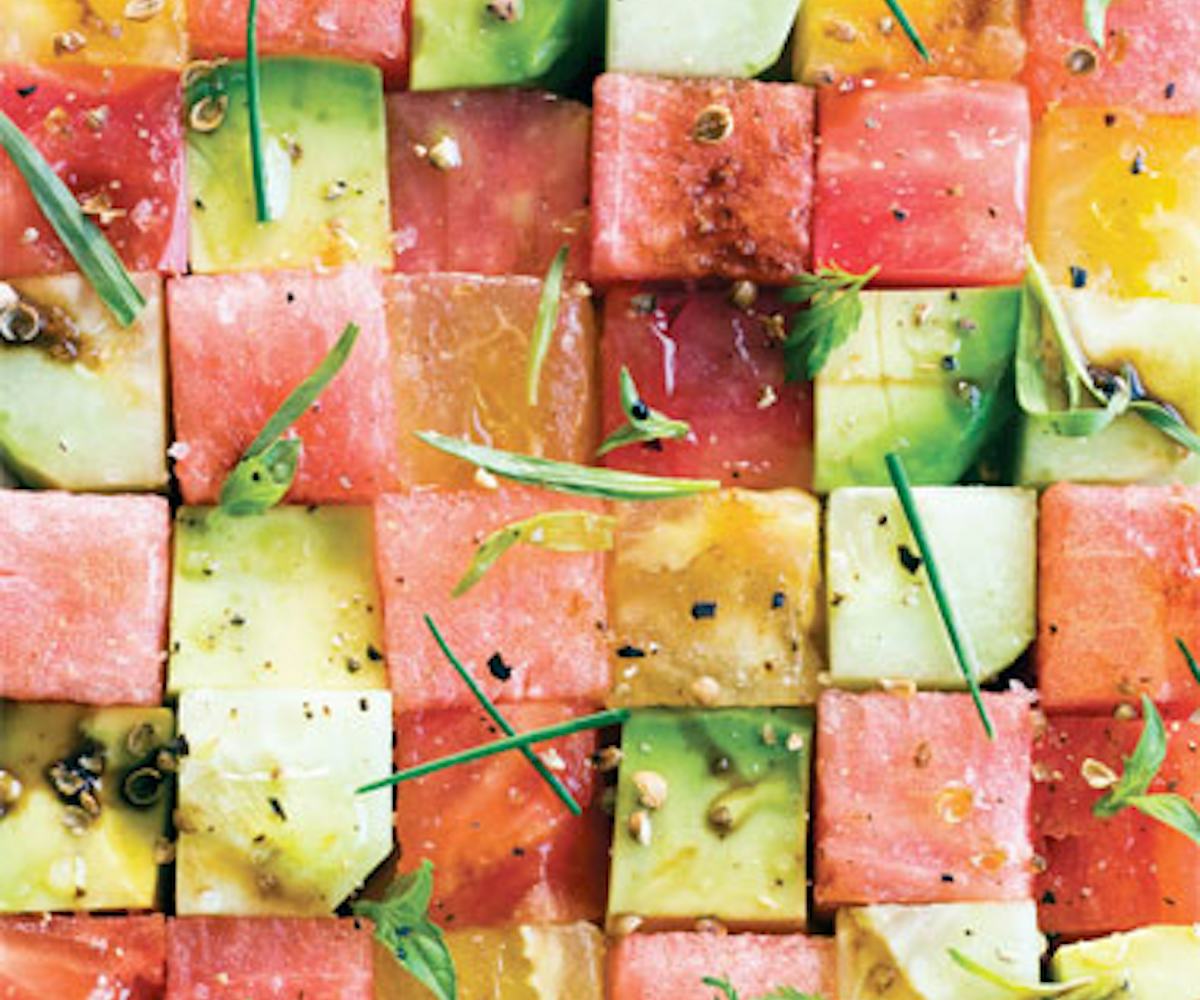 10 ways to gourmet your leftovers
better than the microwave.
The dreaded leftover. Two sad words, "left" and "over," come together to form the name of something that you're supposed to want to eat. Leftovers are synonymous with Al Bundy, paper plates, and moms away on business, but you can class up even the most boring has-been food with a little creativity. Using everything from yesterday's coffee to those little duck sauce packets, we've got the tips to help you repurpose almost any food into something delicious. Whether it was cooked two days ago or you ordered it three days ago, this list will show you how to make "Waste Not, Want Not" your new motto.
"While You Were Away" Coffee-Marinated Turkey Breast
You've finally gotten over your Starbucks addiction and purchased an actual grown-up coffee maker. Unless you're regimented, you'll always have a little leftover coffee. Instead of allowing the acidic liquid to clean your drain, save it, and in over a week you'll probably have at least a quart of coffee that you haven't consumed. Coffee is an excellent marinade for poultry and adds a smoky, gourmet taste to even cheaper pieces of meat. Add your meat and coffee to a slow-cooker and you've just prepared a dinner that will be perfecting itself while you're in your morning meeting at the office. 
1 bone-in thawed turkey breast with skin
Extra virgin olive oil
1 sliced white or yellow onion
Kosher salt
Cracked black pepper
Paprika
Cumin
Cayenne pepper
Dried thyme 
Wash and pat dry the turkey breast. Pour three rounds of extra virgin olive oil (circle the slow cooker three times with olive oil, this is approximately 3 tsp). Turn slow cooker on low, this will cook the breast about 7-8 hours while you're at work. Add sliced onions and close lid while you season turkey.
Sprinkle salt, black pepper, paprika, cumin, cayenne, and dried thyme on the turkey breast skin side and let sit. Open lid and add those same ingredients liberally on the onions and olive oil while they heat.
While you're getting dressed, putting on your makeup, etc., you'll smell the spices kicking up, reminding you to get home on time. If you don't smell spices, walk into the kitchen and make sure you turned on the cooker! Nothing sucks more than preparing a slow cooker meal that sat all day uncooked. Now, add the cold, leftover coffee to the slow cooker and go walk the dog.
Upon returning from Fido's walk or just before you leave home, place the seasoned turkey breast (skin side up) in that beautiful  brown liquid. Your coffee will slowly penetrate your meat, and the seasonings within the marinade will make sure both sides are equally flavorful.
 8 hours later come home to the smell of amazing. No one has broken into your apartment, that's you cooking girl!
 *If you're going to be away from home for more like 10 hours, you can cook frozen turkey breast...but it will not absorb as much flavor as if it was thawed.*
Agua de Sandia
Summer is coming and you're going to get that mundane cubed fruit in the ready-to-eat aisle at the grocery store. Or you're going to have the bright idea to buy an entire watermelon, then cube it up in advance. No one ever eats an entire watermelon. So if you don't take this fruit for lunch, it's going to sit in the fridge and get slimy. Instead of letting it go, make Agua de Sandia (translates to watermelon water). This easy and traditionally non-alcoholic beverage (although adding a splash of vodka never hurt) is all you'll want while sitting outdoors in the summer heat.
5 cups of peeled, seeded watermelon
¼ cup of packed fresh mint leaves
2 ½ cups of distilled water (can substitute sparkling water)
½ cup of sugar
Mint or lime to garnish
Place cubed watermelon in a blender with water and blend until smooth. Add sugar and more water if needed until your desired consistency and blend. Perfectly ripe, peak-of-season fruit will need less sugar, so add more sugar at your discretion. Chill for at least an hour, pour over crushed ice in tall glasses, and garnish with mint. Perfection.
Watermelon Tomato Salad
Another beautiful way to use that leftover watermelon is in a light, easy-to-pull-together salad. This watermelon tomato salad is creamy (due to avocado) and uses some of the most summery ingredients you can find. This salad feels super high-end and will become a fridge staple during the hotter months.
2 cups of seedless watermelon, cubed
4 large tomatoes or entire package of small tomatoes (preferably the high quality heirlooms), cored and cubed
1 large cucumber, peeled and cubed
1 ripe avocado, pitted and cubed
½ tsp ground coriander seed
Kosher salt
Black pepper
2 tsp of herbs, chopped (mix of any including mint, basil, tarragon, etc.)
3 tsp of extra virgin olive oil
3 tsp of balsamic vinegar 
You'll need two bowls for this recipe. In one large bowl, place watermelon, tomato, cucumber, avocado, and ground coriander. In the second, smaller bowl, whisk olive oil, vinegar, salt, and pepper to taste.
Pour oil and vinegar combo over the watermelon mixture, lightly toss to coat, adjust salt as needed. Have a glass of white wine and enjoy the sunshine!
Toasted Coffee Rub
If you're going to use leftover coffee liquid as a marinade for meats, you have to talk about what to do with the actual grinds. I put spent grinds in so many things! They can be used as a pest repellant in your veg garden or mixed with coconut oil and sugar for a DIY shower scrub for dry skin, but you can also toast those grinds up, dry them out, and make an amazing rub for salmon or chicken.
Kosher salt
Black pepper
Garlic powder
Ground mustard seed
Curry powder
Turmeric
Cumin
Take today's coffee grinds and add them to an un-greased baking sheet, make sure you've flattened out all the clumps. Toast in oven for 35 minutes (or until completely dry) at 375 degrees. The grounds should look like they've never been used—dry and granular. Let cool. Add 1 tsp of each of these spices in a bowl with your coffee grounds, pull that Magic Bullet from the back of the cabinet and grind them all together, rub on salmon or poultry, pan fry in oil and enjoy!
Shakshuka
Often times, you'll order a takeout pasta dish and have a bunch of leftover tomato sauce. If you're fancy you may have even made your own. Many cultures use tomato bases in their dishes. Here's a very gourmet way to turn an Italian staple into a North African (Tunisian, to be exact) dish using last night's tomato sauce...but for Sunday brunch! Your friends will be impressed.
At least 16 oz of leftover tomato sauce
1-2 tsp of olive oil
2 tsp Kosher salt
1 tsp black pepper
1 onion, sliced
2 cloves of garlic, diced
3-5 sweet peppers (I choose the yellow ones to make the color pop against the sauce)
1 tsp paprika
1 tsp cumin
½ tsp cayenne
6 oz Feta cheese (can sub goat cheese, if needed)
Handful of chopped cilantro or basil
Heat oven to 375 degrees. In a cast iron skillet, drizzle olive oil and heat. Add sliced onions, peppers, and all your spices. When onions are translucent and peppers are limp, add sauce. Heat sauce mixture until slightly bubbly around the edges, then crack eggs slowly allowing them to slide into the sauce. Sprinkle a small amount of salt and black pepper on each egg. Sprinkle feta cheese over dish and place in the oven 10-15 minutes for well-done eggs. Top with chopped herbs and serve directly from skillet.
Spicy Chicken Curry Soup
There is nothing that screams "leftovers" about chicken bones, but before you throw them away, realize that this is where the real flavor lies.
If you've ever roasted an entire chicken, think about all the flavors you've created by slowly cooking over 2 hours...throwing away bones is a no-no.
I usually freeze bones from 2-3 whole chickens (also turkey and duck apply for this recipe) and bring them back to life in a Spicy Chicken Soup that is perfect for fighting stuffy noses and tickling throats during allergy season. Also, don't forget spicy foods with broths speed up metabolism...thus, this soup is great for weight loss while staying satisfied.
2-3 frozen chicken carcasses (feel free to include any organ meat that may not have been consumed)
2 baked chicken breasts, cubed
Extra virgin olive oil or coconut oil
3 tsp kosher salt (plus extra)
2 tsp black pepper
1 large onion, diced
6 cloves of garlic, smashed
1/2 cup of chopped herbs (fresh preferred, but dried will do), use any mix of basil, thyme, rosemary, or even a little tarragon
2 tsp red pepper flakes
2 tsp turmeric
1 1/2 tsp cumin
2 tsp curry powder
2 quarts of water
In a large, heavy bottom stock pot, add 2 tsp of oil and a little kosher salt, then pack in the frozen bones and heat over low flame. As steam rises from thawing bones, add 2 qts of water, bones should be at least 3/4 covered with water. If not, add water as needed. Bring to a boil. Reduce heat, cover and simmer bones on low for 30 min.
Let bones sit in the water covered until pot cools. Then, strain chicken broth into a large bowl and set aside. Feel free to spoon out any meat that has been attached to bone and add it to broth bowl. Discard bones and set the pot aside, no need to clean yet. You're on your way to something delicious.
Heat 3 tsp of the oil of your choice over a medium flame in the same stock pot. Place one of your diced onion pieces in the pot, when you hear it begin to sizzle, add rest of onions. Stir onions to avoid sticking and reduce the flame if they're cooking faster than you can work.
Add red pepper flakes, salt, black pepper, cumin, turmeric, curry and continue to stir to avoid burning spices. Heating the spices directly is a way of bringing out their natural oils and true flavor. Now your house smells like the neighbor down the hall...but better! Add garlic and keep stirring.
Once onion/spice mix is cooked down, add cubed chicken breast and stir to coat chicken in spice mixture. Add 2 cups of reserved broth to cool down pot. Keep stirring to get any bits off the bottom of pot. Add the rest of your broth and bring pot to a strong simmer and taste. Adjust seasonings as needed, serve over rice if desired, and enjoy this new twist on classic chicken soup.
Seared Teriyaki Chicken Breasts
Chicken breasts can be one of the most affordable ways to make delicious food for a group of people. From summer backyard BBQs to winter one-pot meals, chicken breasts can go a long way. An easy way to use all those little plastic containers of teriyaki sauce from Sushi Night can be this chicken recipe. All you need is a skillet and a stove! Also, feel free to use chicken thighs or salmon to switch up this recipe.
2 skinless chicken breasts
2 containers of leftover teriyaki sauce
2 tsp of extra virgin olive oil
Kosher salt
Black pepper
1 tsp ginger powder
1 tsp garlic powder
1 tsp onion powder
1 tsp honey
Sesame seeds and chopped chives, green onion, or cilantro for garnish 
Rinse chicken breasts and pat dry with a paper towel. Place dry breasts on a plate. In a large mixing bowl add leftover teriyaki sauce, salt, pepper, and spices. Whisk together until powders have dissolved. Place chicken breasts in the bowl with sauce mixture and let sit for at least 15 minutes to marinate (can sit overnight for even more flavor).
Heat oven to 375 degrees. Using a cast iron or oven-safe skillet, heat olive oil over medium flame. Slather one side of the chicken breast with half of the honey and add breasts to the skillet, honey-side down. Brown for about 3-5 minutes. Drizzle remaining honey on the top before turning to brown on the other side for same amount of time. Turn off flame and add any remaining marinade to pan to keep breasts from drying out in the oven. Place in oven for about 25-30 minutes until well done. Remove from oven and let chicken rest for at least 5 minutes for the sauces to redistribute. Sprinkle top of breasts with sesame seeds and herbs. Enjoy this easy way to repurpose teriyaki sauce.
Wasabi Smashed Potatoes
Very few things satisfy on a Friday night in like having a party platter of sushi delivered, with a side of Netflix and wine. Before you discard that tin along with the green stuff (wasabi), here's a yummy recipe that will put that delicious Japanese horseradish (again, wasabi) to use.
3 pounds of large russet potatoes (about 4-5 potatoes), peeled and cubed
¾ cup of half-n-half
1 tsp of leftover wasabi
¼ cup butter
Kosher salt
Black pepper
Boil potatoes in salted water for about 20-25 minutes. Strain water out of pot, leaving only potatoes and smash with a fork. In a small bowl whisk together half-n-half with wasabi until you have green milk. Add butter and milk to the potato pot. Smash together, add kosher salt and black pepper to taste. Serve up this light green, spicy goodness with a side of your Teriyaki Chicken Breasts. 
*If the potatoes seem too "wet", heat on low to evaporate some of the liquid.
Pickle Marinade
Everyone has a jar full of pickle juice in their fridge, sans pickles. You kept that beautiful green liquid for a reason. Pickle juice is a great brine for meats and adds a vinegary, spicy flavor using ingredients that normally are not in your pantry. This brine is best on meats like chicken, turkey, and pork.
Shea's Beer & Onion Pancakes with Walnut Maple Syrup
I am not big on beer, but somehow between guests and my fiancé there is always beer in my fridge. And, because of that...I somehow always get conned into having a sip of some ale that I do not like. On the other hand, I love cooking with beer. I use beer in veggie chili, when cooking shellfish, but also in this unique recipe for beer & onion pancakes.
Pancakes:
1 cup of preferred dark or amber beer at room temperature
Hungry Jack Complete Buttermilk Pancake Mix (the best if you're not making from scratch)
3 tsp Irish butter
1 tsp Irish butter, melted
1 shallot, chopped
2 eggs
1 tsp real vanilla extract
1 tsp cinnamon
1 tsp nutmeg
Syrup:
1 cup brown sugar
½ cup dark or amber beer
¼ cup grade A maple syrup
¼ cup chopped walnuts (can sub pecans)
2 tsp Irish butter
¼ tsp cinnamon
Heat skillet with butter, add shallots and soften. They'll cook for about 3 minutes, take out skillet, and set aside. Whisk eggs, beer, melted butter, nutmeg, and cinnamon in a mixing bowl. Add shallots and stir. Add pancake mix and combine well to get rid of clumps.
To make pancakes, your skillet should already be coated with butter from sautéing the shallots...if not use just enough to coat the skillet to avoid burning. Ladle in pancake batter in batches, cooking about 2-3 pancakes at a time. In my opinion, the first pancake is always the worst...so don't get discouraged. You may need to re-grease your skillet between batches, so make sure the skillet isn't "dry" before you cook the next batch of batter. Cook until golden on the bottom and turn with a spatula to cook the top of the pancakes. Set pancakes aside on oven-safe plate and place in oven on WARM setting until syrup is complete. 
To make syrup, in a non-stick small pot, combine all ingredients and bring to a low simmer. Make sure you stir constantly to avoid burning.
Serve pancakes with syrup on the side...along with your favorite beer, enjoy.