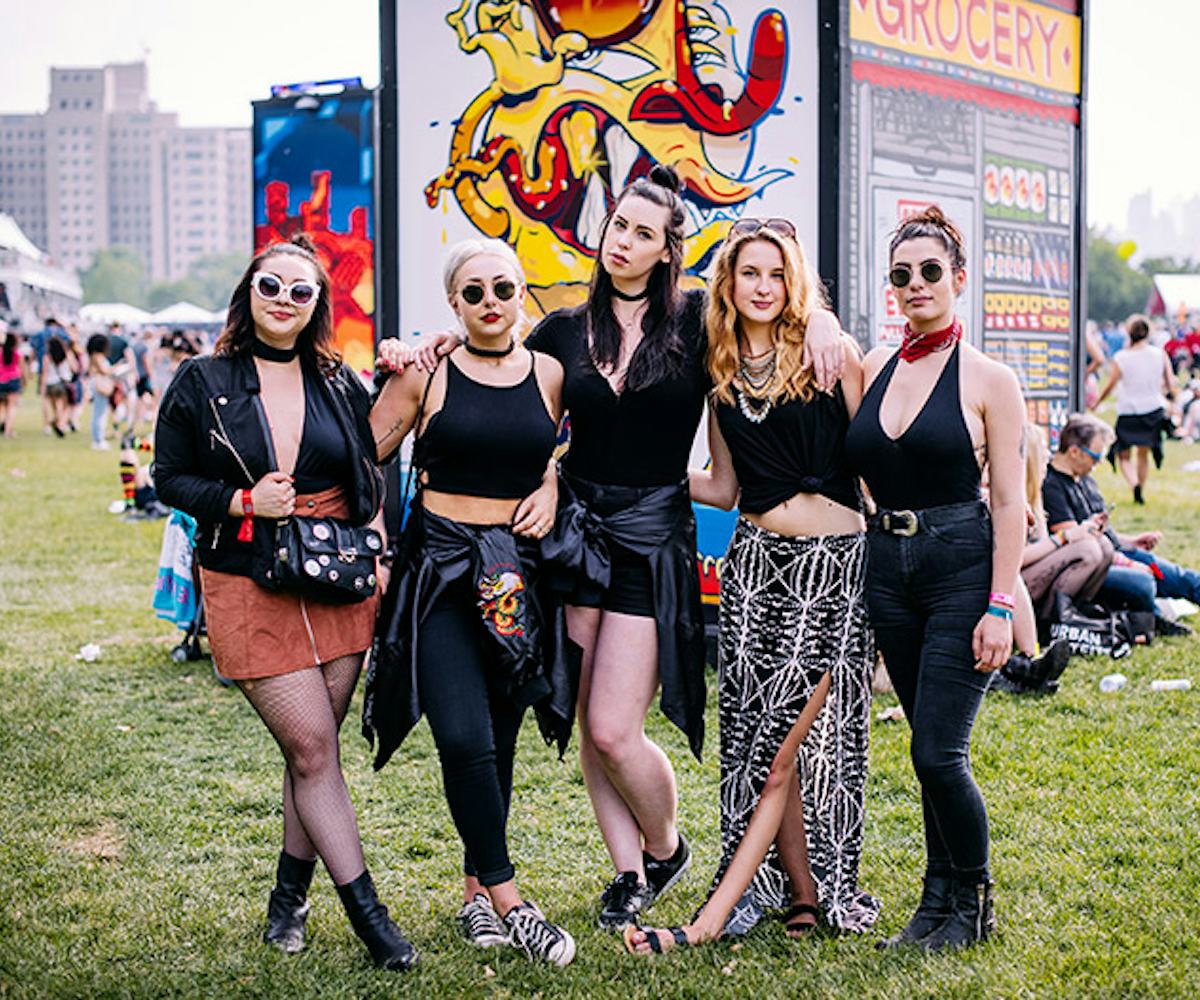 Photographed by Nina Westervelt
23 Photos That Prove NYC Street Style Makes For Perfect Gov Ball Fashion
New York City style can't be pinned down because it's all about attitude. Of course, most New Yorkers' closets are full of black, but hey, there are a million different ways to rock the color so that it's never boring. With that said, it's all about how you wear your uniform rather than what you're wearing. So it's no surprise that Gov Ball festivalgoers know a thing or two about mixing form with function. After all, the possibility of rain on Randall's Island is high and mud will, inevitably, become another accessory.
This year, the rain came and, ultimately, conquered. Sunday's entire schedule was canceled due to weather. (Thanks, Mother Nature...) Aside from the sun's heat, the first two days, however, were absolute godsent. Randall's Island transformed into a mini runway of unique style, future trends, and highlighted how true to New York Gov Ball style really is. Like the City, the style it inspires is individualistic. There aren't throngs of flower crown pseudo-hippies flailing around. Rather, there are thousands of strong, independent style stars just waiting for the camera to catch their look. Here are some of the best.
NYLON's own Tina Vaden kicked things off with NYLONshop and a whole lotta cool.
High Waisted's Jessica Louise Dye is a walking Lisa Frank mermaid. Yes, Miss Thing!
Urban Bush Babes TK Wonder & Cipriana Quann need no introduction.
Swing, swing with Meg Mac.
Same!
Violet Brooklyn Witch vibes, courtesy of Kayla Ortiz.
Katy Brown serving you Stevie Nicks vibes.
Amy Rycroft's overall game is perfect.
Lyne Lucien's got the swagger of a goddess.
Mila Victoria's prints are on fire.
The Diesel Pre-Fall '16 crew were basically too pretty to be real, but they were, in fact, very real.
Look! A tattoo idea AND denim DIY idea all in one photo!
Emily McMonagle's Top Gun vibes were too good.
Okay, Tina, we get it. You and NYLONshop have great festival style.
Francesca Garcia-Miro can shade the haters with one flick of tha wrist.
Nom! Nom! Nom!
An eggcellent accessory story.
Shara Sprecher and her color twin, a flamingo.
Now this, this is what we call A+ Gov Ball street style.
Eyes on the shoe prize.
When in doubt, match your hair to your lip. (You may even luck out in matching it to a wristband, too!)
Kayla Mils is a vintage dream.
Hello, Mister Spaceman.