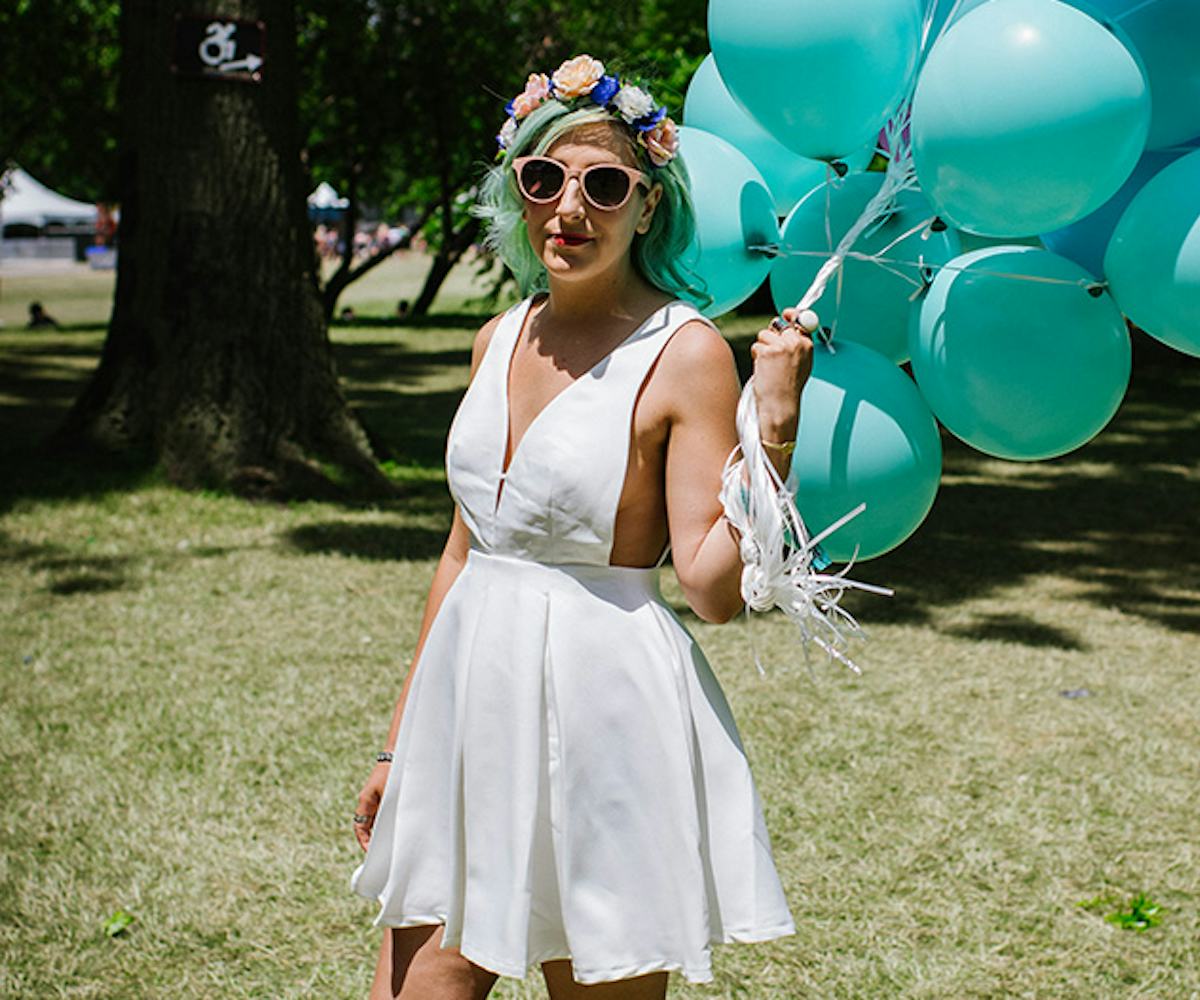 All photos by Nina Westervelt
30 gov ball looks that beat the muddy heat
coachella, meet new york city
One way to describe Governors Ball would be Coachella with New York City grit — almost quite literally. The slightest bit of rain turns this tiny island off of Manhattan into a mud pit, and dressing for that can be, well, tricky. Most people keep the party on top and mud-proof the bottom (Doc Martens can become your best friend). But it's that trademark grit that makes the street style so exciting. New Yorkers are known for being adaptable, and seeing the ways they experimented and took styling risks while traversing the swampy conditions was exciting. We spotted some stellar style icons this year — both on stage and off.
Click through to see some of our favorites. Hey, you may even find ways to make the rainiest of days in your future fashion-forward.
The couple who patterns together stays together.
Jessica Louise Dye going up, up, and away!
Model Ellie Drapp showed us all black everything is still a summer look.
White Lung's Mish Way had an arm party.
Zoe from ASTR gave us major body-chain envy.
Can we talk about how brilliant Elaina Perpelitt's sheer panel is? (And that Sable Wolf jewelry is a-maaah-zing!)
Keira Duarte and Camille Caden were all smiles before Little Dragon's set.
We feel like this picture can only be captioned with two words: Squad. Goals.
Ladies and gentlemen, the incredible Kiesza.
Prepare for trouble. Make it double.
Juniors Editor at WGSN, Sarah Owen, showed that her lace game was on point.
Florals? For Summer? Love it.
Simple, classic, and clean.
Shout out to the girl on the right and her dedication to her look! Those gladiator sandals were a risk in the mud, but she made it work.
Pinterest ain't got nothin' on these pins.
Summer looks to try.
These boots are taking us to a whole new level of sartorial heaven.
Why so serious, J. Roddy Walston & The Business?
Leave it to Marina and the Diamonds to make a shiny bodysuit look summer-cool.
Free people wear free-flowin' clothes.
More all black everything inspo, this time with patterns.
We are ALL about Dana Pacifico's fringe game.
Yes, those are ducks all over Jane Hervey's shirt and a license plate on her bag.
When in doubt, go for the '90s vibe.
Here's to special treatment, Conor Oberst.
This cat bag, though. THIS CAT BAG!!!
This guy didn't get the sunny and 80-degrees outside memo and we are SO thankful for that.
Noted, Bart. NO-TED!
We've got denim envy for Angela Koh's jeans.
It's alright to mess with mesh.