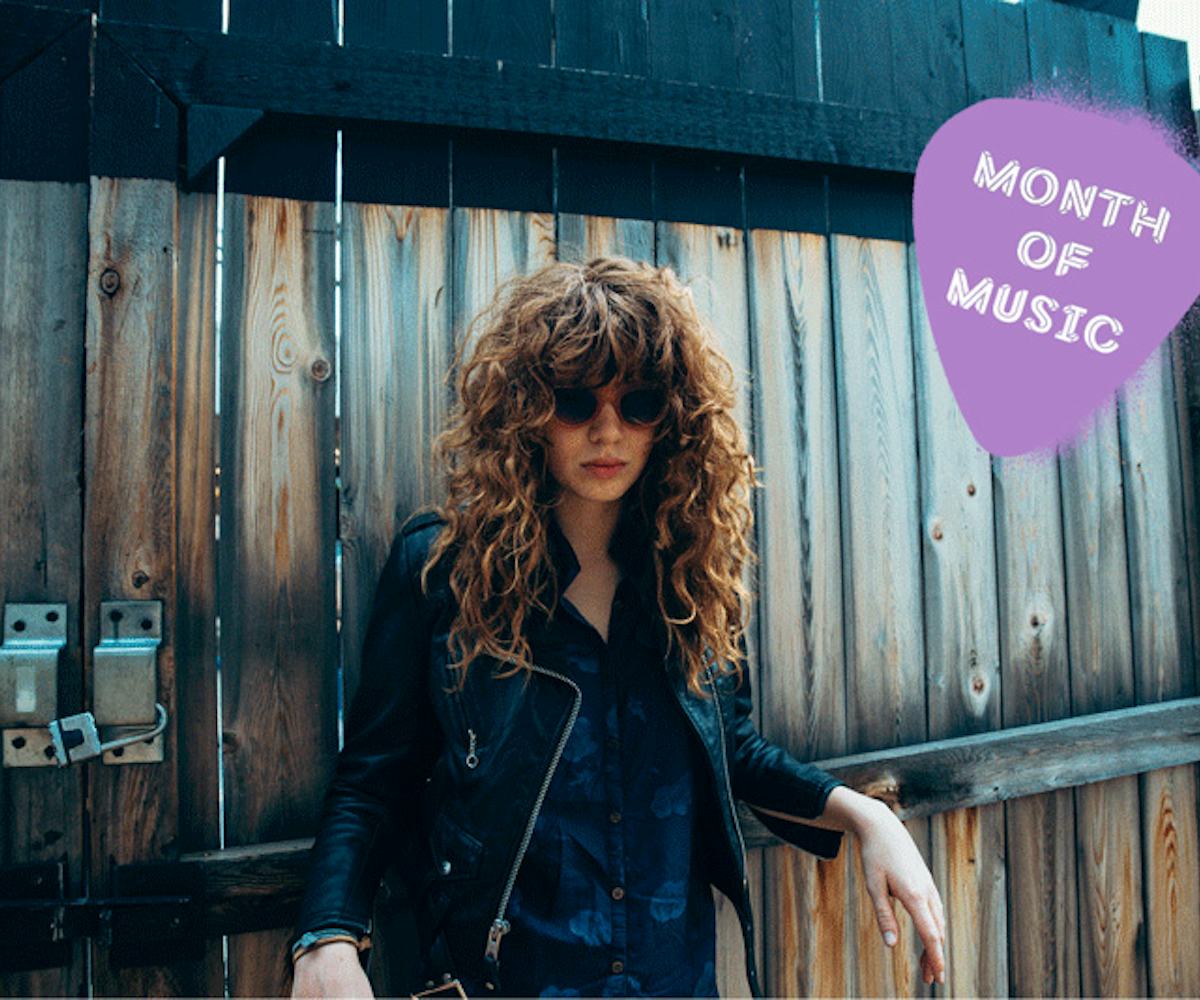 Photographed by Kara Smarsh.
Grace Mitchell Is A Rock Star For The Digital Age
Where old school meets new school
We share music because we want to connect with others on a deeper level. We want to relay and relate to a message that can't be said with just words. This April, NYLON is dedicating six days a week to introducing you to new artists and budding favorites. With interviews and GIF portraits done down at SXSW, NYLON's Month of Music is an exercise in finding aural pleasures outside of the Top 40. It's an exercise in challenging you and ourselves to not stick to one genre. But above all, it's a celebration of bold voices and sheer talent. Enjoy.
Grace Mitchell is a rebel. Perhaps not in a "let's start a riot" way, but her music certainly sticks it to the Top 40. Her RACEDAY EP is filled with some of the most compelling examples of pop rock today. To be fair, it's not even pop rock—it's a sound that exists somewhere between the two, with a healthy dose of punk. Tracks like "Jitter" and "NoLo" add to Mitchell's already cool girl vibe. Had she been around during the heydays of New York City punk, you'd surely see her around St. Marks Place and playing somewhere on the Bowery, getting the people moving in a cramped-but-iconic bar. But those days are well behind us; however, they live on in Mitchell. The music scene needs more punks challenging the bump-and-grind, and as such, needs Grace Mitchell. 
What song of yours fits the following situations:
Getting ready in the morning?
"Race Day" because it hypes you up. It's all about winning and being a champion. Who doesn't want to hear that at the beginning of the day?
Me time?
I'd say "NoLo." That song is all about empowering yourself.
Hooking up?
"Jitter," for sure. It's about getting rowdy.
Can you recall a moment in your life—whether it's a song, a show, a video—that convinced you, you wanted to be doing music?
When I was first taking recording sessions, I started to realize how enjoyable it was. It came naturally and felt like a comfortable, safe space.
If any artist, dead or alive, could cover your music, who would you want it to be?
If Jeff Buckley covered one of my songs, that'd be really crazy. He's a genius.
Have you ever been starstruck?
Yes. I saw Juliette Lewis at a charity showcase. It was unbelievable. I couldn't look her in the eye.
At the end of the day, how do you wind down and ground yourself?
Yoga, but I also like to draw and paint.