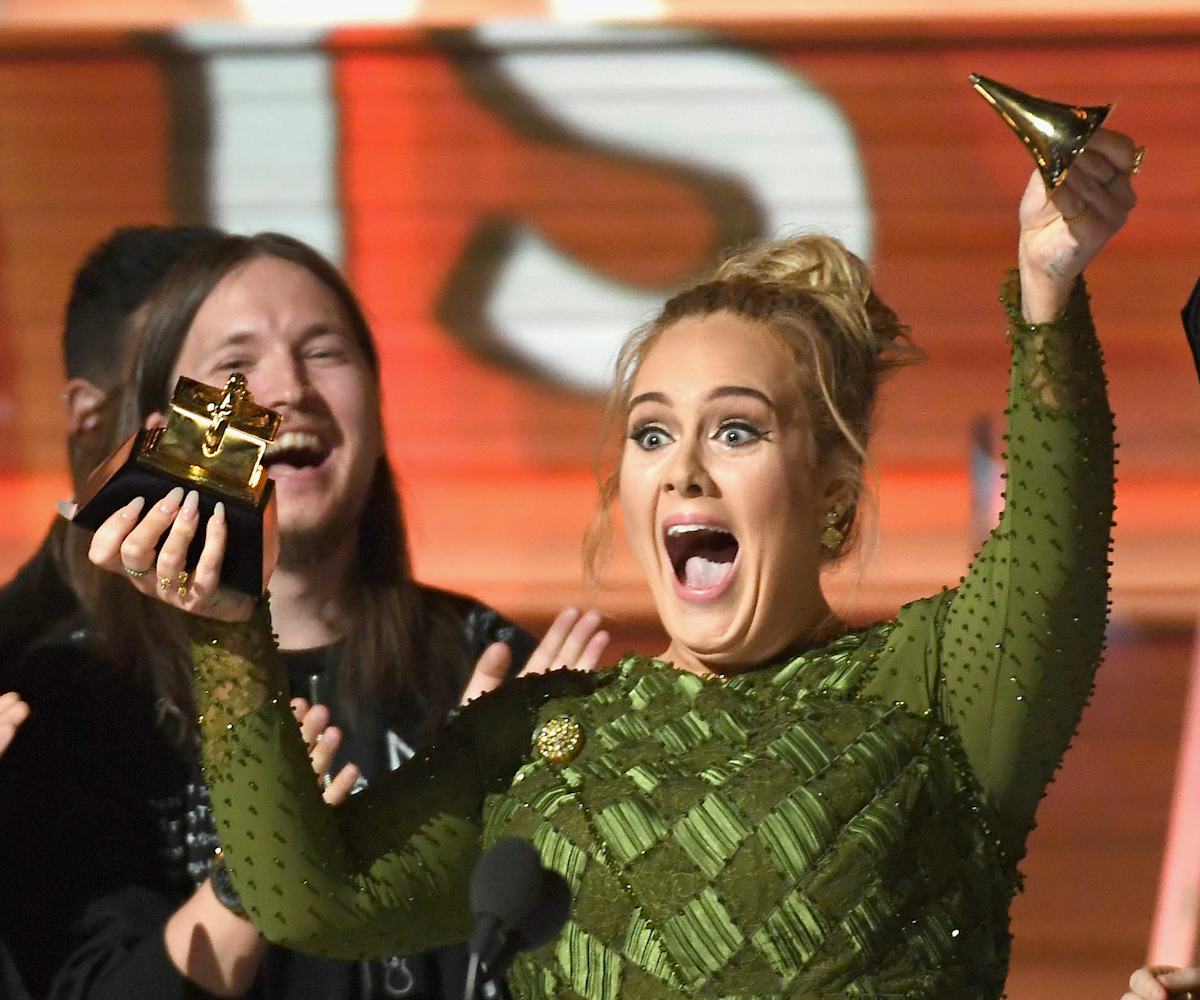 Photo by Kevork Djansezian / Stringer
13 Highs And Lows Of Last Night's Grammy Awards
13 of the most defining moments
The whole purpose of the Grammy Awards is to take a moment to recognize artists for the hard work they produced over the past year. The Recording Academy votes among 84 different categories, and the fruits of their labor are revealed at the annual ceremony.
For those of you who missed the 59th Annual Grammy Awards show, we're here to help you avoid all the impending FOMO with a recap of the best and worst moments from the night. Considering the fact that this was a four-hour long event, there were a lot of things to keep track of. (Thankfully, the internet preserves everything.) Scroll down to relive 13 of the most precious moments.
Rihanna was unapologetically feeling herself all night long. New goals for 2017.
SLAY BEY #Beyonce #BeyHive pic.twitter.com/9eZU3xvp8B— The Beyonce World (@thebeyworldcom) February 13, 2017
Beyoncé had the best Grammys performance of all time, don't @ me.
Chance the Rapper's full #GRAMMYs  performance. #ForTheCulture pic.twitter.com/yrxBE6Nf0C— The Made Brand (@TheMadeBrand) February 13, 2017
Glory be to Chance the Rapper for this phenomenal and uplifting performance. 
a powerful #GRAMMYs call to action by @Lavernecox for @GrimmGavinE #StandWithGavin pic.twitter.com/AFXn82tPDe— Challenger (@bakedinapie) February 13, 2017
Laverne Cox made a point to acknowledge transgender lives when she told everyone to stand with Gavin Grimm.
A Tribe Called Quest, Busta and Anderson Paak SHUT. THE. STAGE. DOWN. at the #GRAMMYs last night. (via @kingwole) pic.twitter.com/ueh18YyKJz— The Shadow League (@ShadowLeagueTSL) February 13, 2017
A Tribe Called Quest and Anderson .Paak had the most empowering performance of the evening as they encouraged everyone to resist. Also, Busta Rhymes coining "President Agent Orange" was iconic. Talk about a political message.
Paris Jackson shouts out #NoDAPL on stage at the #GRAMMYs. #WaterIsLife pic.twitter.com/7qown4jfyL— david (@davidzand) February 13, 2017
Paris Jackson walking on the stage barefoot in a Moschino dress and casually dropping #NoDAPL into her intro.
Every time that Chance the Rapper won, we felt like proud parents. Next time, we have a feeling that he'll be a little more prepared for his speeches... And we'd really like if the producers would let him speak without cutting him off.
Not only did Beyoncé emphasize the importance of representation in her acceptance speech, but she delivered it in a card that matched her outfit. Bless us all. 
Lady Gaga's performing "Moth Into Flame" with Metallica was epic, why was everybody hating? Even though she almost tripped, that didn't stop Gaga from crowd surfing like the badass that she is. All hail.
twenty one pilots did: THAT pic.twitter.com/fQrN0jIYjN— e (@thebottlemaine) February 13, 2017
Nobody needed to be subjected to Twenty One Pilots taking off their pants.
#GRAMMYs: Adele makes Beyonce cry during her Album of the Year dedication. pic.twitter.com/4DjfYmHgsX— Hollywood Reporter (@THR) February 13, 2017
Beyoncé only wound up winning one of the seven nominations she received, which was disappointing, to say the least. Watching Adele take home Song of the Year, Record of the Year, and Album of the Year was a bittersweet pill to swallow, but she really redeemed herself when dedicating her final win to Bey and breaking the trophy in half. We have no hard feelings toward her! Best ally ever.
Watch Adele restart her emotional George Michael tribute performance at the Grammys https://t.co/qpVcd5SPF3 pic.twitter.com/TLaNqNfRf0— TIME (@TIME) February 13, 2017
Adele's tribute to George Michael was so difficult to go through that she had to cut herself off and start over. We can't even be mad because she wanted to do it properly. In fact, we respect that.
Thie was the most awkward cutoff we've ever seen. Poor Greg!