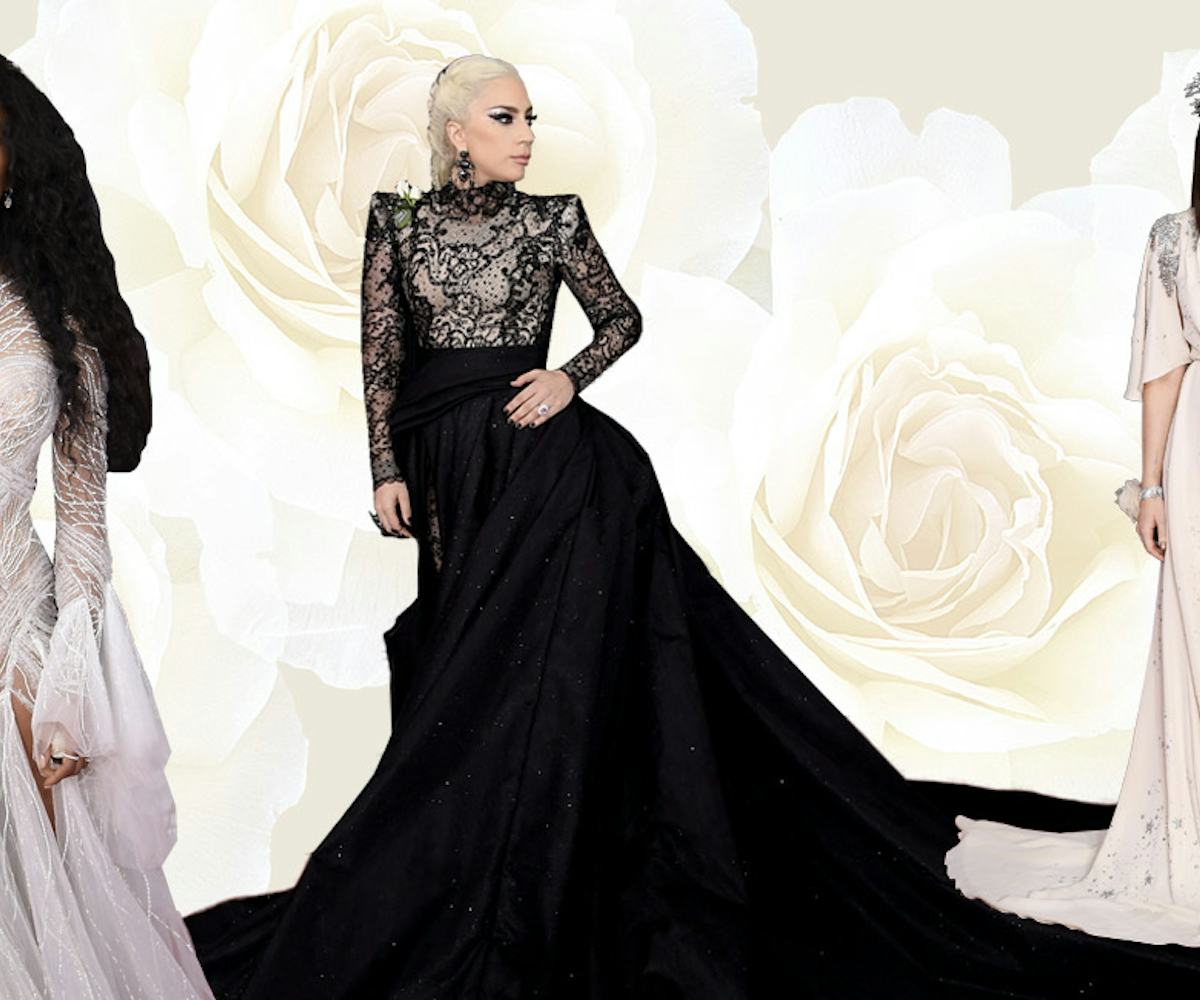 Our Favorite Fashion Moments From The 2018 Grammy Awards
Lots of shine and pantsuits
Ahead of the 60th Annual Grammy Awards, it was announced that celebrities would wear white roses in support of the Time's Up movement. While the protest wasn't as loud and in-your-face as during the Golden Globes (and we have a couple of theories as to why), it was nice to see artists show their solidarity.
A lot of artists—from Janelle Monáe to Eve—brought out the pantsuits for this year's award show, sending the sartorial message that women should continue to take charge and wear the pants both in their careers and on the red carpet. We also saw a lot of shine and glitz from the likes of Best New Artist nominee SZA, mom-to-be Chrissy Teigen, and the celestial Lana Del Rey who was a literal "Stargirl." There were also some standout fashion happenings that took place off the red carpet, courtesy of Lorde and, who else but, Rihanna. 
Ahead, we bring you our favorite fashion of the night.
Suits have been Janelle Monáe's sartorial MO since she came on the scene. This Dolce & Gabbana floral number is definitely one of our favorites we've seen the singer rock.
We didn't realize how much we missed early '00s Lady Gaga until she showed up on the carpet in an Armani Privè lace bodysuit complete with an insane train and sky-high boots. It's no meat dress, but we're satisfied.
Leave it to the artist of the hour, Cardi B, to walk the carpet in a butterfly, princess-inspired white Ashi Studio gown.
Both Eve and her silver-and-black Naeem Khan suit were unexpected red carpet treats. 
Chrissy Teigen showing us how maternity glam is done in a shiny Yanina Couture dress.
Goddess Lana Del Rey came decked out in custom Gucci and topped it off with an appropriate starry halo.
SZA might be a Grammy red carpet rookie, but we wouldn't have known in this exquisite Atelier Versace dress.
Leave it to P!nk to bring all of the color with her loud, belted, feather Armani Privé dress. 
This might be the most low-key outfit Miley Cyrus has worn in years. And if you didn't own a black velvet jumpsuit before, you'll definitely want one after seeing her Jean Paul Gaultier number. 
We had to wait until the actual award show started to get a glimpse of Rihanna's look, but she's always worth it. And she absolutely did not disappoint in her chocolate patent leather trench coat and knee-high boots. 
Lorde perfectly matched her dress to her lipstick and… flask.
Beyoncé tries to be incognito but doesn't really succeed (because she's Beyoncé) in a stunning black velvet dress, tilted hat, and black sunglasses.