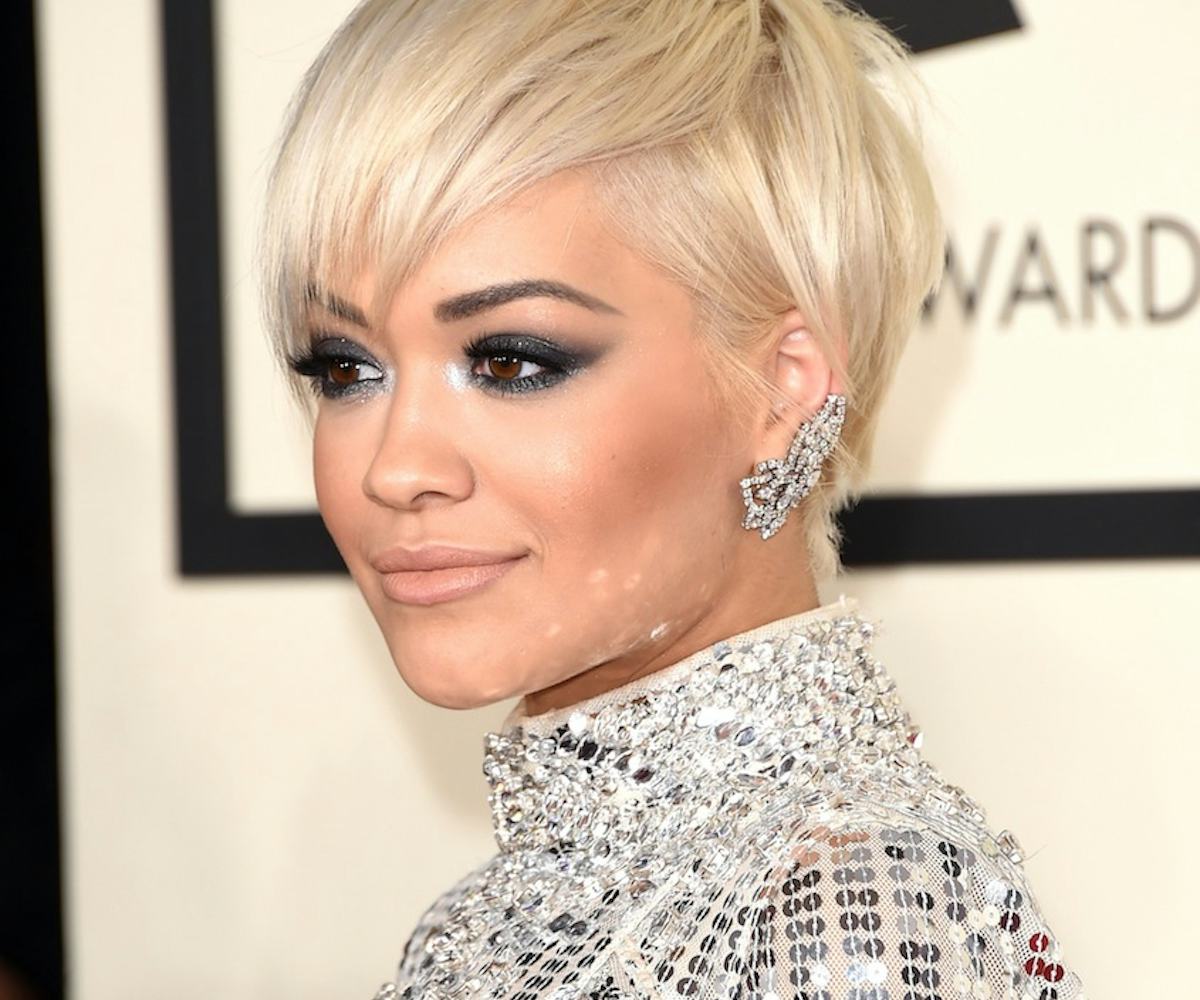 photos via getty images
the 11 best beauty looks of the grammys
lavender hair, mermaid makeup, and more!
Okay, we know: Tonight's show was about the music. But can we please take a minute to talk about the crazy-amazing beauty looks that happened? We're not used to seeing such rad, weird-in-the-best-way hair and makeup on the red carpet, where stars are infamous for playing it safe (read: boring). Tonight, though, on the night where musicians can stretch their legs and hues creatively, we were not bored. From a newly lavender 'do to the braid crown we'll be talking about for the next year, there was no shortage of rad-lady inspiration. Click through to see what we mean...because if you can't rock a great 'do on Grammys night, when can you?
Zendaya
Proof positive that the '90s will never die: Zendaya's brown lip liner and bowl-shaped pixie. Her makeup still feels modern since her brow is so bold (if this were actually the '90s, they'd be tweezed into a sad, thin line). Did we mention that ear cuff? 
Bonnie Mckee
Bonnie McKee is clearly a girl after our own hearts. With visible roots in her bleached-blonde locks, Cabernet-colored lipstick, and shimmery eyeshadow on the inner corners of her eyes, we have to admit: This is pretty much how we'd do our own hair and makeup for the Grammys… Which is maybe why we like it so much.
Nicki Minaj
Hot damn, Nicki. Proving that all you really need in life is a cat-eye, slicked back hair, and swagger, Nicki's beauty look won our hearts because of how ferociously simple it was.
Jessie J
Jessie J's inky black hair is potentially the shiniest thing we've ever seen. (We can see our reflections!) We're loving the slicked-down, deep-side-part thing she has going on. And it's a good 'do to keep in mind for the next time we don't have time to wash our hair. Just throw some shiny hair gel in it and call it a look. 
Katy Perry
In case you thought the pastel-hair trend might be over, think again: Katy Perry rolled up with a lavender 'do, and it was stunning. We're especially loving the fact that her roots are showing—it's very Kristen Stewart of her. Also, her makeup (by Covergirl, obviously), was on-point, with a cat-eye and shimmery nude lips that made her whole vibe red-carpet perfect. 
Gwen Stefani
It's pretty rare to see Gwen without her red lip, but honestly, she made the right choice here: The star of her look is clearly her hair, and nothing needs to distract from that. Swept up into a punk-inspired nest situation that's part pompadour, part chignon, it's the perfect 'do for the grownup queen of pop-punk.
Ciara
Radiating the kind of effortless chicness that we'll spend the rest of our lives chasing, Ciara's super understated beauty look was the perfect complement to her structural dress. With her hair slicked back and her skin glowing (a theme for the evening), she's the perfect balance of natural, earth-goddess beauty and futuristic princess. 
Lady Gaga
Is it just us or did it look like Gaga's gorgeous silver gown had actual gills? It was fitting, then, that her metallic smokey eye, wavy silver locks, and emerald jewelry was full-on mermaid-inspired. Celeb makeup artist Sarah Tanno used Shiseido Shimmering Cream Eye Colors in Tin, Mist, and Caviar, set with Shiseido's Luminizing Satin Eye Color Trio in Lido, for that under-the-sea smokey eye. Her hair received the volumizing treatment from Matrix StyleLink, which applied product from root to tip. 
Iggy Azalea
Just when we thought that we'd seen every single variation of a braid crown in the world, Iggy shows up with this inside-out double French braid pile. It's edgy, regal, and weird in all the right ways. We expect to see all the cool girls wearing this during music festival season.
Kim Kardashian
If you hadn't seen Kim K's new lob, take a good, long look. The piece-y, clavicle-grazing crop is just about the trendiest cut right now, but Kim makes it look original. Kudos for wearing it down—who needs a chignon when you've got this kind of haircut to show off?
Rita Ora
Oh! Ooh! Rita Ora's brand new pixie is here, y'all. The cool-toned silvery blonde looks totally gorgeous with her matchy-matchy silver dress, especially with her fringe swept gently to the side like that. And her glittery, ethereal smoky eye doesn't hurt, either.