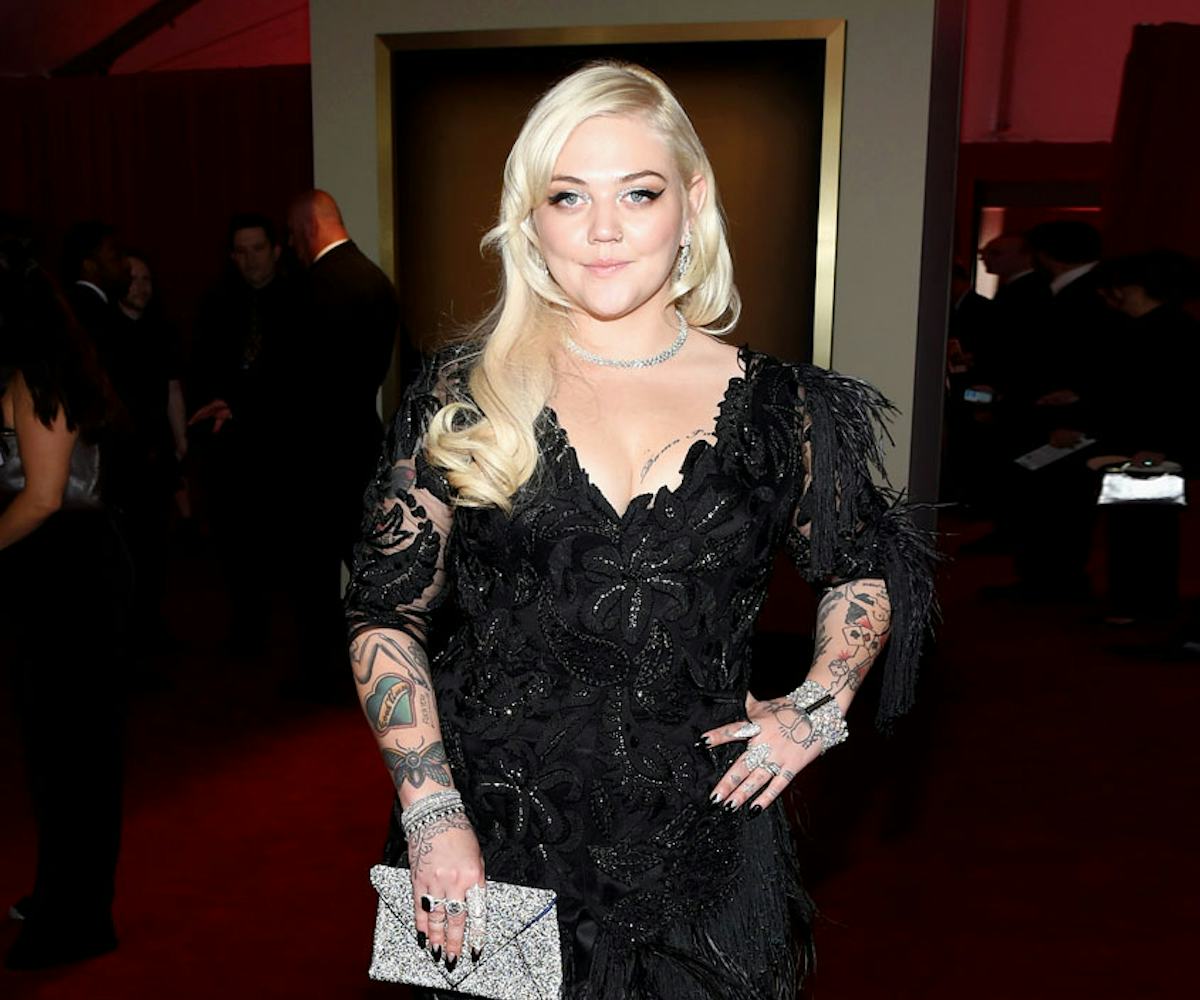 Photo by Larry Busacca/Getty Images.
10 Grammy Looks That Stole The Show
suits, robe dresses, sparkles, and more
by gabrielle korn + leila brillson
Of all the major red carpets, the Grammys tend to be the most sartorially exciting: We've just come to expect our favorite musicians to roll up in mind-blowing ensembles that take fashion to the next level. After all, it's an awards show about music—if you can't go a little crazy with your clothes for that situation, when can you? 
So this time around, we were a little dissappointed. Aesthetically speaking, this was one of the safest Grammys in recent years. But that being said, there were definitely some moments worth loving: Lady Gaga's custom Bowie-inspired robe dress, for one—and we'll be talking about Ariana Grande's red silk number for the next year (at least).
So, click through the slideshow for the 10 looks we're obsessing over. 
Chrissy Teigen in Yousef Al-Jasmi
Dressing for music's biggest night—which is supposed to be edgy, tends towards the revealing, and is always over-the-top—is a challenge when you are heavily pregnant. The best way to step up to the task, however, is to put a cape on it, and then pretend to be an incredible statue. In her Yousef Al-Jasmi columnesque gown, Chrissy seems comfortable ... and glowing.
Kacey Musgraves in Armani Privé
It's a shame that only Kacey Musgraves wore Privé, because the Armani line is basically made for a night like The Grammys. At first, I was like, "nah," and then it pulled away and became more and more great the farther away it was, ending up a lovely purple-y confection that adds a bit of fashion to the whole affair. 
Elle King in Cristian Siriano
The thing is, sometimes it's hard to do red carpet glam when you are real-deal rock 'n' roll. But Elle expertly pulls this off with Bohemian fringe and a ton of feathers and embellishments, which looks tossed together and effortless, but still totally lovely. Digging all that silver, because sometimes you need more, not less.
Bella Hadid in Alexandre Vauthier
Gigi may be the blonde bombshell, but sister Bella is definitely the femme fatale, a stone cold fox whose icy stare is beyond cool. So this sleek, deeply plunging Alexandre Vauthier black dress is entirely dramatic and ultimately chic, with all the right cutaways—and if the Grammys are about anything, they're about successfully using negative space.
Lianne La Havas, in Vivivenne Westwood
This shiny, neon yellow gown is the perfect choice for newcomer Lianne La Havas—making a splash without taking too much of a risk, it's pretty and unique all at once.
Zendaya Coleman in Dsquared2
Zendaya gave off major Bowie vibes with her androgynous mullet and sharp double-breasted pantsuit. Actually, scratch that: That's a power suit if ever there was one. Kudos to this young star for wearing something so sophisticated and serious—and making it look cool.
Ariana Grande in Romona Keveza
Sometimes, just sometimes, an artist rolls up to the red carpet in a dress that perfectly sums up their spirit. This is one of those moments. Ariana Grande's red silk gown, with its sassy corset front and form-fitting shape, is as fierce as the ponytail'd princess of pop herself. 
Ciara in Alexandre Vauthier
In a magnificent black silk slip dress embroidered with crystal, Ciara made us all wonder, what kind of underwear do you wear with that thing? Regardless of the answer, this sparkly asymmetrical number is fit for a space-age angel. 
Lady Gaga in Marc Jacobs
Yeah, that's a custom satin blue coat dress alright, and few humans in the history of this planet could pull it off as flawlessly as our Lady Gaga. With a sky-high slit accentuated by truly enormous platform heels, this is one red-carpet ensemble we'll be talking about for years.
Florence Welch in Gucci
Shocker, shocker: Flo wore Gucci, her awards show label of choice. While this non-traditional gown will certainly make plenty of critics' least favorite lists, it is Florence at her most genuine: ethereal, high fashion, and slightly cerebral. She looks like she is going to host a tea party for fairies, which is how everyone should look, 100 percent of the time.