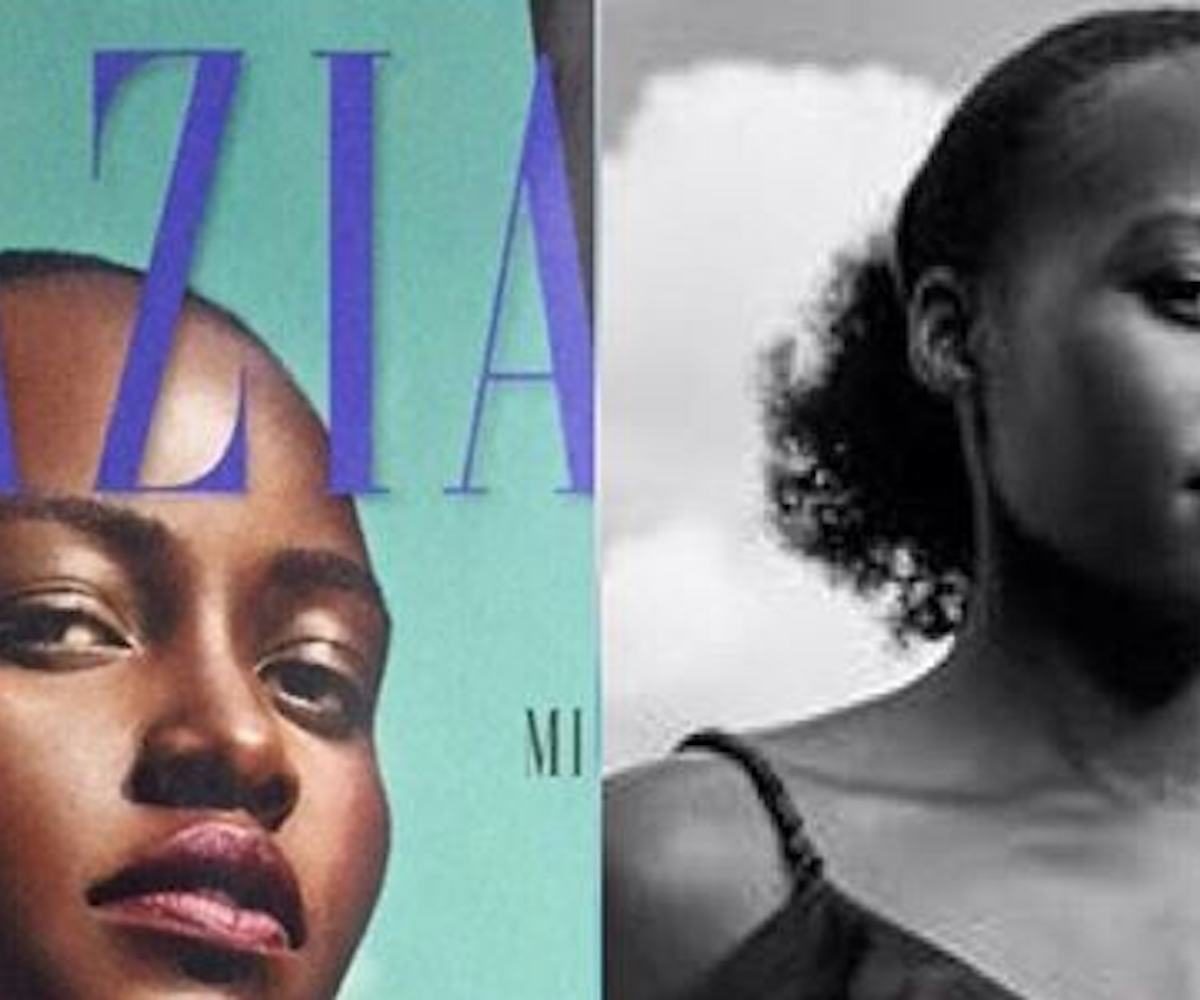 image via instagram.com/lupitanyongo
Dear Magazines, Stop Editing Black Women's Hair
And making half-assed apologies about it
Last month, The Evening Standard made the grave mistake of Photoshopping out a beautiful braided crown from Solange's hair, for the cover of one of its weekly issues. The singer was swift to call out the publication, in a series of Instagram posts, prompting the magazine to issue, what many thought to be, an unclear—and frankly, half-assed—apology. 
Yet even after that messy fiasco, it seems that publications still don't know how to leave black hair alone. Actor Lupita Nyong'o recently shared how U.K.'s Grazia Photoshopped her natural hair out from the cover of its November issue in a powerful Instagram post:
"As I have made clear so often in the past with every fiber of my being, I embrace my natural heritage and despite having grown up thinking light skin and straight, silky hair were the standards of beauty, I now know that my dark skin and kinky, coily hair are beautiful too," she captioned a photo that shows the before and after shots from the shoot. "I am disappointed that @graziauk invited me to be on their cover and then edited out and smoothed my hair to fit their notion of what beautiful hair looks like."
Nyong'o then noted the importance of representation and how being on the cover of magazines allows her to "show other dark, kinky-haired people, and particularly our children, that they are beautiful just the way they are." She added that she would not have approved if the magazine had approached her about the edit. 
"Had I been consulted, I would have explained that I cannot support or condone the omission of what is my native heritage with the intention that they appreciate that there is still a very long way to go to combat the unconscious prejudice against black women's complexion, hair style and texture," she concluded, closing her statement, by echoing Solange's "Don't Touch My Hair," with the hashtag, "#dtmh."
The magazine took to Instagram to issue an apology about the incident, citing that it's "committed to representing diversity throughout its pages," yet refused to take responsibility for the error. The publication claimed that it did not make an "editorial request to the photographer for Lupita Nyong'o's hair to be altered on this week's cover, nor did we alter it ourselves." But people weren't buying it and began to call out the magazine for not taking ownership in its comments section. 
"Lmao! Yo! You really want us to believe that y'all go to print without having sight of the original photographs y'all financed? Unless y'all took her picture using some Snapchat filter we don't know of, this apology ain't it," one user wrote. Another added, "Finger-pointing does not equate an apology. This is ridiculous! Who wrote the apology? No name, no signature, no responsibility taken, nothing."
Knowles ironically said it best in her feature story for Evening Standard. Black hair is an "act of beauty, an act of convenience and an act of tradition"—and certainly not for magazines to touch.