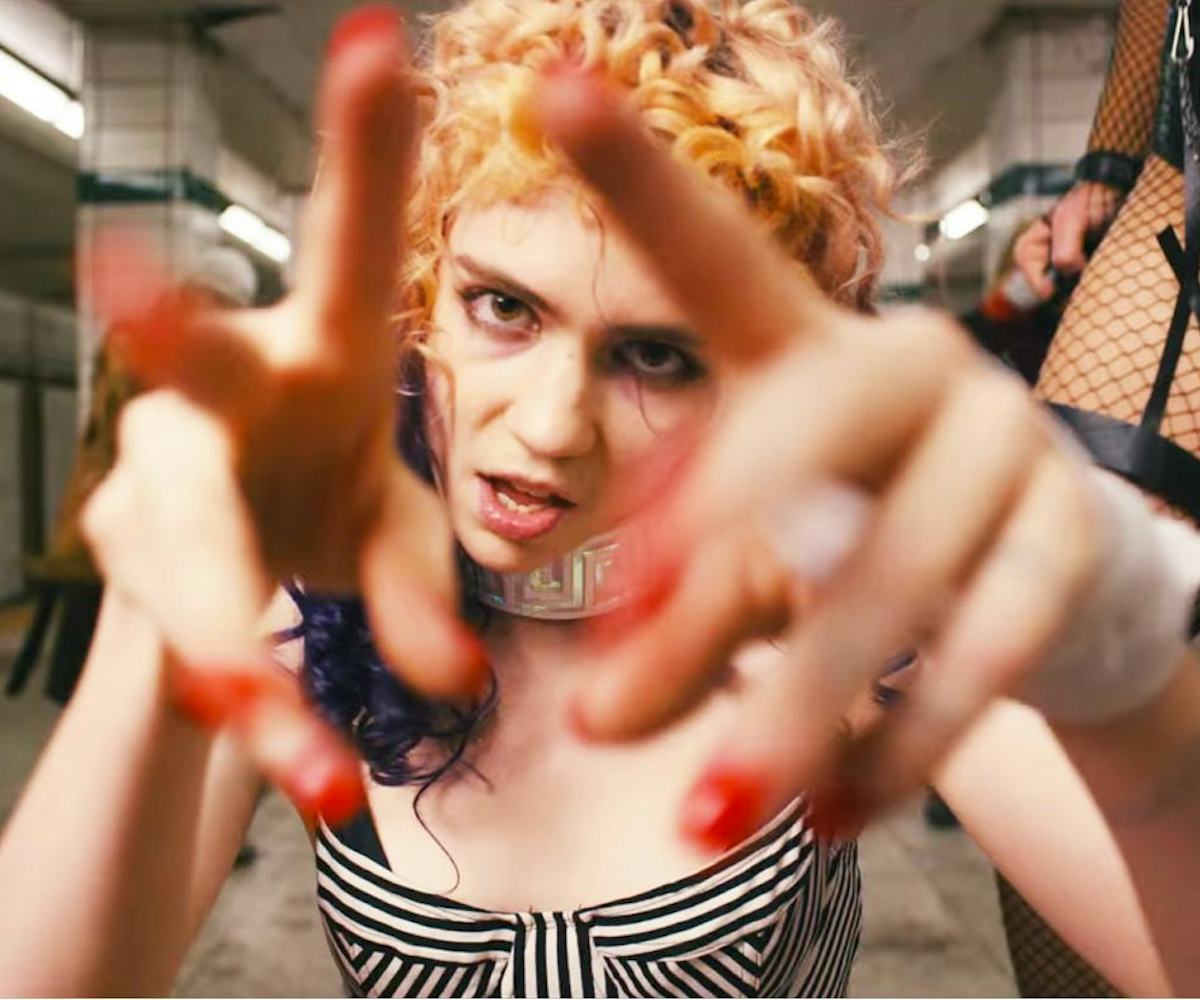 photo via youtube
The 14 Greatest Music Videos of the Year (So Far)
From "Formation" to "Chaika"
There have always been sonic figureheads that have challenged the status quo. Take, for instance, Madonna, David Bowie, Björk, and Nirvana. Still, with pressures from record label execs and marketing experts, the pressure to create a widely accepted and understood video accompaniment to a Top 40 track usually trumped artistic freedom. But now, as the music industry landscape warps with the digital age, artists are no longer confined to creating formulaic, safe music videos that are "suitable for television."
Artists like Years & Years and Troye Sivan have challenged the misrepresentation of LGBTQ figures in pop music; Beyoncé has reaffirmed the power of black women in today's society; Pussy Riot has challenged political tradition in one of the most rigid countries on earth; and countless artists have explored what it's like to come of age post-recession.
We're less than three months into 2016 and already we've been blessed with some of the most potent, charged works in music video history. Watch them all in the gallery below.
"Formation" by Beyoncé
Visually stunning and politically charged, Beyoncé's surprise video was easily the most controversial moment of early 2016. "Formation" is the ultimate celebration of black female power and asserting one's being, and made people sit back and think about what it's like to be a black woman in 2016 and what life is like in post-Hurricane Katrina New Orleans. Apparently, the message was too strong of a statement for social media trolls and the people who actually filed these complaints against the FCC in regards to her Super Bowl performance, but then again there will probably always be ignorant beings in this world.
"Desire" by Years & Years featuring Tove Lo
The queer community has been wildly unrepresented in music video history, but U.K. trio Years & Years' "Desire" attempts to change that. As frontman Olly Alexander wrote in a Facebook post, "What do we expect from pop music? From our pop stars? What do we expect from the ones that are gay? I don't know the answers to these questions but I for one don't want to see a narrow representation of gender and identity on our screens or in our music. I want diversity. We shouldn't have to feel scared about putting our sexualities and identities on display in all their beautiful, interlocking, multi-layered multi-coloured glory. I want to be proud. Proud to shove it in people's faces if I want to."
"Good to Love" by FKA twigs
FKA twigs' music videos are normally grand productions replete with precise choreography, special effects, and a dose of the grotesque. In her latest video, though, twigs strips it all back for what may perhaps be her most intimate, potent performance yet. 
"Doing it to Death" by The Kills
After a five-year hiatus to focus on independent projects, Alison Mosshart and Jamie Hince are gearing up to release their latest album, Ash & Ice, in June. In the video for its first single, Mosshart and Hince venture to a surrealist funeral filled with suits, hats, and eerie dance sequences.
"Clearest Blue" by CHVRCHES
Directed by Warren Fu, Scottish output CHVRCHES' "Clearest Blue" video finds frontwoman Lauren Mayberry in both an enchanted forest and a bumping club. While the plotline is a bit hard to follow, it's a beautiful visual representation of storybook romances versus modern-day meet-cutes. 
"PERFECT" by Tyler, The Creator featuring Kali Uchis + Austin Feinstein
Simple and candy-colored, Tyler himself actually directed "PERFECT" under the pseudonym, Wolf Haley. It is basically like an Instagram feed come to life, but with a little more melancholy and ease. 
"Happy Days" by Brooke Candy
If there's any artist who really knows how to push the boundaries of musical short films, it's Brooke Candy. The pop star, rapper, dancer, fashion fixture, and artist has collaborated with Steven Klein, Nicola Formichetti, and stylist Hayley Pisaturo on past projects, and Candy keeps the aesthetic momentum going in "Happy Days." But what's truly captivating about this video is Candy's commentary on how society's unrealistic expectations, on both those in and out of the spotlight, have led to various coping mechanisms like drugs and alcohol. As she explained to us, it's "an introduction to a (precocious) 'Brooke Candy' in [a] state of innocence before becoming immersed/fragmented in increasingly surreal and uninhibited states of consciousness, as 'she' progresses through the disorienting trajectory of fame."
"Drone Bomb Me" by ANOHNI
ANOHNI's latest, "Drone Bomb Me" is a powerful representation of the implications of war. Told from the voice of a young girl whose family was killed in a drone strike, the song gives a voice and Naomi Campbell gives a face to those who are directly affected by bomb strikes. Directed by Nabil and art-directed by Riccardo Tisci, this is one of the rare videos where a celebrity music video cameo doesn't outshine the true nature and message of the song.
"Freak" by Lana Del Rey featuring Father John Misty
Clocking in just under 11 minutes, Lana Del Rey and Father John Misty's foray into the dreamlike haze, that is a Laurel Canyon-esque LSD trip, is just as you'd expect: sun-soaked, cult-like and, most of all, sensual. Though the song itself only crawls its way to the five-minute mark, Claude Debussy's "Clair de Lune" comes in to soundtrack the rest of the video, which follows a bunch of young women—and Misty—as they swim around underwater.
"Kill V. Maim" by Grimes
"Kill V. Maim" is perhaps the best song off of Grimes' 2015 album Art Angels, so we had pretty high expectations for its video. Luckily, Claire Boucher never seems to disappoint. Directed by her and her brother Mac, the video game-like venture is a nod to the underground "weirdo" in us all. As we said before, "It's Blade meets Buffy meets Mad Max...with a splash of K-pop thrown in for good measure."
"Youth" by Troye Sivan
If you've ever thought about renting out a house, decking it out in neon lights, and throwing a massive party with a rollerblade room, we suggest you model it after the one Troye Sivan throws in his "Youth" video. Directed by Malia James and produced by Austin Barbera, the video explores coming-of-age in a safe, open environment, and, similarly to Years & Years' "Desire," is one of the few representations of the LGBTQ community in mainstream pop music.
"Easier Said" by Sunflower Bean
As we wrote when Brooklyn band Sunflower Bean released the single in early January, "Easier Said," is a slow-burning mellow banger that encapsulates the 20-something existence. The Charlotte Hornsby and Jesse Ruuttila-directed video, much like everything Sunflower Bean does, is simple and direct. It doesn't have a plotline, and it doesn't try to dazzle with computer-generated effects. And we must say, it's refreshing.
"Work" by Rihanna featuring Drake
For their laid-back jam "Work," Rihanna and Drake rocked the Internet by showing that they commissioned not only one but two music videos. The videos, by Director X and Tim Erem, show the versatility of the song and give off entirely different vibes.
"CHAIKA" by Pussy Riot
As always, the threat of being thrown into jail hasn't deterred Pussy Riot, and so for their "CHAIKA" video, the duo challenge political tradition head-on. The video continues claims that Russia's prosecutor general Yuri Chaika is linked with a notorious Russian gang. Directed by Andrey Fenøčka and member Nadya Tolokonnikova, "CHAIKA" shows Pussy Riot as high-powered officials stuffing their faces and torturing prisoners without sympathy. The band released the following statement about the video:
Pussy Riot demands an immediate investigation against General Prosecutor Chaika and his family, as well as against all the top officials in his office. We hope that the CHAIKA music video will help to convince people that we cannot live in a country where its top law enforcement official is the brightest symbol of corruption and murder. Pussy Riot hopes that people around the world will help us voice our outrage and turn Russia into a country where people like Chaika can no longer exist.