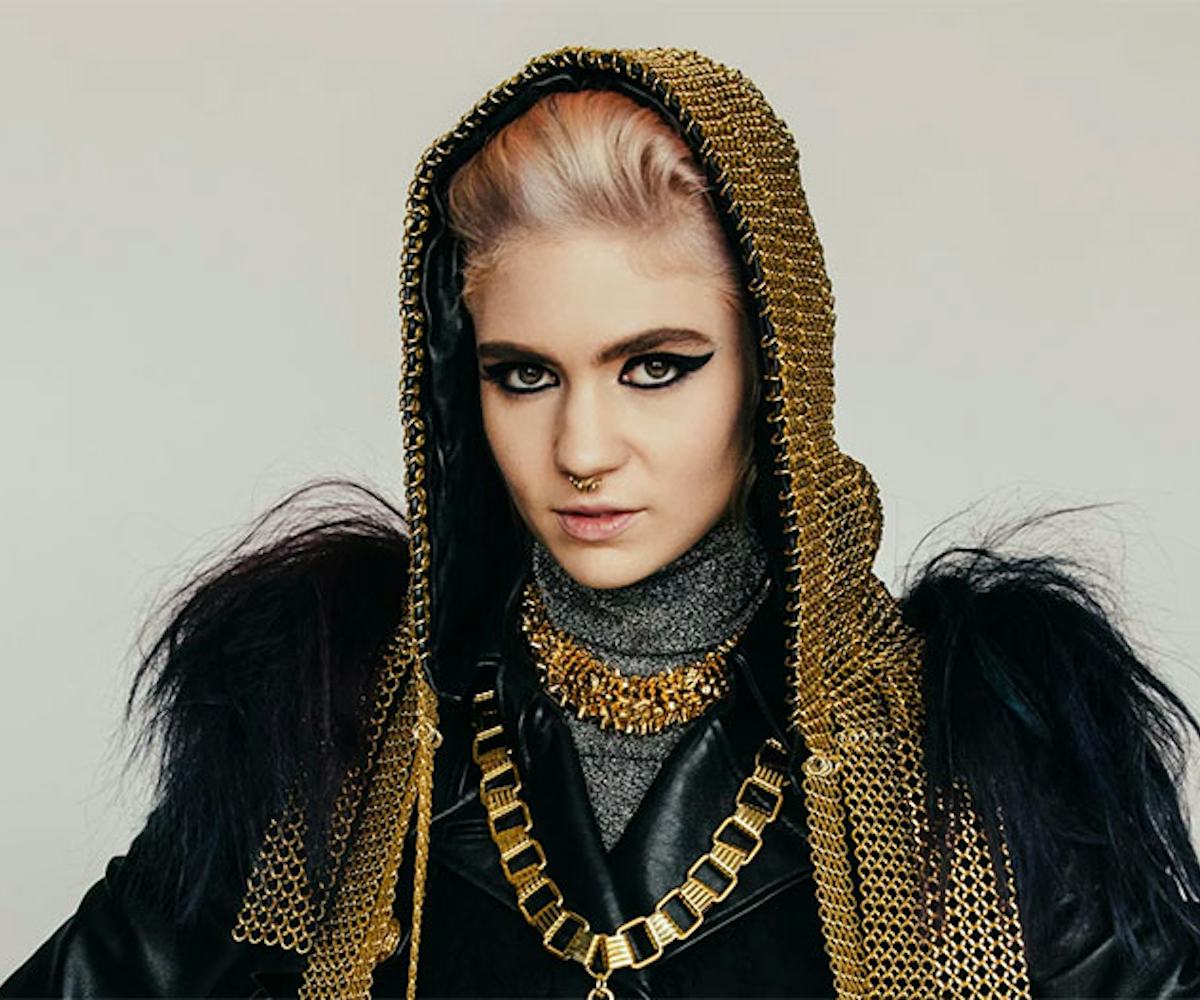 photo by ben grieme via the fader
grimes' new album is packed with diss tracks
the pop star opens up to fader magazine
For their Fall Fashion Issue, The FADER has tapped none other than real-life anime warrior princess, Grimes, as their cover star. And while the photos are pretty spectacular, it's the article—a comprehensive look at Claire Boucher's current life and the events that led her there—that makes for a fascinating read. The writer, Emilie Friedlander, joined Boucher for a drive around her adopted hometown of L.A., and was probably one of the first people outside the pop star's inner circle to hear cuts from her long-awaited follow-up to Visions, which the article confirms will be out this October.
"I think all my other albums were, like, sad," Boucher says. "And this time it's more happy and angry." She says the album full of "diss tracks," but one song in particular, which Boucher describes as a "diss track about male producers," is about "a guy who acts like he knows everything and then comes back crawling on his knees, which has happened to me so many times."
The article charts Boucher's meterioic rise to fame, from her turbulent beginnings in Montreal's weirdo music scene to the harsh realities of fame, once Visions made her an unexpected pop star. She also details the sometimes horrific realities of being a woman in the music business, at one point describing a terrifying backstage interaction with a stranger. "People want to, like, rape and kill you. It's, like, part of the job," she says. "One time I was backstage at a show, and there was this random guy in my dressing room, and he just grabbed me and started making out with me, and I was like, Ah!, and pushed him off. Then he went, 'Ha! I kiss-raped you' and left. Shit like that happens quasi-frequently. When I play a show I have to have, like, three bodyguards in front of the stage, and then I have to have bodyguards on the side."
Boucher also reveals her feelings about gender: "I wasn't raised as a boy, but I was not just raised as a girl. I don't wanna say I don't identify as a girl, but I don't fucking give a shit about gender. And the thing that I hate about the music industry is all of a sudden it's like, 'Grimes is a female musician' and 'Grimes has a girly voice.' It's like, yeah, but I'm a producer and I spend all day looking at fucking graphs and EQs and doing really technical work."
You can read the entire article here. And you should.