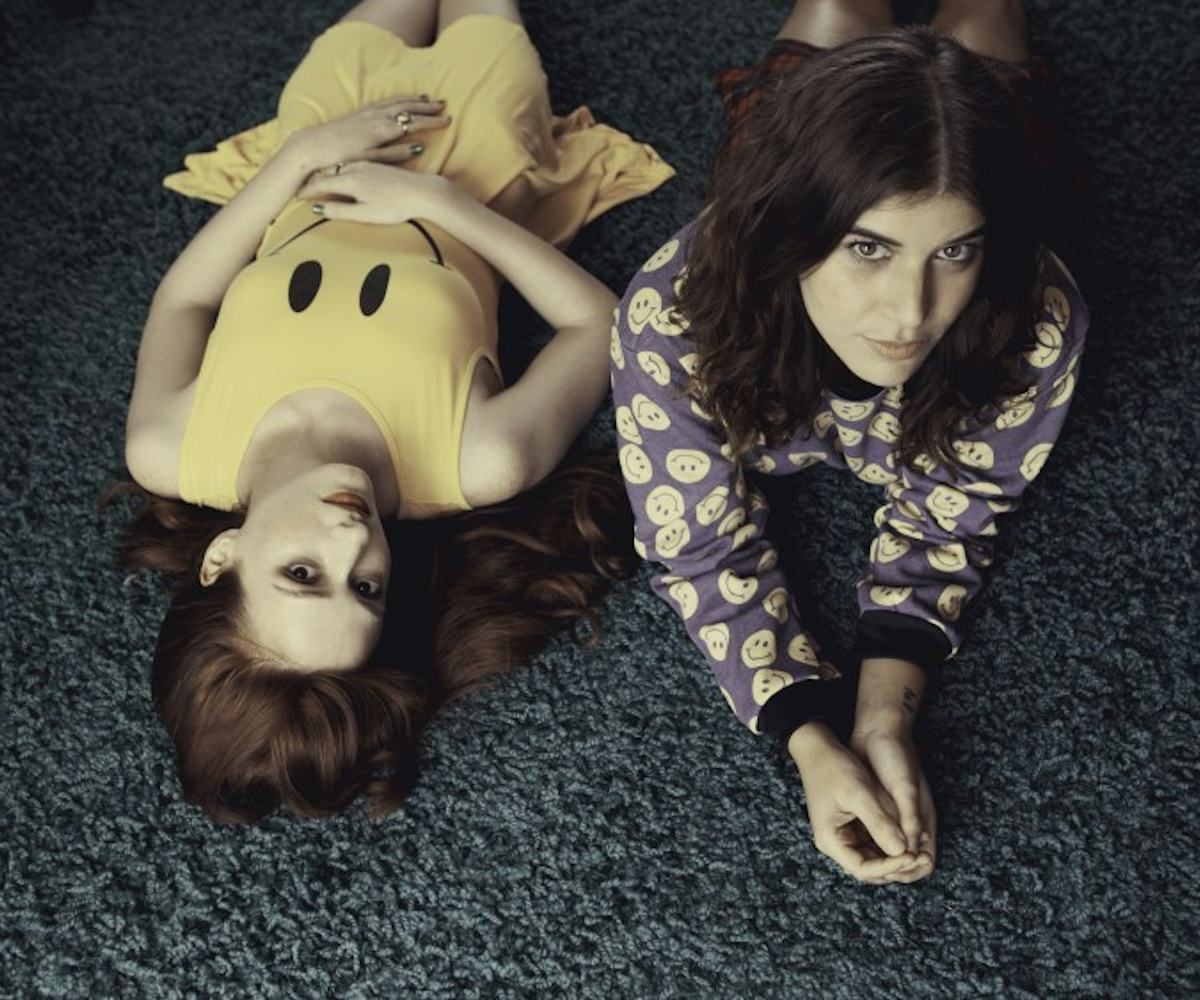 all photos by janell shirtcliff
grrrl talk: bethany cosentino + lauren curtius
on music, beauty + beyonce.
Bethany Cosentino of Best Coast and Lauren Curtius of The Lovely Bad Things are best friends for a reason: besides making awesome music, they share a deep love for Beyoncé...and all things beauty-related. We listened in.
On Music...
Lauren Curtius: When did you start playing music?
Bethany Cosentino: I started when I was really young because my dad is a musician, and there was always music playing in our house. It just felt like something that I was supposed to do.
LC: It was because of my dad, too. Growing up, I remember him playing guitar and singing and writing songs. He's the first person that ever got me into music; he showed me my first favorite bands. When I was a little kid, I was listening to The Cranberries and Radiohead a lot.
BC: My dad gave me my first guitar, but my parents were more into classic rock stuff, which is why I'm so into Fleetwood Mac, Steely Dan, and The Eagles.
LC: How would you describe your sound?
BC: I feel like Best Coast is really just kind of like pop music—not like Britney Spears, but I wish we sounded like Britney Spears.
LC: That could be a side project. Are you guys coming out with anything new?
BC: We just recorded an album this year that's going to come out early next year, and we're going to tour a lot. I'm trying to enjoy the last of my laziness and chillness at home.
LC: I know what you mean.
BC: You guys just did another record, too, right?
LC: We're still in the process of recording and doing some vocals, but it's almost done. I was recording that one song "Space Waste"—the one that we played on tour with you guys.
BC: Let's talk about when we went on tour together! That was really fun. I remember we met for the first time in Disneyland. We had like a blind date set up for us. I loved your band, and I wanted you guys to come on tour with us.
LC: How did you hear about us?
BC: I think just being in a band in L.A. I would see your name a lot, and you know, just having mutual friends and stuff. And when we first met it was chill, we drank a bit at Disneyland. And then we went on tour together, and it was crazy.
On Beauty...
BC: There's this U.K. company called Boots, and they started selling their products at Target. I'm going to spray it on your face while we talk. It's called Boots Botanics The Power of Plants Rosewater Toning Spritz 100% Organic. It's so refreshing. I'm really into rose water right now.
LC: It feels so good!
BC: Oh! And I tweeted at you last night about this eye cream. This stuff is so fancy. It's LaMer Eye Concentrate. It comes with a little wand that you dip into the cream. It's like a science experiment.
LC: Whoa! That's legit.
BC: I'm really into this lotion, too. Fresh Lotus Youth Preserving Face Cream with Super 7 Complex. It's just like a nice, light lotion. What are you into?
LC: I just got into this Kiss My Face SPF 30 Moisturizer. I'm super pale, so I have to use sunscreen every day. I don't wear anything now besides sunscreen and some concealer under my eyes.
BC: Yeah, my makeup style is more natural. I'm into mascara and eyebrows and just not looking greasy. Is this the concealer you use?
LC: Yeah, it's the Make Up Forever Full Cover. It works really well for coverage under your eyes. And the next holy grail product I have is this e.l.f. Studio Mineral Infused Mascara. It's three dollars! I don't like any other mascara.
BC: I started using this mascara, and I'm obsessed with it—it's Lancome Hypnose Star Waterproof. It's in this glittery wand and the brush is weirdly pointed.
LC: I like the packaging a lot. It's so cool. I want it.
BC: I know! It's all glittery and shiny. Oh, also, I think that you would be really into this.
LC: Is it like an illuminator?
BC: Yeah, it's Smashbox Photo Op Undereye Brightener. I wear this on stage all the time because I feel like it makes my eyes pop and look brighter.
LC: Oooh, I'm going to get that.
BC: Okay, so tell me about your lipstick because I feel like you're a lipstick person and I want to be a lipstick person but I'm not very good at putting it on.
LC: It's hard to find the right one, but I like matte lipsticks because they stay on forever. I like M.A.C—Lady Danger is the best; it's like an orange-red color. Oh, and this one is really good—it's Hourglass Opaque Rouge Liquid Lipstick in Icon. It's a liquid matte lipstick, so it's kind of like a stain, too. It never comes off.
BC: I feel like we're both influenced by '90s stuff. Speaking of, do you remember the Gap scents? Like Gap Dream and Gap Heaven?
LC: I think so.
BC: I was really nostalgic for my junior high years, and I was thinking about all the Gap scents and how I was, like, so into them, so I bought them all on Amazon, and I started wearing them and was like, "Wait, this actually smells so good." So I'm reviving my obsession of '90s Gap scents. Wait, did you do your nails yourself?
LC: Yes! I did them last night, but I do a really bad job—I always get it all over my fingers. But this will last three days with the Nail Aid Fast Dry Top Coat Gel Extreme I applied over it. I've played guitar with this topcoat on, and it didn't come off!
BC: Oh, cool, I need that! Every time I get my nails done and then I play guitar, they get messed up. But I'm like, "Ugh, whatever."
On Feminism...
BC: Let's talk a bit about being a girl in a band, because I'm sure you deal with stereotypes a lot, too. It's really cool to be a woman in a band; a cool thing that you and I share is having young, excited girl fans that look up to us. Which is weird because sometimes I'm like, "Am I a good role model?" because I feel like I'm promoting being lazy and hanging out at home watching TV.
LC: I was thinking that, too! Not leaving the house.
BC: That's the thing—having the opportunity to be yourself and to be a woman and to know that there are all these younger girls that are looking at your Instagram or Twitter.
LC: They're inspired by you.
BC: We both love Beyoncé, and I know that people are kind of responding negatively to her calling herself a feminist and using the word feminist in her productions. I posted something on Instagram, and there was an argument in the comments section about how Beyoncé didn't represent feminism.
LC: We're still shifting from that wave of feminism to our wave now.
BC: Just because she's a pop star doesn't mean that she can't be a feminist. It's silly for people to think that you can only be a feminist if you're into punk or if you grew up going to, like, DIY shows and stuff. I think it's so important that someone like Beyoncé is doing that.
LC: She's identifying as feminist, officially, in front of the whole world.
BC: Yeah! Even putting that word on TV at the VMAs, which is a huge thing. So many girls were probably like, "What does that word really mean?"
LC: And they probably felt that it's OK now to be outspoken about the fact that they're a feminist.
BC: She's a life icon, basically. Beyoncé is a big deal. Please name the story that. Love, Lauren and Bethany.
Lauren Curtius
Bethany Cosentino