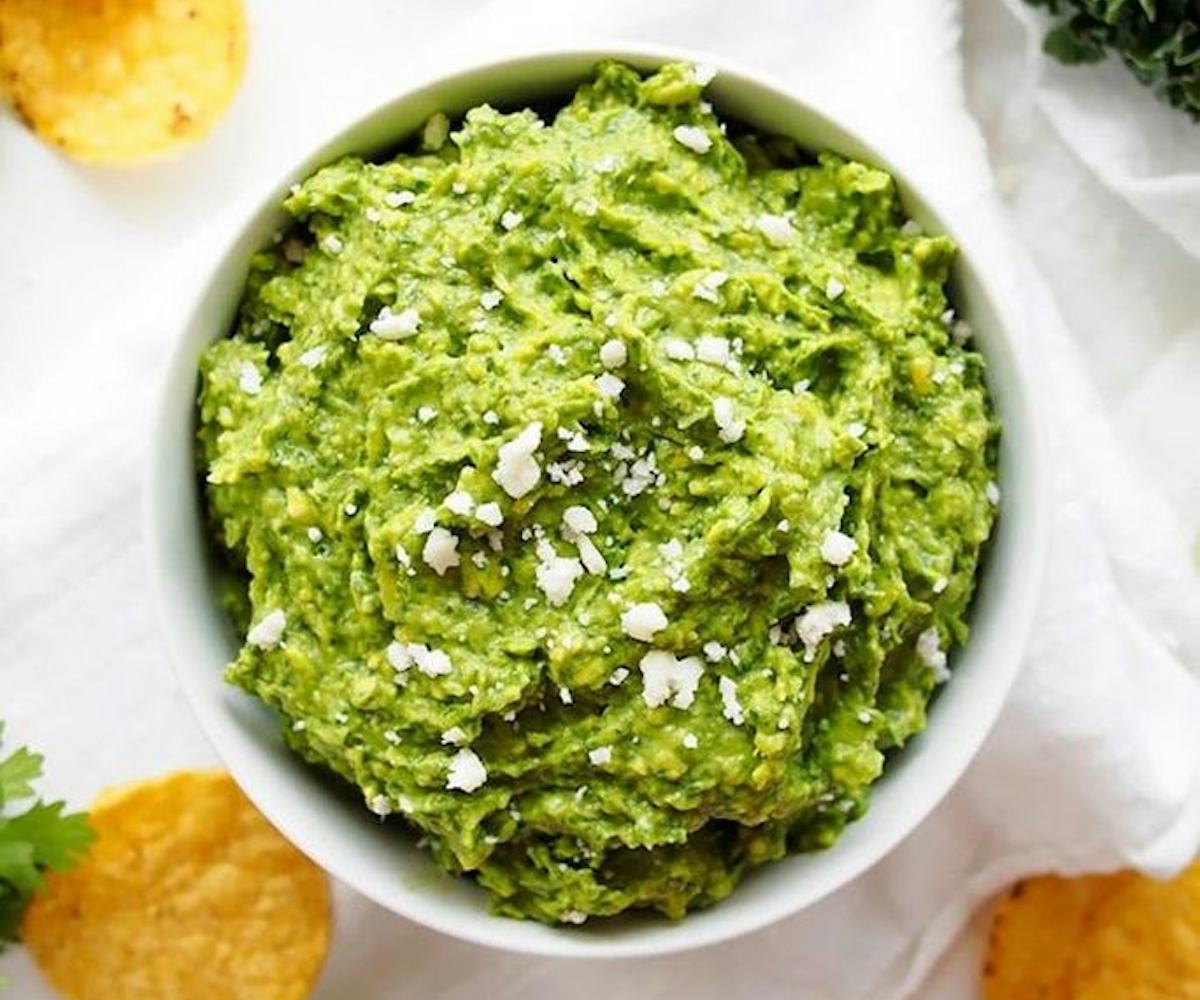 Photo courtesy of The Kitchen Paper
3 Mouthwatering Guacamole Recipes To Make This Weekend
From our friends at The Zoe Report
Curated by Rachel Zoe and her team of editors and stylists, The Zoe Report is not only your stop for all things fashion and beauty but all-around lifestyle as well. Check out their site for everything from shopping tips to dating advice, to the latest in celebrity news.
As the old saying goes: Never trust someone who doesn't like avocados. The fruit is a serious crowd-pleaser—especially when mashed into the gift from the gods that we mortals call guacamole. Here, we tapped chefs from three of the coolest restaurants right now to share their best guac recipes.
Chef Rocky Barnette of The Capri in Marfa, Texas
Ingredients:
5 avocados, split and seeded
2 ounces avocado oil
2 ounces lemon juice
½ medium red onion, diced into small pieces
½ bunch cilantro, finely chopped
Pinch of cumin
Salt and pepper, to taste
Directions: Heat grill until it is very hot. Brush avocado halves with oil and lemon juice and season with salt. Grill avocados until charred. Combine with remaining ingredients. Add salt and pepper, to taste.
Executive Chef Thomas Quenet of Paradisus in Los Cabos, Mexico
Ingredients:
1 ripe tomato
3 very ripe (but not bruised) avocados
1 lime (just juice)
Peppermint leaves, chopped
1 small red onion, finely chopped
1 red or green chili, finely chopped
Directions: Smash avocados using the tip of a fork and combine with other ingredients.
Executive Chef Larbi Dahrouch of Aqua by Larbi at One & Only Palmilla in Los Cabos, Mexico
Ingredients:
2 pounds avocado flesh
1½ tablespoons lemon juice
2 teaspoons salt
3 teaspoons chopped cilantro
1 cup pico de gallo
Queso panela, to taste
Directions: Mix ingredients together in a molcajete, if one is available. Cut queso panela cheese into small chunks and add to guacamole.
Tip: Make your own pico de gallo by combining 2 1/2 cups chopped tomatoes, 2 2⁄3 cups chopped onion, 2 2⁄3 tablespoons cilantro and 1½ tablespoons lemon juice.