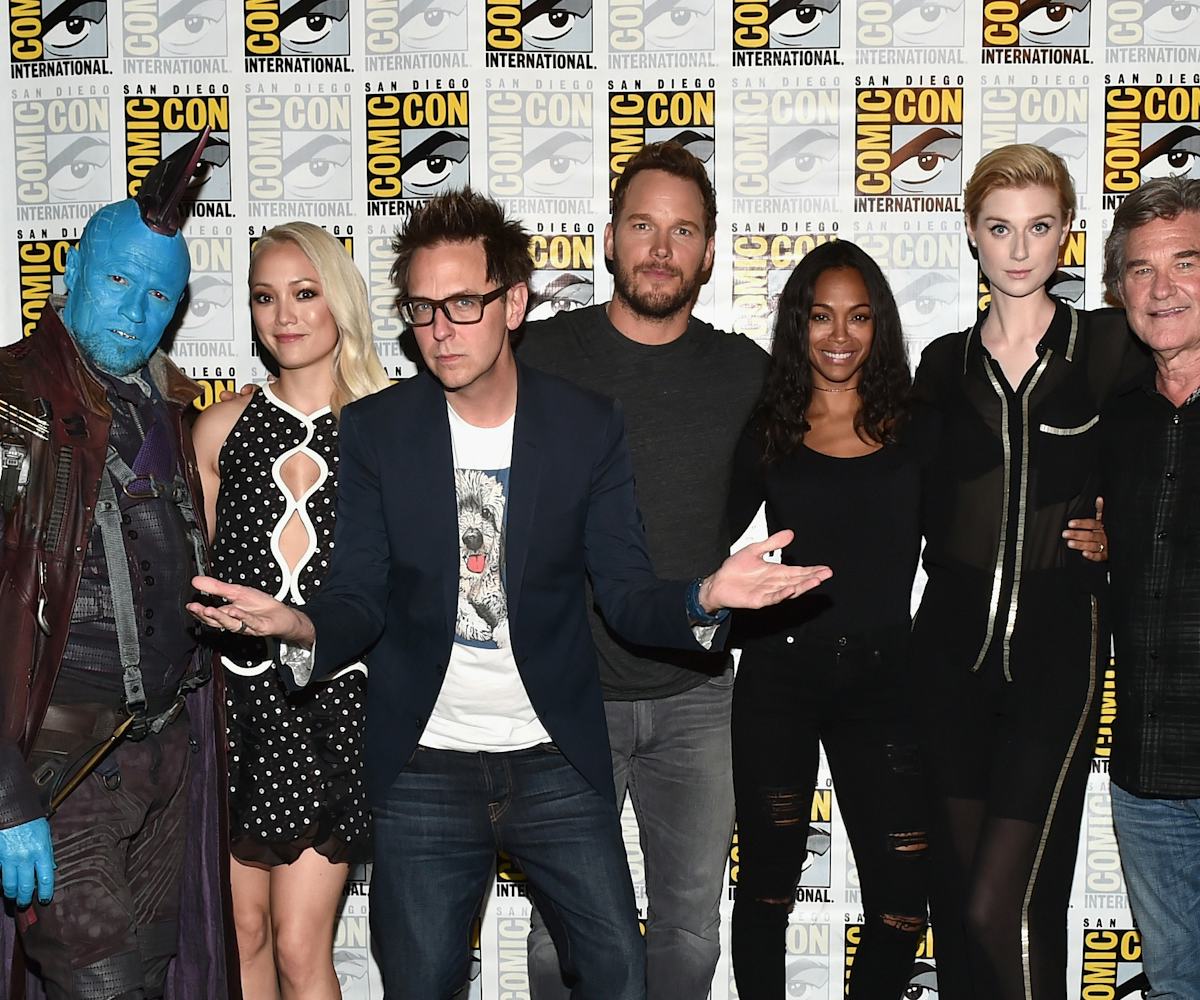 Photo By Alberto E. Rodriguez/Getty Images For Disney.
'Guardians of the Galaxy' Cast Come Out In Support Of Director James Gunn
In the wake of his controversial firing by Disney
The core cast of Guardians of the Galaxy Vol. 3 has just written an open letter in support of ousted director James Gunn.
Earlier this month, right-wing Twitter users began recirculating a series of offensive tweets made by Gunn from a decade ago. Amongst the offensive tweets were jokes about rape and pedophilia, as well as satirical comments about 9/11 and the Holocaust. Gunn since issued an official apology, taking responsibility for his jokes, per Deadline. He also wrote in a series of tweets that, despite starting out as a "provocateur" who touched on "outrageous and taboo" topics, "I've developed as a person, so has my work and my humor."
Now, more than a week after his controversial firing by Disney, Chris Pratt, Bradley Cooper, Zoe Saldana, Karen Gillan, Vin Diesel, Michael Rooker, Dave Bautista, and Sean Gunn have all signed a letter declaring their full support of Gunn. The actors have reposted the letter to their respective social media accounts.
The letter stated that, while they don't condone his tweets, they don't believe Gunn should've been fired. "We were all shocked by his abrupt firing last week and have intentionally waited these ten days to respond in order to think, pray, listen, and discuss," the letter says. "In that time, we've been encouraged by the outpouring of support from fans and members of the media who wish to see James reinstated as director of Volume 3 as well as discouraged by those so easily duped into believing the many outlandish conspiracy theories surrounding him."
The cast went on to say that they have Gunn's back and hope people will learn from this incident.
"There is little due process in the court of public opinion. James is likely not the last good person to be put on trial," they continued. "Given the growing political divide in this country, it's safe to say instances like this will continue, although we hope Americans from across the political spectrum can ease up on the character assassinations and stop weaponizing mob mentality."
Read their entire letter, below.