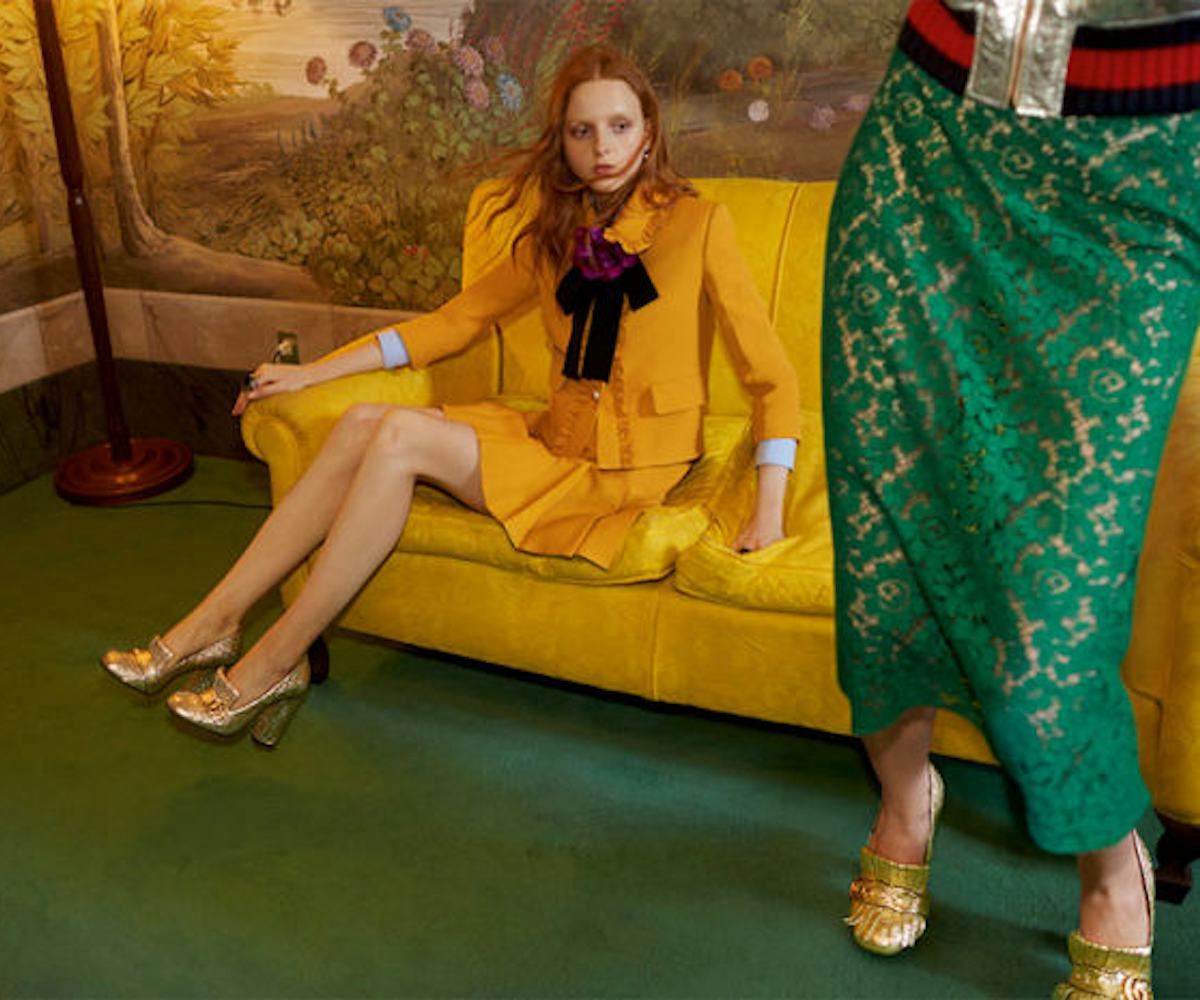 Photo via Gucci.
Gucci's Cruise Campaign Was Banned In The U.K.
Gucci's Cruise 2016 Collection ad campaign has been challenged by the U.K.'s Advertising Standards Authority for featuring two models that they consider to be "unhealthily thin." 
The campaign, which has a photo and video element, is set up like a Wes Anderson-themed dance party, staged in a colorful, Italian villa, and features models Madison Stubbington (seated on the couch, above) and Avery Blanchard (leaning against the wall, below). The complainant flagged the ad, claiming that both models appear to look too thin, and questioned whether Gucci's use of them in their advertisements was "irresponsible."
Photo via Gucci.
The fashion house argued that the use of natural makeup may have contributed to the impression of being too gaunt and that the model's bones are not visible anywhere in the ads.
The ASA ended up agreeing that Stubbington's seated photo was acceptably proportional, stating that "unnatural thinness" is a "subjective matter." However, Blanchard's standing photo cannot appear in that particular form again, as the ASA claimed that in that image, the model's "torso and arms were quite slender and appeared to be out of proportion with her head and lower body," and also argued that her leaning stance accentuates this disproportion.
While the ruling to ban the one image was just decided today, it's likely the brand won't be using any of the images at all again. Cruise season is over and is no longer being advertised, and fashion brands have already moved onto their spring campaigns. 
This isn't the first time the ASA has stepped in to block an ad from a major fashion house. Over the past five years, campaign images from Saint Laurent, Miu Miu, and Marc Jacobs have been banned for reasons ranging from being too sexually provocative to being plain "irresponsible."
Check out the full campaign video to see the issue yourself, below: