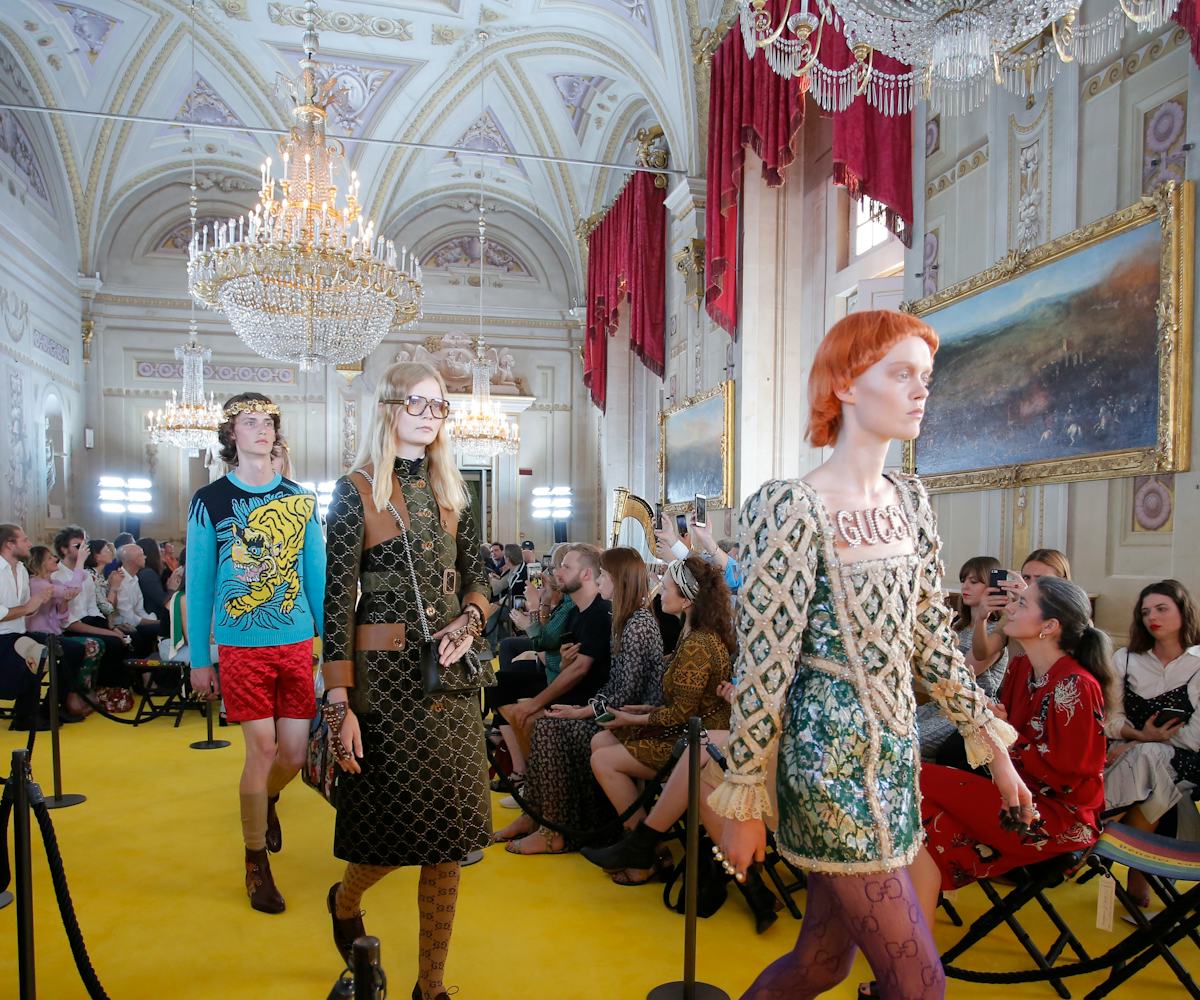 Photo by Dan Lecca
Gucci's Cruise Show Was An Ode To Sartorial Renaissance
The 115-look collection was presented in Florence
Over the holiday weekend, Alessandro Michele presented Gucci's Resort 2018 collection in true Gucci fashion. According to Vogue, the designer wanted to show at the Parthenon in Athens and couldn't due to historical preservation laws, so he aimed for the next best thing: Florence, where the brand originated almost 100 years ago.
Showing at the Palatine Gallery at the historic Palazzo Pitti, the collection served as an ode to history. Nodding to the Classical and Renaissance eras, Grecian gowns and gilded animal heads marched down the roped-off runway, as show-goers (which included some the brand's usual front row suspects, such as Jared Leto and Dakota Johnson as well as Dev Hynes and Beth Ditto, who later in the night performed in a private garden) sat on Lorenzo de' Medici embroidered stools amongst the works of Botticelli and Uccello.
Of course, it wouldn't be Michele's Gucci without subtle quirkiness making way through all 115 looks; athleisure was mashed up with pearl-encrusted skullcaps and sparkling eyewear, and there was the usual mixing-and-matching of flora and fauna prints. The cithara also made appearances in the form of brooches, hair pins, and jewelry.
As would be expected, the beauty was also out of this world, too. While the majority of the models were bare-faced, heads were adorned with golden laurel wreaths and there was a smattering of pearl-lined faces, eyes, brows, and hair while fingers were dipped in black ink (and then properly layered with sparkling rings and palm cuffs), giving the historically themed collection a modern and edgy feel.
Michele also gave cheeky nods to the bootleg culture, with "Guccy"-emblazoned hoodies and dresses and a questionable jacket design that has been accused of ripping off Harlem, New York, designer Dapper Dan (a resemblance so uncanny that even Gucci runway regular Hari Nef has tweeted about it).
Below, we highlighted some of our favorite looks from the collection. Click through the gallery to check 'em out.