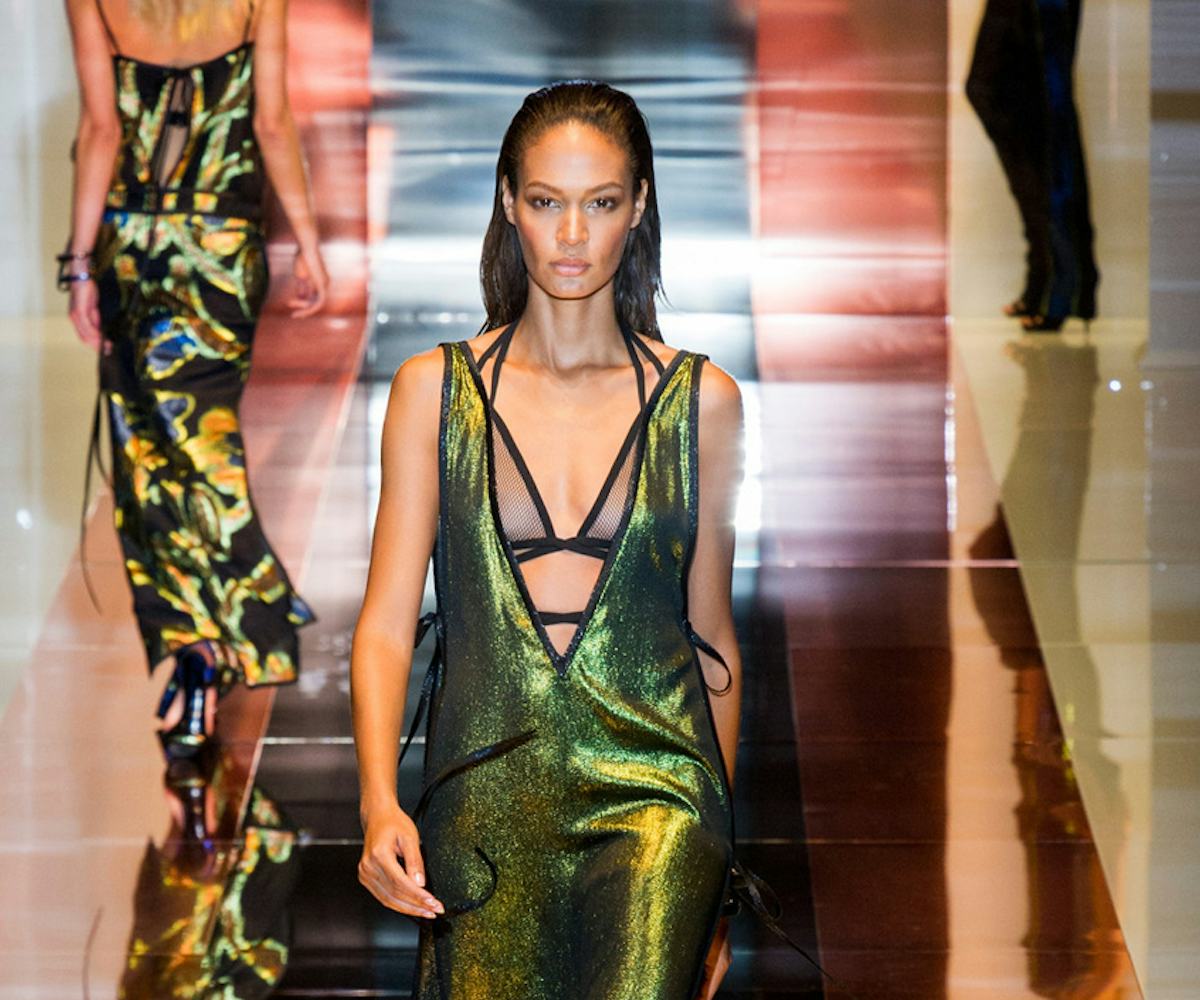 wear the runway: gucci
cut-out bras get the fashion week treatment.
We're only at day two of Milan Fashion Week, and already we're noticing a certain trend. Bras. That's right, the thing you've probably worn every single day is now front and center.
Earlier today we spotted rhinestoned bras worn over clothes. Think jewel-encrusted faux-brassiere on top of a button-down jacket, layered over painting patterned dresses. It looked surreal and subversive in a way that only Miuccia Prada could dream up. But just how get-it-now wearable is, we're not sure; until the actual Prada pieces hit stores in 2014, we don't expect to see lots of ladies putting on their demi-bras last when getting dressed in the morning.
Gucci took a different tack; the '70s-meets-sporty show featured harness-esque bras paired with laser-cut suede mesh tees, kimono jackets, and Art Deco-tinged dresses. The straps weren't meant to be covered up; rather, they peeked out from behind the top garments, adding a layer of complexity--and yes, a little bad-girl toughness--to a collection already straddling the divide between tomboy and glamour girl.
Considering the influx of sheer tops, mesh-insert dresses, and skimpy tanks, the cut-out bra is a way to show some skin without, you know, showing it all. And even better, you can pick one up right now. We've found a harness bra for everyone--yes, even those who would never spend more than $20 on lingerie. The good news is it might finally give you a reason to wear that deep-v dress. The better news? You'll get to keep wearing it come spring.
If you like a bit of lace, try: Asos Boudoir Lace Demi Cup Strap Detail Bra - $30.38
If you want to get adventurous with color, try: Lonely Hearts Cutout Softcup Bra - $63
If you want to keep it subtle, try: Undressed by Marlies Dekker Space Odyssey Push-Up Bra - $85
If you don't want to spend more than $20, try: Nasty Gal Giovanna Cutour Bralette - $18
If you want to get super-strappy, try: One Teaspoon Superman Bralette - $75
If you love your leopard print, try: Unif Downer Bra - $72
If you want the best of the best, try: Agent Provocateur Whitney Bra - $220
Gucci spring '14
Asos Boudoir Lace Demi Cup Strap Detail Bra - $30.38
Gucci spring '14
Lonely Hearts Cutout Softcup Bra - $63
Gucci spring '14
Undressed by Marlies Dekker Space Odyssey Push-Up Bra - $85
Gucci spring '14
Nasty Gal Giovanna Cutour Bralette - $18
Gucci spring '14
One Teaspoon Superman Bralette - $75
Gucci spring '14
Unif Downer Bra - $72
Gucci spring '14
Agent Provocateur Whitney Bra - $220