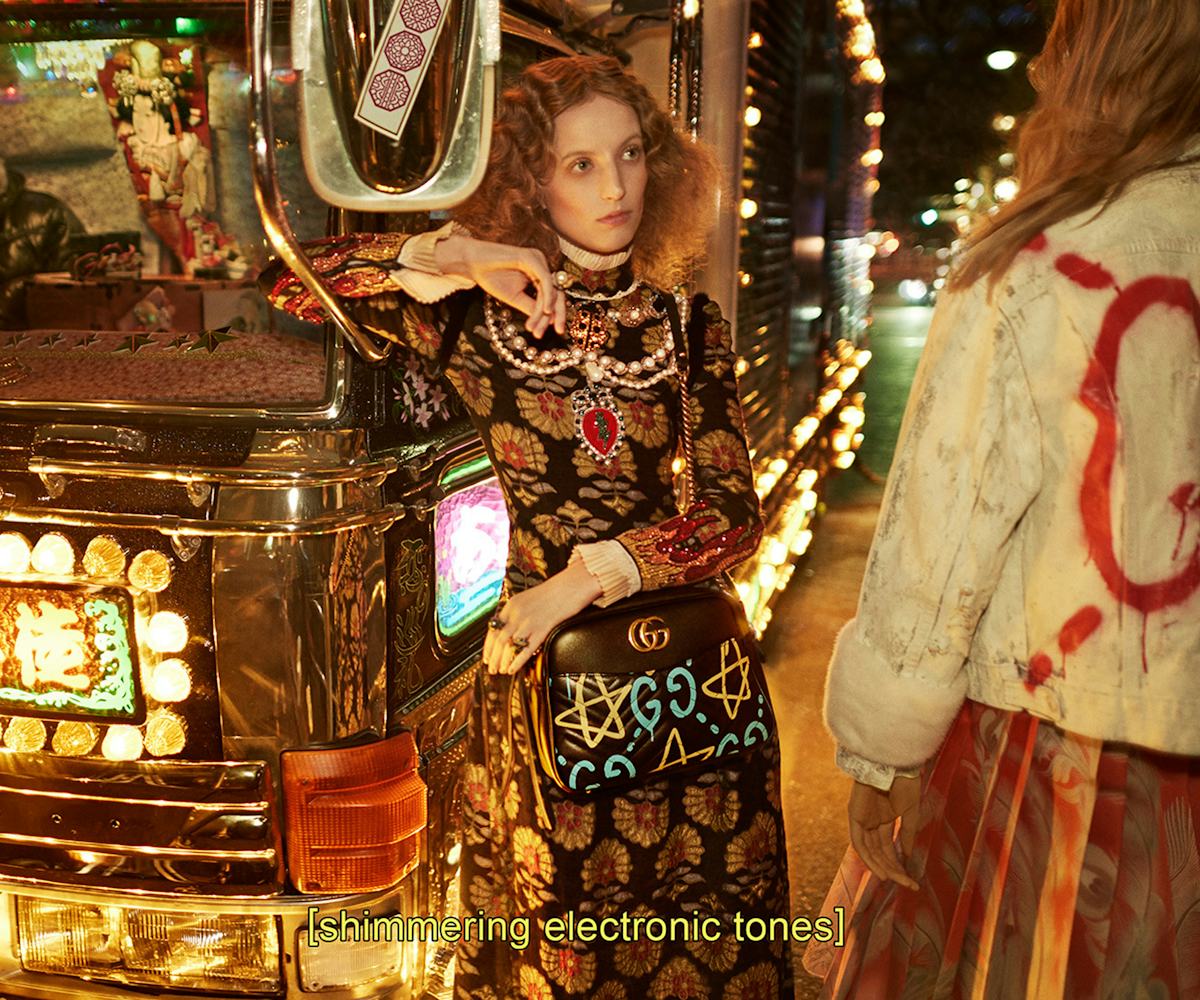 Photo courtesy of Gucci
Gucci's Latest Campaign Will Take You On A Wild Tokyo Adventure
Petra Collins and others take on the city in the newest from Alessandro Michele
Get ready to get lost in translation: For Gucci's Fall/Winter 2016 campaign, a Gucci-clad gang of models, aka Gucci kids, immersed themselves in a colorfully embellished Tokyo.
Photographer and It Girl Petra Collins took a break from working behind the camera to be the subject of the work, amongst a group of semi-androgynous models. In the campaign, which boasts a short film in addition to photographs, the subjects take on the city riding around a dekotora (a type of decorated lit-up truck that has become popular in Japan) from teahouses to pachinko parlors. Subtitles flash across the bottom of the screen to note the atmosphere and mood, while Black Marble's dark but dancey "Pretender" plays.
Watch the video in full, below. 
The brand's creative director, Alessandro Michele, chose Tokyo for its blend of "the traditional and the hyper-modern." Each model is decked out in the intricately over-the-top pieces from Gucci, which seem to blend in perfectly with the bustling backgrounds, making for a busy yet visually stunning campaign.
The campaign photos themselves act as stills from a movie, complete with subtitles and featuring additional backdrops from the Gucci kids adventures—from cherry blossom fields to the humming, daytime streets. Click through the gallery to take a closer look.
Gucci Fall Winter 2016
Gucci Fall Winter 2016
Gucci Fall Winter 2016
Gucci Fall Winter 2016
Gucci Fall Winter 2016
Gucci Fall Winter 2016
Gucci Fall Winter 2016
Gucci Fall Winter 2016
Gucci Fall Winter 2016
Gucci Fall Winter 2016
Gucci Fall Winter 2016
Gucci Fall Winter 2016
Gucci Fall Winter 2016
Gucci Fall Winter 2016
Gucci Fall Winter 2016
Gucci Fall Winter 2016
Gucci Fall Winter 2016
Gucci Fall Winter 2016