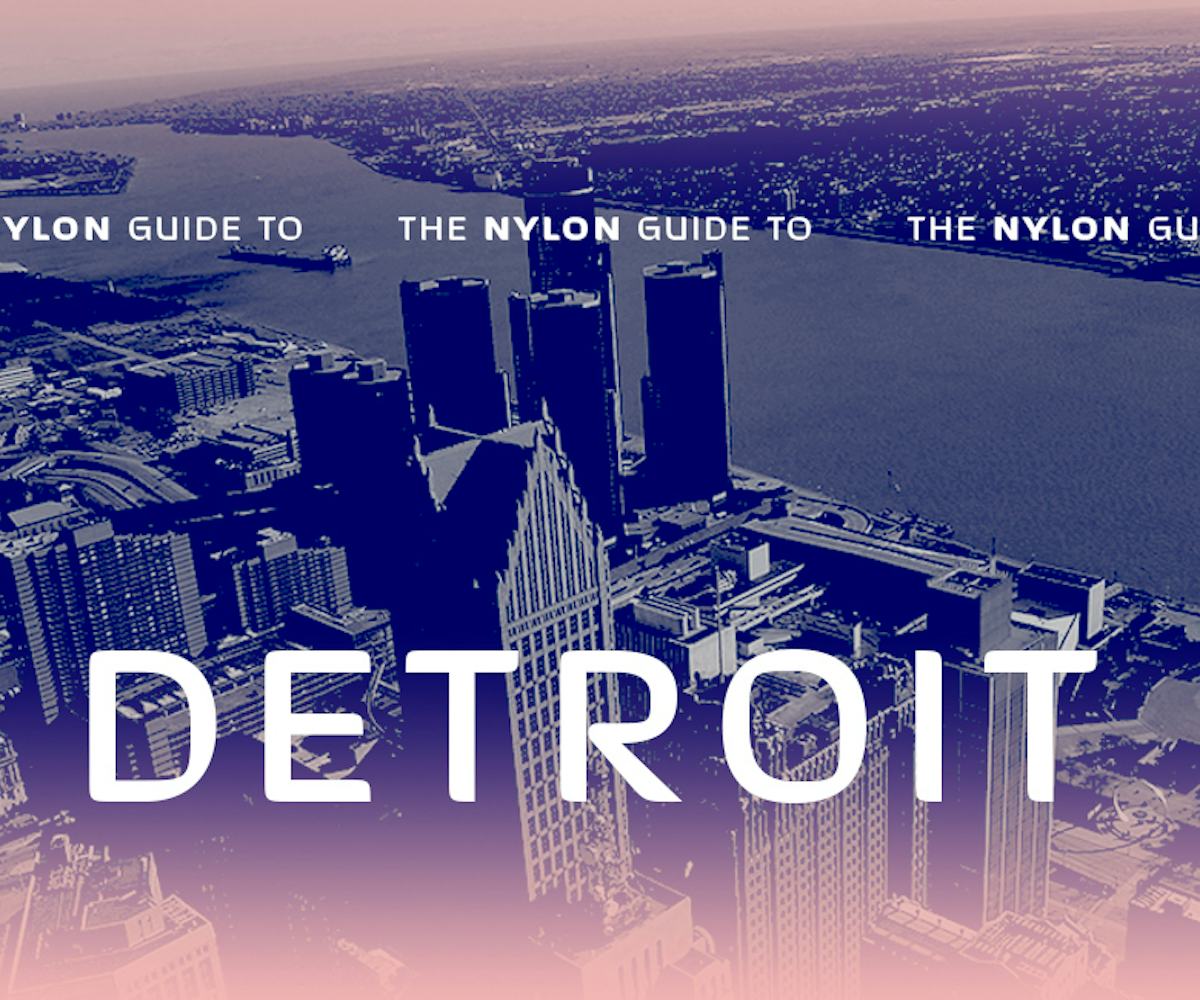 The NYLON Guide To Detroit
Everything you need to know about Motor City
A sprawling behemoth of a metropolitan area spanning 142.9 square miles, Detroit is an expansive, diverse city that's home to everything from some of the country's best street art to the best lamb haneeth you'll ever eat. And while Motor City may have been (somewhat insultingly) labeled America's "Comeback City," we're here to argue that it's never been off the radar for those in the know.
A long-standing hub of underground art and music, Detroit is a key part of our national cultural conversation, as so much of its raw energy infuses contemporary pop culture. That said, Detroit will only give you as much as you give it. Its DIY spirit is really only accessible via the people of the city itself—whether you're in search of another bar or trying to figure out where the word-of-mouth rave is that night. And while this is technically a guide for visitors, it's also an invitation to engage with the Detroiters who make the city what it is. After all, with a vibrant immigrant community and a musical history that's birthed everything from Motown to techno, there are endless amounts of things to do and people to meet amidst the many neighborhoods that make up Detroit. 
If you have a weekend to spare (and a car), this city is truly a gem. Check out a few of our favorite spots, below.
Where to stay
Airbnbs are our go-to recommendations for Detroit—there are so many gorgeous lofts and apartments available for extremely reasonable rates. The spots that are a little bit off the beaten path are also definitely worth the trip, if you happen to have a car with you. That said, if you do prefer a centrally located hotel, there are plenty in the area, with everything from cutesy inns to ritzy casino experiences.
Taking up residence in a historic section of downtown Detroit, this 10-room boutique inn is absolutely gorgeous. The former home of prominent philanthropist John Harvey, the Inn has been painstakingly restored and outfitted with eclectic art pieces from around the globe. 
Want something slightly fancier complete with spa, casino, and celebrity chef-helmed restaurant? Look no further than the MGM Grand Detroit in the heart of downtown.
Aloft Detroit at The David Whitney 
Located in the gorgeous David Whitney building right across from Detroit's Grand Circus Park, this chic, minimalist, and reasonably priced city center spot is comfortable, minimum-frills traveling at its finest.
Where to eat
Good food is in no shortage in Detroit. From trendy cafes to unassuming storefronts, there's something for every taste bud and budget in the metropolitan Detroit area. Again, a car is necessary if you want to seek out some of the restaurants a little further from the downtown area, but, trust us, some of these eats are well worth the trek.
Metro Detroit has a large Arab-American community, so you'd be remiss not to stop by the city of Hamtramck for some incredible Middle Eastern food. A local favorite is Yemen Cafe, which serves up some of the best baked lamb on rice you'll ever have Stateside. The garlic sauce they serve with everything is also addictive—you'll definitely want to ask for a few extra to-go containers. 
Coming straight from the after-hours rave? Got a pounding hangover from a Corktown bar crawl? Just craving for some elevated diner food? Look no further than Dime Store's incredible brunch menu that strikes the perfect balance between grease and gourmet, with everything from a duck Reuben to a Korean-inspired hash. They also serve Zingerman's coffee, which may be one of the best local brews you can find. 
Any hip-hop head worth their salt knows that a trip to Detroit is not complete without some sort of J. Dilla-inspired pilgrimage. To stick with the Donuts theme, we personally recommend grabbing a doughnut from Dilla's Delights, a bakery run by Dilla's uncle. Lemon-glazed options are particularly popular. 
A 30-minute drive from the heart of downtown Detroit in Madison Heights, a karaoke bar may seem like an odd choice to include in a must-eat list, but even the Detroit Free Press' food critic agrees with us. Specializing in Sichuan-style cuisine, it's some of the best Chinese in the city. The karaoke and strong drinks are just (huge) bonuses. 
Small plates rule at this trendy Eastern Market establishment that changes its locally-sourced menu seasonally. Complete with communal tables, creative cocktails, and a cool-casual vibe, it definitely makes for a cute date night spot. 
Another good brunch spot is Rose's Fine Foods in Eastern Detroit, which offers delicious twists on classics like quesadillas and frittatas and is filled with mismatched furniture, a vintage diner counter, and burnished wood walls. And if the quirky-chic decor isn't enough of a draw, Rose's also makes its bread and pastries from scratch. 
Also located in Hamtramck is Boostan Cafe, a tiny, unassuming, three-table eatery tucked away on a large corner lot next to a liquor store. That said, the food is out-of-this-world. Cheap, delicious, and extremely fresh, you'll be hard-pressed to find a better lunch deal.
Where to drink
Detroiters are a friendly bunch and making nice with locals is surprisingly easy. The best place to experience this firsthand? Over some booze, obviously.
Elaborate cocktails are the specialty at downtown's Standby. With over 50 gourmet cocktails, the cozy, intimate bar is definitely worth a stop if you're hanging out nearby Detroit's colorful Belt Alley. 
As its name indicates, Motor City Wines is a bar that specializes in regional wines. Elaborate charcuterie pairings and live jazz are also big draws for locals, not to mention the bar's knowledgeable and friendly staff. 
Located in Corktown, Donovan's is your classic dive bar. Unpretentious, unassuming, and a great place to meet aforementioned locals who can point you toward the nearest warehouse rave, they also have free popcorn and sell pierogis for your late-night munchies. 
Detroit's premier live music venue, El Club plays host to most of the city's independent shows. Located in Southwest Detroit, it's a great place to grab a drink and see a show. Concert-goers also love the pizza and tend to flock to the backyard to hang out by the fire pit.
What to do
As the home of techno and "Motown Sound," Detroit is a music lover's paradise, so it should come as no surprise that a large majority of visitors are interested in catching a show or experiencing one of the city's legendary raves. If partying isn't really your thing, there's plenty of other culture to take in during the daytime.
Located in the Detroit River between Michigan and Canada, Belle Isle is a massive, 982-acre island that features several notable attractions, including an aquarium, conservatory, and an abandoned zoo. It's especially popular in the summer months, when Detroiters flock to picnic, barbecue, and sunbathe by a popular swimming beach. 
A world-famous "temple of art," Detroit Institute of Arts has over 100 galleries, and you can spend an entire day just wandering aimlessly around the remarkably diverse collection. Just make sure to pop by the museum's main attractions before you leave: an indoor courtyard display of Diego Rivera's famed Detroit Industry murals and a self-portrait by Van Gogh. 
One of the oldest year-round markets in America, Eastern Market is filled with some of Detroit's best locally grown and sourced produce and products. If you leave the immediate market, there's also a bevy of street art to marvel at thanks to the city's Mural in the Market initiative. Also worth a stop is the Red Bull House of Art, a locally-run artist incubator committed to bolstering the Detroit arts scene.
A colorful, mural-filled corridor in the downtown area populated by restaurants and galleries, Belt Alley is definitely worth a visit, especially in the summer when it basically turns into a giant block party with an outdoor bar area. 
Charles H. Wright Museum of African-American History 
Founded in 1965 by Charles H. Wright, a doctor who wanted to create a place in which African-Americans could "document, preserve, and educate the public on their history, life, and culture," The Wright currently has the world's largest permanent exhibit of African-American culture, including an exhibition about the Detroit labor movement, a sobering recreation of a slave ship, and a look at the beginnings of Motown. Definitely a must. 
Speaking of Motown, if you're interested in learning more about the birth and legacy of the storied pop-soul movement, make sure to visit the Motown Museum. Housed in the original "Hitsville U.S.A." studio founded by Motown Records boss Berry Gordy in 1959, it's home to a large collection of original memorabilia. It's also definitely worth standing inside Gordy's legendary Studio A, where everyone from The Miracles to The Supremes recorded their early hits.